With the right combination of variables over the next few days, Hurricane Florence would cause more flooding in the Charleston area than Tropical Storm Irma did last year. 
In that worst-case scenario, Florence would have to hover along the Carolina coast without making landfall while dropping south toward Charleston. That would stall the storm, push more surge this way and substantially increase the amount of rainfall expected in the region, according to Doug Marcy, coastal hazard specialist with the National Oceanic and Atmospheric Administration.
Storm surge can be enough on its own to inundate vast stretches of the coast, but it's the combination of persistent rainfall that would cause deep, dangerous flooding. 
Hurricane Harvey was so destructive in Houston last year because it stalled for days, dumping rain and pushing surge up on the coast at the same time. Put simply: the water had nowhere to go but up.
"The timing of the two, surge and rainfall, yeah, it's critical," Marcy said.
Charleston felt the impacts of this dual force on a smaller scale last year during Tropical Storm Irma. The storm surge pushed the high tide to a record-setting 10 feet at one point while bands of rain whipped through the region, and it took a few tide cycles for the area to return to normal. 
Florence could bring more rain to that equation, which is why it has the potential to cause worse flooding, Marcy said.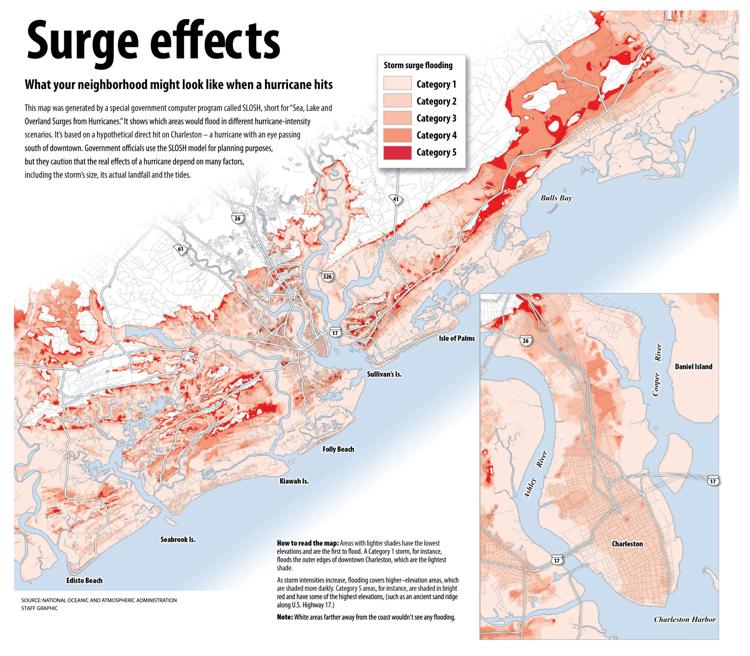 It's still too early to tell how all these factors might collide, though.
If the storm does make landfall and heads inland near the North Carolina border at low tide, the surge in Charleston wouldn't be as much of a concern. If it's high tide, though, surge could push 1 to 3 feet of water on shore, according to the National Hurricane Center.
The Charleston area is supposed to get 3 to 5 inches of rain, and that will increase if the center of the storm gets any closer. It's also possible that unpredictable rain bands will shower some areas more heavily than others, according to Christina Speciale, a climate specialist with the National Weather Service in Charleston.
"If the tide is higher ... some of that water could be lingering for a long time because there is nowhere for that water to go," Speciale said.
Most stormwater systems are only designed to handle a certain amount of runoff, and they all drain at some point to the rivers. If a lot of rain falls consistently over an extended period and the drainage pipes have to work against high tide, that's when matters go from bad to worse.
City of Charleston officials reiterated that point. The Charleston area has been severely flooded the past three years by a historic rainfall in 2015, Hurricane Matthew in 2016, and Tropical Storm Irma in 2017.
"If you live in a low-lying area that has flooded in the past three years, now is the time to evacuate," Assistant Fire Chief Joey Roberts said during a press conference Wednesday. "This may be worse than what we've seen before."
Hannah Alani contributed to this report.