CONWAY — Santee Cooper has spent more than a week girding itself for these floodwaters, for a swollen river that has steadily crept to the edge of a lagoon of ash left from decades of burning coal here.
It installed a dam on top of levees that narrowly staved off flooding the last time a hurricane passed over the Waccamaw River. It laid out two miles of floating barriers to keep ash from spilling out. It assembled dozens of workers to mount a defense and keep an eye on its structures.
Santee Cooper, a state-owned power company, says there's little more it can do now: The floodwaters are here, lapping up to the edge of its ash pit. On the other side is some 200,000 tons of ash, which contains toxic metals like arsenic, lead and mercury.
It will all come down to inches.
The Waccamaw blew past historic levels days ago, but by Tuesday afternoon it was within a few inches of spilling over part of Santee Cooper's temporary dam. The river is expected to rise about six inches more before it hits its peak Wednesday.
In the days before the floodwaters arrived, the utility set about trying to muster a few more inches of protection: On Tuesday, for instance, it sent workers to walk along the dam, which is essentially a huge tube filled with water. A drone fitted with an infrared camera spotted air bubbles inside, making room for another inch of water.
It hoped the pressure of the river's water would squeeze the dam like a giant balloon, lifting it another inch. It had the state Department of Natural Resources cut off river access nearby, thinking that passing boats' wake might send water sloshing in. When it sends crews out to sample water quality downstream, they put in below the ash lagoon, even though its airboats only kick up a few inches of water.
"We're down to where inches matter," said utility spokeswoman Mollie Gore.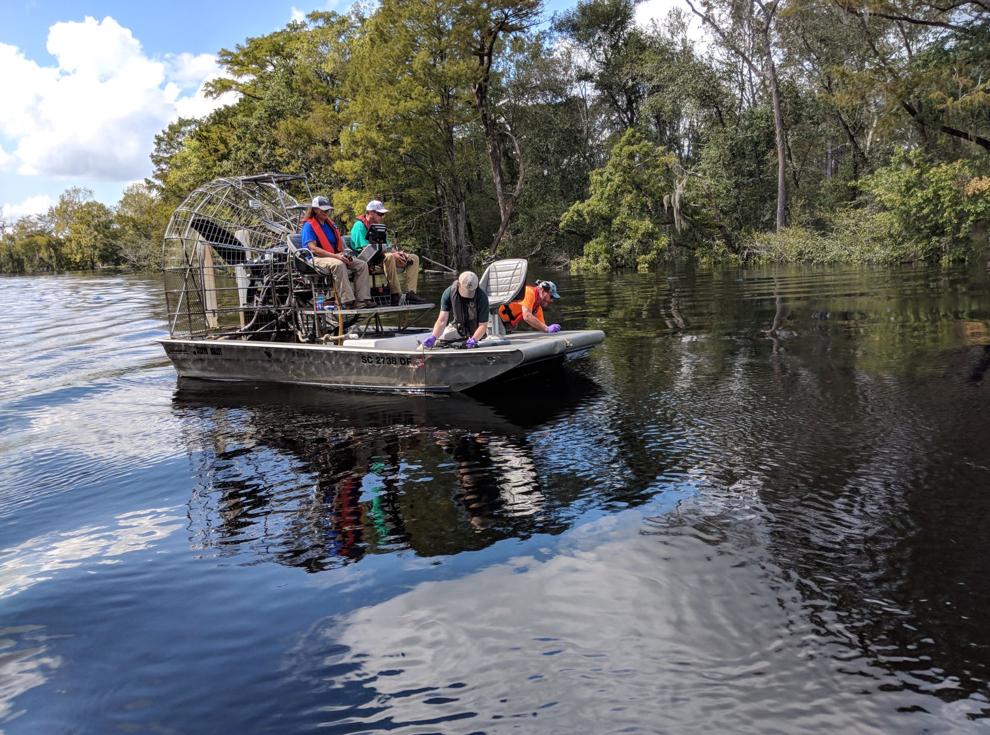 Even if water flows into the pond, it's not certain that its levees will be threatened, but the flooding raises the prospect of coal ash seeping out.
Environmental groups, meantime, are "waiting anxiously" to see how high the river will rise, said Cara Schildtknecht, director of Waccamaw Riverkeeper. Her group has taken water samples for testing and plans to take more if water spills out from the ponds, though it doesn't expect an all-out breach.
"We can't know what's going to happen until it happens, but we are hopeful that it's not going to be nearly as bad as what it could have been," she said. Even so, she added: "The fact that mere inches could make a big difference is bizarre and a little bit surreal."
Everywhere else the Waccamaw's flooding is measured in feet. It has risen 3 feet higher than it did after Hurricane Matthew drenched eastern North Carolina in 2016, a record at the time. But the deluge of water from Hurricane Florence has far surpassed any river level recorded in Conway in more than a century, according to the National Weather Service.
The city's Riverwalk park is hidden beneath water the color of strong tea, and it's marked only by a line of swamped streetlamps and gazebos covered to their roofs. Boats launch from the parking lot of an old Santee Cooper customer service office, a quarter mile from the city marina. The only traffic moving on the road to its closed-down power plant — Marina Drive — is on boat, because the water has risen up to the street signs.
That same road is ringed off by a containment boom, a kind of floating tube that keeps pollutants from drifting out. It's surrounding another ash pit from the shuttered Grainger Generating Station, which started taking on water over the weekend. Officials aren't as concerned about that pit because it has largely been cleaned out.
Now it's navigable by boat, and Santee Cooper's crews motor in a couple times a day to check the water quality. When they do, they float past the plant's guardhouse: The floodwaters are just below the door handle to get in, and they've gotten up to the desk inside.
Santee Cooper CEO Jim Brogdon says the utility is still doing what it can, but as the river crests it's mostly limited to monitoring what's happening, flying drones overhead and sampling the water's cleanliness. The customer service office has been converted into a makeshift command center for more than 100 workers. It's decorated by aerial photos of the ash pond and surrounded by a parking lot filled with equipment like pumps, boats and trucks.
Santee Cooper says it worked to speed up its cleanup of the Grainger ash pits after Matthew threatened their defenses, and it has removed more than a million tons of waste. It had expected to finish its work early next year, but it will have to wait until the floodwaters recede to start again.
The pits are the legacy of coal-fired electricity, which powered the Southeast for decades. Many of the region's coal plants have been closed, but their pits haven't been cleaned out yet, which has stirred concerns in Florence's path.
In North Carolina, for instance, regulators say coal ash might already be flowing from a Duke Energy pond near Wilmington. Gray sludge has already been seen flowing out nearby.
In South Carolina, the pits at the Grainger plant in Conway are the only ones at risk. Officials say the threat here won't subside for a few days, when the Waccamaw will start to recede and inch back down the ash ponds' edge.