FLORENCE — In a quiet subdivision outside this small South Carolina city, police officers and sheriff's deputies were confronted Wednesday by a hail of gunfire that killed one of the officers and wounded six others.
The incident began around 4 p.m. when sheriff's deputies tried to serve a search warrant at a home in the Vintage Place subdivision off Hoffmeyer Road, Florence County Sheriff Kenney Boone said. They were confronted by a person with immense firepower and determination, he said.
An exchange of gunfire commenced as the shooter barricaded himself inside with children, sheriff's Maj. Michael Nunn said. The shootout lasted for two hours until a suspect, whose identity has not been released, was taken into custody.
Florence police officer Terrence Carraway, 52, died of gunshot wounds, city spokesman John Wukela said. Carraway recently celebrated his 30-year anniversary with the force.
Carraway was a resident of Darlington, Florence County Coroner Keith von Lutcken said. His death marked the first slaying of a Florence police officer in nearly 30 years.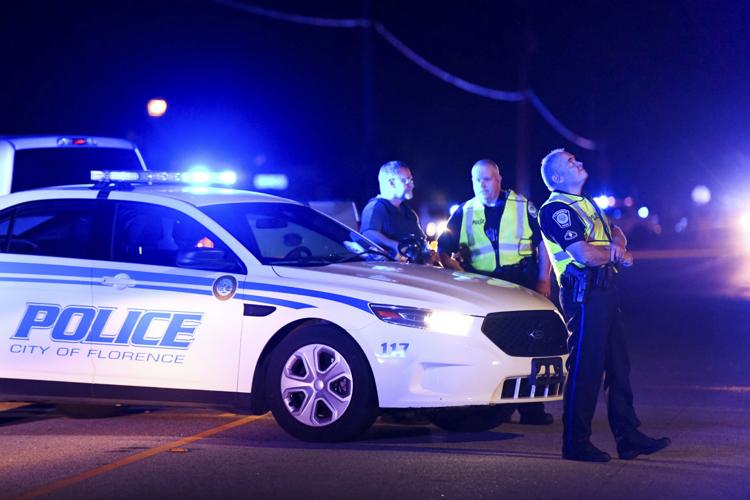 In all, four city police officers and three sheriff's deputies were hit by gunfire, authorities said. The suspect's name, condition and the nature of the search warrant were not disclosed Wednesday.
It was one of the most devastating blows to the American law enforcement community since five Dallas officers were killed and nine others were hurt in July 2016 when a gunman opened fire at a rally.
Choking back tears, Boone and Florence Police Chief Allen Heidler asked for prayers, saying the wounded officers and the fallen policeman's family need all the help and support they can get. 
"They were responding to the scene of an incident where they knew that their brothers and sisters from the Sheriff's Office were in need," Florence Police Chief Allen Heidler said. "I want you to please, pray for these officers and their speedy recovery. Pray for the family who lost the bravest police officer that I have ever known."
Boone told news reporters of a harrowing incident with gunfire raining down "all over," and a shooter who was dug in with a clear line of fire that stretched several hundred yards.
"So he had an advantage, and the officers couldn't get to the ones that (were) down," the sheriff said. 
Using an armored military-style vehicle, authorities were able to get all seven officers who were shot away from the scene, Boone said.
He asked Vintage Place residents to bear with investigators.
"This area is safe," Boone said. "The suspect is in custody, but we will probably go through the night working those crime scenes as well."
The Richland County Sheriff's Office is assisting in the investigation.
According to a database assembled by the Officer Down Memorial Page, a nonprofit organization dedicated to honoring fallen law enforcement personnel, the last Florence police officer to die in the line of duty was Lt. Richard Walters Gould on Aug. 22, 1989.
Earlier this year, York County Sheriff's Detective Mike Doty was killed after he and three others were fired upon while responding to a domestic violence complaint. 
Residents of the subdivision described the community as close-knit and safe.
Located just outside Florence city limits, Vintage Place is carved into the surrounding woodlands where the city fades into large country tracts and open fields. 
Stately brick homes with large lawns are built along streets lined with palmetto trees.  
But on Wednesday, the community turned into what residents described as a war zone. 
Binita Patel, who lives in the neighborhood, said she was at home with her son and parents when the shooting started.
The gunfire came in bursts, and during the segments of shooting, the rate of fire was "nonstop," Patel said. 
"Later on, it got a lot worse," she said. 
Patel and her family stayed inside and tried to get as far away from the windows as possible, she said. 
Following the shooting, condolences poured in from state and federal officials, and from law enforcement agencies across the nation. 
S.C. Rep. Jay Jordan, R-Florence, called for a moment of silence during a legislative session in Columbia.
In a pair of tweets, Gov. Henry McMaster called the shootings "devastating news" and asked the public to pray for the officers, their families and "for all of Florence."
This is simply devastating news from Florence. The selfless acts of bravery from the men and women in law enforcement is real, just like the power of prayer is real. (1/2)

— Gov. Henry McMaster (@henrymcmaster) October 3, 2018
President Donald Trump also reacted to the news, saying that his thoughts and prayers were with the two law enforcement agencies affected. 
My thoughts and prayers are with the Florence County Sheriff's Office and the Florence Police Department tonight, in South Carolina. We are forever grateful for what our Law Enforcement Officers do 24/7/365. https://t.co/ZwDmDthItD

— Donald J. Trump (@realDonaldTrump) October 4, 2018
"I want to thank all of my brothers and sisters in blue from around this country who are already reaching out," Heidler, the police chief, said. "We will take care of our family because this is my family. These officers are my family."