Dawn brightened the salt marsh as the Hurricane II left Little River, a small town about 25 miles up the coast from Myrtle Beach just before you cross over into North Carolina. The boat's destination was the Gulf Stream.
Aboard were about 60 people, including Jeter and Kathy Allred, also known as the Grouper King and Queen.
"I've been out in the Gulf Stream when it's so blue that it was almost purple, and you could see 100 feet down," Jeter said.
The Gulf Stream is a fishermen's paradise. Running 50 to 60 miles off South Carolina, it's home to mackerel, tuna and snapper.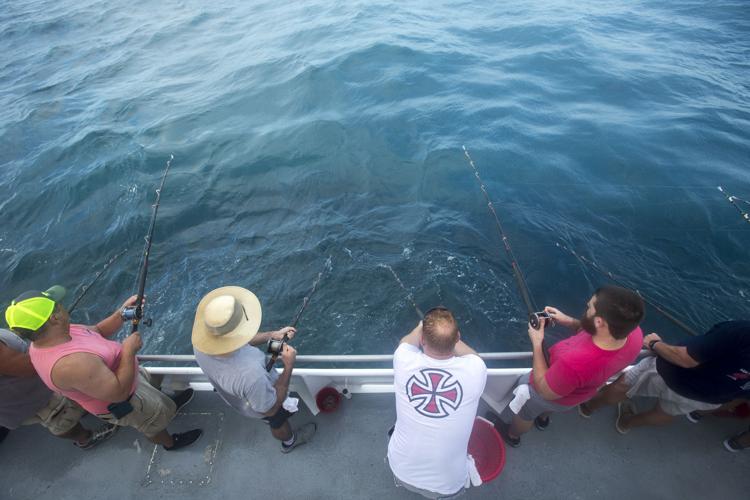 After a three-hour trip, the Hurricane II arrived in a blue-green sea. Capt. Danny Juel said winds had blended the normally cobalt blue waters of the Gulf Stream with murkier inshore currents. 
Juel has been running boats for more than 42 years and said he likes to fish along the Gulf Stream's edges. Here, cold and warm water mix, stirring up nutrients and turbocharging the food chain. Off Charleston, he said a mile-wide whirlpool sometimes forms.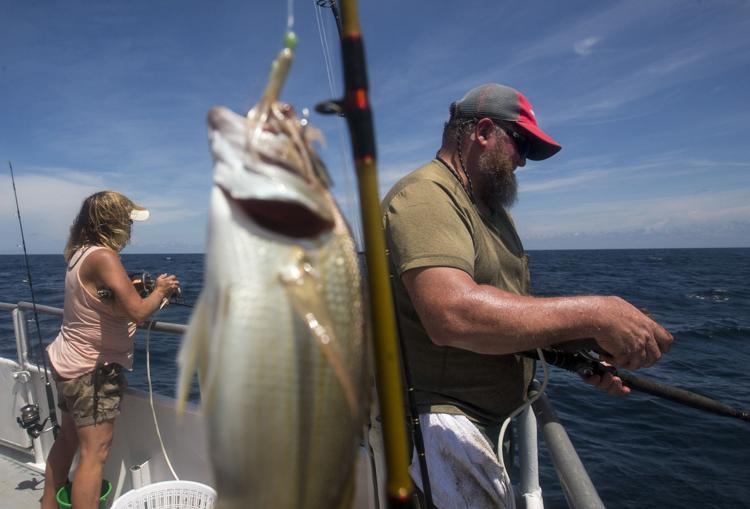 "You can feel your boat moving around in it. You see lots of flying fish." 
Known as head boats, these larger fishing charters can be crowded. But they offer people chances to experience deep-sea fishing without breaking the bank. Tickets cost $100 a head, while private charters can cost thousands.
As the crew set the anchor, Juel said over the PA: "Hold your lines."
People lined both sides of the boat, holding rods like rifles, silently waiting for Juel's OK. When he gave it, everyone dropped their hooks, as if in a race.
Within minutes, anglers brought up crimson snapper and glistening grouper. Later, first mate John Rivera raced around the deck after hooking a big bonito tuna. He helped another fishermen bring in a sleek mackerel.
Sand tile, black sea bass, grunts. Over the next six hours the anglers landed about 500 to 600 pounds of fish. The crew was enthusiastic but not impressed.
"Sometimes there's so many fish it's like picking grapes," said Tripp Sims, a crewman.
The Allreds, the Grouper King and Queen, did OK, landing a few fish but nothing like the 28-pound groupers they've reeled in in the past. But good enough, he said.
By 3 p.m., the anglers retired to the cabin and found seats to take naps. Their shirts were covered in blood and bait stains. Many looked as wiped out as some of their fish.
As afternoon thunderstorms built in the distance, the Hurricane II headed back to port.
***
For a deeper dive into the Gulf Stream and the amazing and disturbing things happening to it, visit our new special report: Into the Gulf Stream. 
Sign up for our daily newsletter
Get the best of The Post and Courier, handpicked and delivered to your inbox every morning.