COLUMBIA — Martha Thompson, an elderly resident in the historic Booker T. Washington Heights neighborhood, was just getting ready to lie down for an afternoon nap when she heard the rapping at her back door.
"Miss Thompson!" her neighbor yelled. "The house is on fire!"
She rushed outside and saw the smoke. It billowed from the lot across from hers, at her family's second house they've owned for decades. This can't be happening, Thompson thought. 
But in and around Thompson's north Columbia neighborhood, 14 fires over the past two months have damaged homes, apartments and a business. At least five of the fires, including four in Booker T. Washington Heights, were set intentionally, authorities said.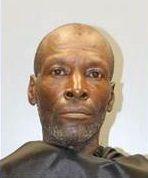 An arrest was made in one of the fires. A 54-year-old man, Michael McClellan, was charged with second-degree arson and first-degree burglary in connection with a fire at 3517 Beaumont Ave., according to Columbia Police.
The other fires remain under investigation.
The U.S. Bureau of Alcohol, Tobacco, Firearms and Explosives and the State Law Enforcement Division have joined the Columbia police and fire departments in the investigation.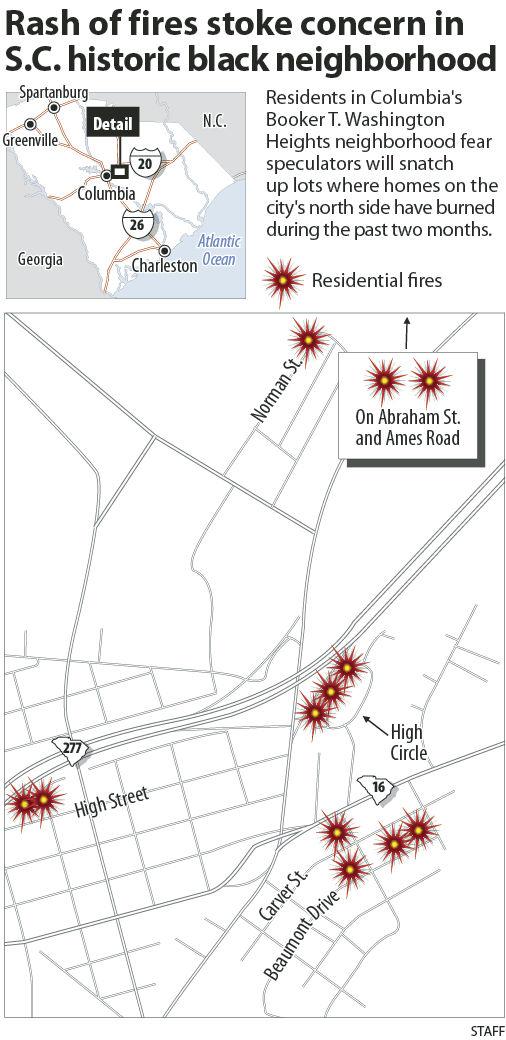 "I'm angry," said Thompson, whose neighbor put out the small fire in her vacant house. "Why are we being targeted?"
For some residents, the fires stoke a long-held concern that the historic African-American neighborhoods are being targeted by real estate investors seeking to gentrify the area. Residents fear speculators will snatch up lots where homes have burned to build new, more expensive homes.
"What is happening is that these fires are increasing the anxiety among residents about their long-term survival, literally, in that community," said Bobby Donaldson, a University of South Carolina history professor who has studied the area.
Across South Carolina, historic African-American neighborhoods have faced their own crises.
In Charleston, skyrocketing land values have gentrified the peninsula and led to a steep decline in the African-American population. The city of Greenville recently pledged $2 million toward affordable housing partly in response to a study that showed that gentrification was forcing African-Americans out of their lifelong neighborhoods.
In Columbia, Booker Washington Heights, developed at the turn of the 20th century, was once a working-class area of African-American plumbers, bricklayers and craftsmen.
But the original generation has passed on, which has turned many of the area's single-family houses over to absentee landlords. Much of that property now sits dilapidated, which typically drives down an area's home values and causes other debilitating neighborhood issues.
"It's a classic example of an in-town neighborhood under serious transformation," Donaldson said. "The early residents have either died or moved elsewhere, leaving homes abandoned or unoccupied."
Because it neighbors a highway and sits in the shadow of Columbia's recent $100 million-plus Bull Street commercial and residential development, the Booker T. Washington Heights area is seen as a target for future redevelopment.
That could make it attractive to real estate investors. Residents said they're concerned the fires are part of a future land grab.
"It is the consensus of the neighborhood that because we sit between (a highway) and Bull Street, that may have something to do with what is occurring," said Regina Williams, president of the Booker T. Washington Heights Neighborhood Association. "It is valuable real estate."
The cause of the fires has not been determined, Columbia Fire Chief Aubrey Jenkins said. 
"You never know what a person's motive is," he said. "Some people just like to see fire."
Since many of the burned houses were dilapidated, the median market value of the seven that have burned in the Booker T. Washington Heights neighborhood is $19,500, property records show, well below the city's median home price of more than $100,000.
Some of those owners may not be able to afford major repairs and could sell their homes cheaply. Thompson said she doesn't have the money to fix her second house. She may seek a loan.
On Beaumont Street, where three houses have burned, there are bright yellow signs on street corners that read, "I Buy Houses. Fast. Easy. Cash. Any Condition."
James Sanders, 61, a lifelong resident, fears the quick sale of the burned-out homes would lead to only more problems.
"Poor people's property is devalued," he said. "It's not buying. It's theft."