Emily Avin was supposed to come home that day in September.
Her parents had arranged it: Avin would move back into their country home in the small Florence County town of Pamplico, where she grew up playing softball and cheering for her high school football team as the mascot. It would be a break, for a month or so, from her job as a paramedic, a career the young woman loved but now found emotionally draining.
She worked one last 24-hour shift in Aiken. Afterward, instead of driving across the state, Avin called her mother upset.
Sue Ann Avin detected hopelessness in her daughter's voice.
"Emily, you're not thinking about doing anything to hurt yourself, are you?"
Her daughter, a tough woman who wore her blond hair cropped short, tearfully promised she was OK. The two ended the call the way they always did.
"I love you," Emily Avin said.
"I love you more," her mom replied.
It would be the last time Sue Ann Avin would hear her daughter's voice.
Later that morning, Emily Avin called 911 from her home in Aiken to report a suicide.
She then picked up a gun, walked outside and pulled the trigger before anyone could reach her. She was 26.
Scrolling through her daughter's phone in the following days, Sue Ann Avin found a prophetic cartoon. It depicted an EMS worker illustrated to resemble a ticking time bomb, saying, "Traumatic calls, burn out, compassion fatigue — that stuff never gets to me." The paramedic wore a badge that said "denial."
Suicides such as Emily Avin's were once overlooked by firefighters and paramedics eager to maintain an image of bravery and invincibility. But that's changing as the profession acknowledges a deadly scourge that claims more lives than the perils firefighters face in the line of duty.
Long a taboo topic in firehouses, suicide was recently labeled by the U.S. Fire Administration as a "critical" issue that's being "faced more squarely by the fire service."
"The old school fire service, old school emergency services was that you just sucked it up and lived with it," said Gerald Mishoe, executive director of the Lowcountry Firefighter Support Team, a nonprofit that helps emergency services personnel and their families. "And you were expected to live with it as part of your job."
Stigma persists
What Emily Avin saw at work gnawed at her. The worst incidents involved the children she couldn't rescue, the little ones who were supposed to have their entire lives ahead of them.
Years ago at a crash scene, a frantic mother thrust a gravely injured toddler into her arms with the plea, "Help my baby." Emily Avin and her brother, a first responder, couldn't save the child.
She once delivered a baby in an ambulance, something she'd long anticipated as a rite of passage. The newborn died of a heart defect soon after. An ER physician told Emily Avin there was nothing she could have done.
And there was a young driver thrown from his pickup truck who never regained consciousness. The victim was her friend.
These and other emergency calls robbed Emily Avin of sleep. A doctor diagnosed her with post-traumatic stress disorder and prescribed her medication at age 25.
"Just quit," her parents urged a few days before her death.
But she wasn't the type to give up. Not the job she discovered her passion for at age 10, when she accompanied her dad to her first car wreck.
Back then, she comforted a victim suffering an asthma attack as her father and other firefighters tended to injured patients. Gene Avin looked up from the chaos and saw his daughter holding the frightened boy's hand.
"That child's got a gift," the paramedic said to himself.
It was no surprise when Emily Avin volunteered for her local fire department at age 12, the first year she was eligible. At 17, she became a certified firefighter.
By her 20s, the bloodshed, disfigurement and loss haunted her.
The young woman was hardly alone. Numbers vary, but studies in recent years have estimated that between 17 and 22 percent of firefighters suffer from PTSD, three times the rate of the general population.
For some first responders, suicide is the ultimate toll.
Close to 47 percent of more than 1,000 firefighters in a Florida State University survey said they had suicidal thoughts at some point. More than 15 percent reported they had attempted to kill themselves.
Suicide is the 10th leading cause of death in the U.S. with a rate of 13.4 per 100,000 individuals, according to the Centers for Disease Control and Prevention.
A CDC report that examined suicides by occupation found that for women, the highest rate occurred among those working protective service jobs such as firefighting and policing.
Comprehensive statistics are hard to come by, but those in the profession in South Carolina and beyond recognize suicide as a growing problem.
There are more resources than ever thanks to department, regional and statewide support groups. Some clinicians are embracing specific training to counsel first responders. Last year in Maryland, the International Association of Fire Fighters opened the country's first rehabilitation center to treat firefighters and paramedics with PTSD and other disorders.
"Today, there are few, if any, cases where a firefighter … does not have an opportunity to reach out and get some assistance," said Billy Goldfeder, a deputy chief in Ohio and contributing editor to Firehouse and Fire Engineering magazines.
Still, a stigma lingers around asking for help.
To her parents, Emily Avin spoke matter-of-factly about disturbing emergency calls, even after an inmate once held a pocketknife to her neck. She seemed to detach herself, as if to build a protective wall from the horrors of her job.
"You never saw the part of her that was hurting," Sue Ann Avin said.
Her parents didn't realize the direness of her situation.
After her death, they found the letters.
To her mother, Emily Avin wrote she couldn't stand the pain anymore.
To her father, she penned, "Thank you for allowing me to become half the paramedic you are."
It seemed like her dad could handle anything on the job. She, on the other hand, felt like a failure.
Collecting data
Jeff Dill was puzzled when he started fielding requests about firefighter suicides in 2010. The licensed counselor hadn't known there was a problem; he and his colleagues never talked about mental health during his 26 years in the fire service in Illinois.
To the retired fire captain's surprise, no organizations or government agencies collected statistics about firefighters and EMS workers who kill themselves. Dill did some internet sleuthing and began gathering numbers himself.
He started the Firefighter Behavioral Health Alliance in Arizona, a nonprofit that leads behavioral health workshops and an annual retreat for families of first responders who die by suicide. The alliance is recognized today in the profession as the only group that tracks and validates such deaths in the U.S.
What Dill found was startling: Known suicides have increased most years since he started collecting data. More than 100 have occurred annually since 2014. In recent times, Dill has recorded more instances of firefighters who died by their own hand than in the line of duty.
That's not surprising to those familiar with the issue. The National Fallen Firefighters Foundation estimates that departments are three times more likely to be touched by suicide than a death on the job.
Dill has confirmed more than 1,110 firefighter and EMS suicides dating to 1880, relying on reports from families, department chiefs and news articles.
South Carolinians accounted for 18 suicides. Three happened last year, four in 2016 and three in 2015.
But Dill's data is hardly comprehensive. He estimates that only 40 percent of cases are reported to his organization.
Finding donors willing to attach their names to the alliance's cause is also a challenge. Companies tell Dill they respect his mission but it would cast a negative connotation on their business.
Frankly, most people don't want to talk about suicide and mental health, Dill said.
"That starts in the fire academies. You put the uniform on. You act brave, courageous, strong," he said. "You give help, don't ask for help. That's the way of the fire service tradition."
But that's gradually eroding as more departments offer behavioral health programs.
A decade ago, such classes drew low interest, said Victor Stagnaro, managing director of the National Fallen Firefighters Foundation. That's beginning to change.
"Anytime you see a behavioral health program ... there's an influx of people and requests for courses," he said.
Employers such as the Charleston Fire Department offer an internal support team. Charleston firefighters can reach out to three trained peers and three mental health counselors. 
"It's talking to somebody that may have been through the same situation you're experiencing," said interim Fire Chief John Tippett, who previously worked for the Montgomery County Fire and Rescue Service in Maryland, a department considered a pioneer for its holistic approach in caring for firefighters. 
Aside from individual departments, South Carolina is home to at least two firefighter support groups — a statewide organization and Mishoe's team based in the Lowcountry — that provide training on PTSD and suicide prevention.
In 2016, the state began offering up to $15,000 toward out-of-pocket expenses for treatment to any firefighter, emergency medical responder and law enforcement officer suffering with mental health issues tied to work-related incidents.
Those working to bring suicide out of the shadows say first responders are slowly starting to realize it's OK to ask for help.
Getting help
Tian Griffieth knew he was slipping.
It was two and a half years ago, and he was battling a rocky divorce. He fell behind on bills. He started eating less, drinking more. He'd stagger to his shifts at the North Charleston Fire Department exhausted and hungover. Depressed, Griffieth avoided friends and relatives.
With a demanding job and a shaky home life, the firefighter felt he had nowhere to relax. Fatalities and other traumas on the job bothered him more deeply than before.
"I would really come into work and see so many things that are terrible, and those things add onto it," said Griffieth, now 33.
He slogged through this routine for months.
In tears one day, he called Mishoe, the executive director of the Lowcountry Firefighter Support Team — a trusted figure in the local fire service.
Mishoe's nonprofit comprises firefighters and clinicians who provide peer support, counseling referrals, crisis intervention and training. Formed in 2007 in the wake of the Sofa Super Store blaze that killed nine Charleston firefighters, the group now helps an average of 125 people each month up and down the coast.
The team is trying to debunk the old line of thinking that struggling firefighters should tough it out silently. Mishoe knows what they grapple with: taxing emergency calls, grueling shifts, low pay. Some turn to alcohol, as Griffieth did.
Mishoe connected Griffieth with a therapist experienced in treating first responders.
From there, the young firefighter opened up to colleagues about his divorce.
"We're supposed to be tough. We're supposed to be ready to go into a burning house," Griffieth said. "But I thought to myself, do I want to put my crews and my friends at risk (by) coming to work not squared away?"
He told his supervisors he was seeing a therapist. If this were a decade ago, Griffieth thinks they would have written him off as unfit for duty. Instead, guys at the firehouse offered advice from their own experiences.
Then, last summer, Griffieth responded to an apartment where two young boys had been stabbed to death.
Afterward, he questioned why he hadn't felt a reaction to the grisly scene. No sadness. No anger. Just blank.
Griffieth sought out his therapist to help keep his mental health in check. He knew that if left unresolved, his emotions could surface unexpectedly in the future.
"You get to the end of your career, and you don't want to be standing there with all these bags," he said.
All firefighters and paramedics cope differently with tragedies, but Patti Graham said it's common for child deaths, mass casualties, incidents involving coworkers and threat of personal injury or death to "mess with" responders.
Graham coordinates the statewide First Responders' Assistance and Support Team, FAST, a group through the S.C. State Firefighters' Association that services personnel and their families.
Both FAST and the Lowcountry Firefighter Support Team employ a peer support model. Usually, a conversation with a trained counterpart is enough. Those who need more assistance are referred to a clinician.
Griffieth now tries to pay it forward as a peer supporter. When he senses that a colleague is hurting, he's equipped to step in.
A message for others
Four months after Emily Avin took her own life, Gene and Sue Ann Avin sidled up to a table at the South Lynches Fire Department in Florence County and told their story on Facebook Live.
Discussing their daughter's death unleashes a deluge of emotions, but worse is the prospect of not talking about her life. In conversations since she died, Sept. 27, some acquaintances of the Avins have avoided saying her name. That stings.
So the couple tells people about Emily Avin, a prankster with a mischievous streak.
They say that if you happened to leave your cellphone unattended, she would hijack it and snap dozens of selfies. 
They laugh at how their daughter started a tradition of surprising relatives with birthday cake and balloons on random Mondays, just for fun.
And they brag about how Emily Avin dreamed of being an EMS director. She seemed to have her career figured out from a young age.
She also fostered several "ghosts," as her mother refers to them: memories of calls that tormented her.
The Avins harbor guilt around her death. Sue Ann Avin wishes she'd summoned 911 after asking her daughter if she was going to hurt herself. Gene Avin, now retired, thinks he inadvertently modeled that a "good" emergency worker doesn't express when something's bothering them.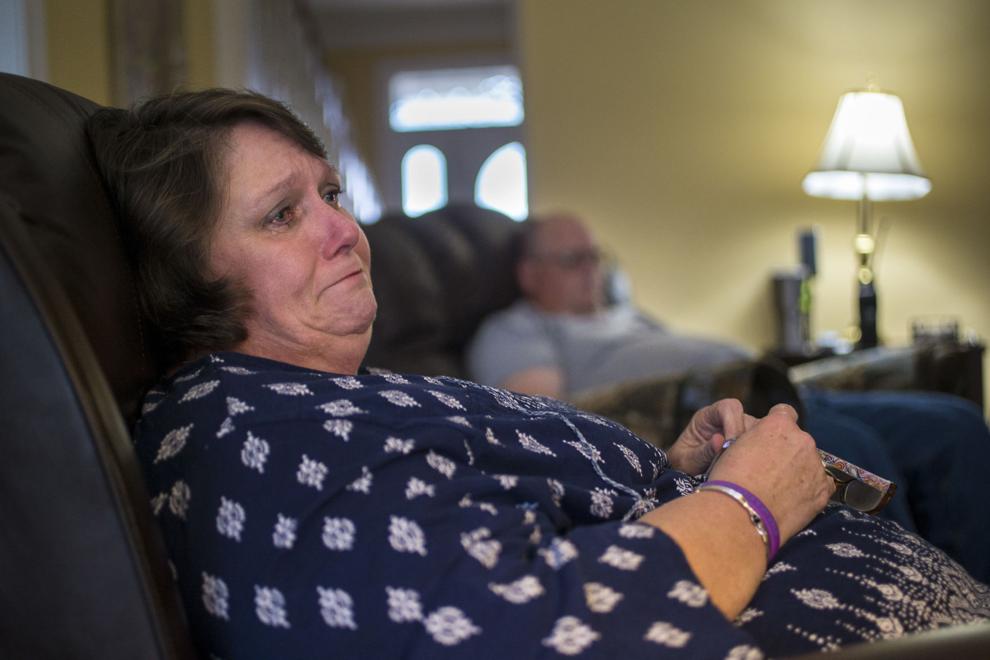 With the Facebook Live, orchestrated by leaders of the Lowcountry Firefighter Support Team, the couple hoped to reach others contemplating suicide.
They may have: During the video stream, the support group answered three phone calls for assistance, Mishoe said.
Emily Avin's death was one catalyst behind the team's recent launch of a suicide prevention and awareness program called Step Up & Step Out. Free training sessions encourage participants to intervene when they think a loved one or colleague is suicidal.
The same week Emily Avin died, another paramedic took his life elsewhere in the state. The man implied he needed help in Facebook posts before ultimately saying goodbye in a video.
"Nobody went to him," Mishoe said. "What we're trying to say about this is take it seriously."
Emily Avin is buried on her parents' property, among 26 acres of hay field and woods where she used to zip around corners on the family's four-wheeler. From just about anywhere in their home, the Avins can look out a window and spot her headstone near the edge of their land.
On it reads an excerpt from a Ralph Waldo Emerson poem — a message her parents wish they could tell her now:
To know even one life
has breathed easier
because you have lived —
That is to have succeeded.