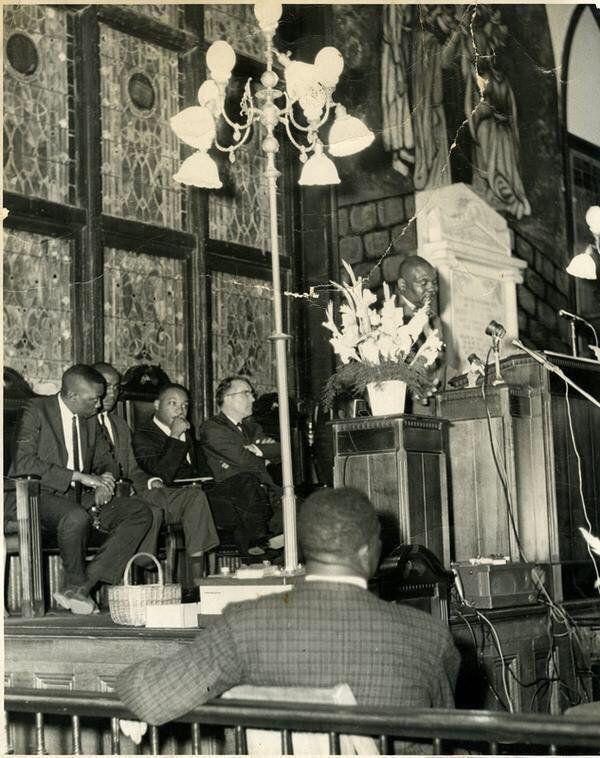 Many are aware that Charleston's Emanuel AME Church played a big role during the civil rights era, but there's been little detailed history of that — until now.
Several researchers from the University of South Carolina recently finished a deep dive into the church's archives, media accounts and other 20th century records to produce a full picture of how prominent a role the church and its former pastor, the Rev. B.J. Glover, played during the 1950s and '60s.
That picture has formed the basis of a new listing for the church on the National Register of Historic Places, which is expected to be approved soon.
Bobby Donaldson, a USC history professor who also leads the school's Center for Civil Rights History and Research, oversaw the research. He was surprised Emanuel wasn't already listed individually on the register.
"Surely, the church is historic. We all know that," he said. "We had to go in and do some fact finding and substantiate those facts with primary sources. The church history in the 20th century is far more fascinating than I even knew."
Much of the research was done by graduate students, including Jill Found, who authored the nomination.
Found said she expected to find references to Emanuel AME's role in the civil rights movement, "but I was overwhelmed by how much there was. In the summer of 1963, there seemed to be a march or demonstration that started or ended at Emanuel almost every day." The Civil Rights Act was passed the following year.
Found said Emanuel served as a focal point and safe place for protesters to gather and regroup.
"I think Dr. Glover's role, and the role of the church in civil rights activism, are not fully known by the general public or all of the congregation," she said.
Found also said the most meaningful part of the work was spending time sifting through the church's records.
"Because the church doesn't have a full-time archivist or anything like that, getting to spend time at the church and going through its archive was different from any other research I've done," she said, "but also incredibly rewarding."
Liz Alston, a longtime Emanuel member, former school board member and chair of the Charleston Tourism Commission, has served as the church's de facto historian. She said she appreciates the new research documenting its storied past.
"It has a viewpoint for posterity that most people would benefit from," she said.
While not the focus of the new National Register nomination, Emanuel's 19th century history is also very significant: It was the first AME church in the South (hence its nickname "Mother Emanuel"), founded in 1816 and built partly by Denmark Vesey, who was executed in 1822 after his conviction in leading an unsuccessful slave revolt.
The church was then razed to the ground, and its congregation met in secret until after the Civil War.
Donaldson and his students picked up the story in 1891, when church leaders began construction on the current building at 110 Calhoun St. While several of Charleston's black congregations have architecturally impressive churches, Emanuel is one of the few built specifically by and for black congregants. Others were built for white congregations who later sold them.
They focused particularly on 1951-1969, an era when Emanuel played its role in the civil rights struggle.
Emanuel already was covered by the National Register listing of the Charleston Historic District, though it's not among the 133 buildings detailed on the original nomination.
In a practical sense, the individual listing on the National Register of Historic Places won't offer any new legal or tax advantages but it does document a rich vein of its history, according to Eric Emerson, director of the South Carolina Department of Archives and History.
"It just brings added attention to it," he said. "There are so many structures in the (Charleston historic) district itself, this just pulls that one building out among those hundreds and provides extra information."
The individual listing also is a first step toward possibly making Emanuel a National Historic Landmark, the highest recognition the federal government provides on a historic site. But Emerson said that will take much more work.
"You have to make the case in the nomination that Emanuel not only was involved in the civil rights movement but that its involvement was of national significance, that it had a big impact on the national movement of civil rights," he said. "It's not just that there were civil rights meetings here. That's not enough."
But that should be doable, Donaldson said. Over its history, the church has hosted everyone from NAACP founder and activist W.E.B. Dubois to Booker T. Washington to Martin Luther King Jr. and his wife, Coretta Scott King.
"Mother Emanuel was, from its earliest years, a civil rights congregation," 'he said. "We see a pathway forward. Part of what we have to show even more strongly is what did Mother Emanuel mean to the nation, and what did it mean to the nation before 2015."
"That is a huge hurdle to overcome," he added, "but I think that's why I was eager to be a part of it and bring aboard a group of students who could be part of it."
While the state has more than 1,400 properties and districts on the National Register, it only has about 76 National Historic Landmarks, 42 of which are in Charleston County.
The new National Register nomination only briefly mentions what happened in 2015 when Dylann Roof killed nine participants during a Bible study. Roof's online manifesto showed he was aware of Emanuel's civil rights history and singled it out in hopes of starting a race war.
While Roof's crime thrust Emanuel into the national spotlight like never before, Emerson said historians, including those with the National Park Service, will be wary of considering the significance of that for at least a few more decades.
"We have no context for three years. It's so recent," he said. "The Park Services looks at it the same way. Three years is just a blip in time when you compare it to National Historic Landmarks that have been around 50 years, 100 years or more. Fifty years is a good benchmark for getting enough distance from an event to ascertain its significance."