FOLLY BEACH — The multi-color row of beach toys is free to all, available for the enjoyment of "any child (from 0-60)."
That new beach-toy exchange program at 3rd Street West, described in a public Facebook group about all things Folly Beach, is emblematic of the community-focused, freewheeling attitude in one of Charleston's most popular beach destinations. 
"We just started noticing that obviously, folks spend all kinds of money buying those things, and often they get left or lost on the beach," Folly Beach Police Chief Andrew Gilreath said. "(Beach patrol) was tossing so many of those in the recycle bin, and over time, they saw an area where they could do a little grassroots effort."
Locals congregate at the U.S. Post Office, because nobody in town gets mail delivery directly to their door, making it fertile grounds for gossip. Another beloved communal space is Bert's Market, the only grocer on the island, offering a range of junk food alongside fancy cheeses, fresh-made sandwiches and beer on tap.
It's the free coffee that draws visitors and locals alike. 
But as more young professionals and families with small children move to the island to enjoy its charms year-round, is Folly losing some of its funky spirit?
Residents have differing views, but almost all of them agreed that even the newest residents of Folly are on board with what makes it special. And the beach community has gone through many transformations already.
"The island will always change," said LaJuan Kennedy, whose family came to the island in the 1940s.
'Everything changed'
While Folly has long had a reputation as a party paradise for the college-age crowd, in the middle of last century, it was mostly full of modest vacation homes for middle-class families, plus a small, tight-knit year-round community.
Before it was known as the "Edge of America," the town's nickname was more wholesome: "Mayberry by the Sea."
Kennedy, who raised her children on Folly and now manages hundreds of vacation rental homes there, said that when she was young, families made up almost all of the city's year-round residents.
Hurricane Hugo flattened much of the housing stock on the island, and the subsequent influx of insurance money meant that many homes were built back larger and more modern. Day-trippers from all over the region started to favor Folly, in part because of its lax rules about alcohol. The Washout became a Mecca for local surfers. 
Because other beaches did not allow drinking on the sand, Mayor Tim Goodwin said one person described Folly this way: "the empty cabinet with crumbs where all the cockroaches go."
It eventually became the beach where younger crowds went to misbehave. That trend peaked in 2012, when several buses deposited thousands of young people on the beach on the Fourth of July. Goodwin said many of the college-age kids had been drinking on the way there, resulting in an unruly, highly intoxicated crowd that trashed the beach. 
City Council passed an emergency drinking ban shortly thereafter, and it was made permanent later that year. 
"After they banned alcohol on the beach, everything changed," said Susan Breslin, editor of Folly's community newsletter, the Sandspur. "I knew a bunch of families that wouldn't let their kids go to the beach (before the ban). It was just a very abusive atmosphere."
FOLLY BEACH — The waves are small, the traffic is nonexistent, and the Washout is the pictur…
After the ban, Breslin started seeing more families on the sand. And several people said that the change in atmosphere was so significant that more families started moving onto the island to live there full time. 
From 2011 to 2016, the median age on the island dropped from just over 51 to roughly 42, according to Census population estimates. The proportion of residents under 18 rose slightly, from 5.3 percent to 8.2 percent. 
When Amy Ray told her friends on James Island that she was moving to Folly a few years ago, "they kind of looked at us like we were moving to the moon," she said.
Ray, now the mother of three young children, initially worried that there wouldn't be enough kids in the neighborhood for her then-growing family. Her concerns proved unfounded.
"I think the family community is growing for sure," she said. 
The group of residents with young children is a vocal one, several islanders said, and they have proved politically persuasive in issues like lowering the city's speed limit. That issue also helped usher Ray into a City Council seat this spring. 
'Not pretentious'
Longtime residents said part of Folly's laid-back charm stems from people who move to the island but don't bring their anxieties with them. They all find a way to mellow into the community. Retired CEOs mix seamlessly with beach bums. 
"A pauper can live next to a millionaire, and nobody cares," Kennedy said. "It's not pretentious in any manner."
But like the rest of the Charleston region, real estate is at a premium, and prices are quickly going up. There are few low-budget options left. 
When the Folly Beach Inn closed, the people living long term at the motel had trouble finding a new place nearby, local real estate agent Elton Culpepper said. 
"Those people have been run off the beach, period," Culpepper said.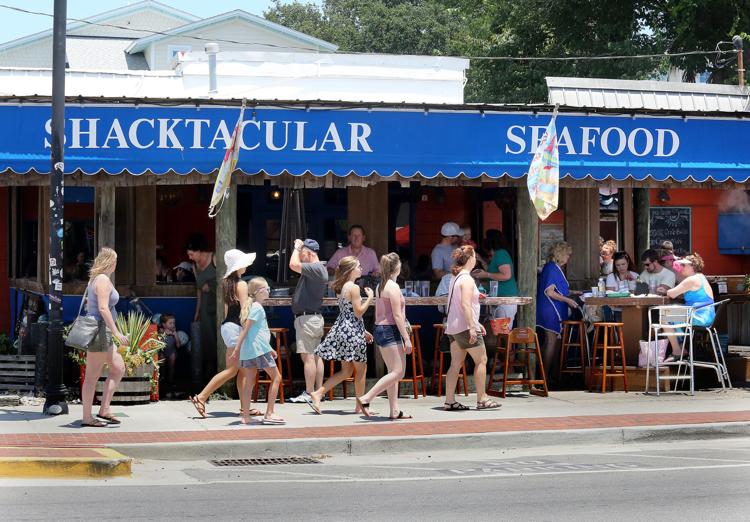 While Folly has a reputation as Charleston's blue-collar beach, Culpepper said few homes can be found for less than $600,000. Kennedy's cheapest long-term rental — a two-bed, one-bath home with window unit air conditioning — goes for $900 a month. 
These days, most buyers are young professionals who work downtown, Culpepper said. Families or investors who have held properties for decades are increasingly selling as prices finally recovered from the financial crisis. 
The region's growth has been good for Folly in some ways: restaurants on Center Street can now stay open year-round, Culpepper said. It's putting more pressure on the island, too, with paralyzing weekend traffic and tensions between veteran surfers and newcomers. 
But even as Folly grapples with growing pains familiar across the Lowcountry — more traffic, less affordable housing, culture clashes — most residents agreed the island is holding onto its charm.
"I think it's still pretty weird," said Stephanie Jones, manager of The Barrel on Folly Road. "The place is still as funky as it ever was."