Failing septic systems pollute Lowcountry waters with raw sewage and leave some residents with fouled yards and homes, but the cost of modern sewer connections and questions about government mandates have made the problem tricky to solve.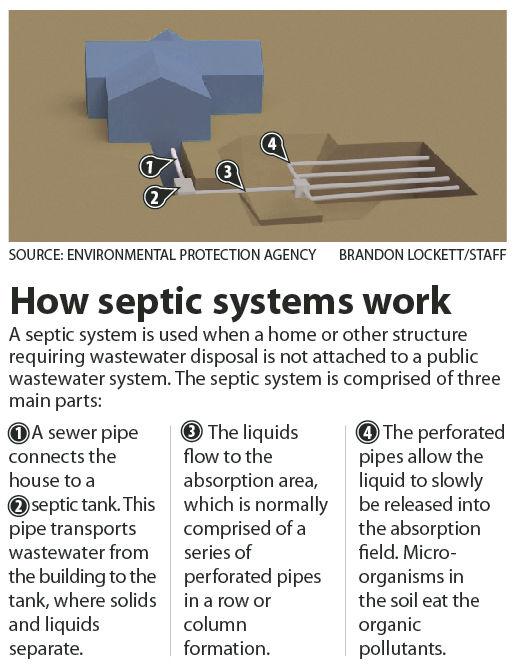 Charleston County's proposal requiring utilities to provide sewer service to properties next to existing sewer lines, and requiring residents to connect where that's possible, was put on hold this week after a flurry of questions about the cost to residents and impact on development. 
Arthur Pinckney, 75, just wants to be able to flush his toilet without dread.
"When (the septic system) starts backing up, then your toilet can't flush," he said. "Then the toilet starts backing up.
"It will also start coming out through the ground where the septic tank is, and that's when you smell it," Pinckney said. "Then you have to get it pumped out."
He doesn't live in a rural area that sewer lines haven't reached. Pinckney lives on Long Point Road in Mount Pleasant, where he said he's been waiting decades for sewer lines to reach his home in the Snowden community.
The good news is that Mount Pleasant Waterworks is extending sewer lines down Coaxum Road behind Pinckney's home. The town resident will soon be able to connect his house to the sewer system, something most people in Mount Pleasant take for granted. In the meantime, Pinckney said he's paying about $300 every other month to have his failing septic system pumped out.
Some homeowners don't have a choice because sewer service isn't available where they live. Others could connect to sewer lines but they haven't because of costs or because their septic system works as intended.
Hooking up to a sewer system typically means a homeowner pays the cost of installing a sewer connection from the house to the sewer line near the edge of the property, pays a tap-in fee to the utility, pays an impact fee to the utility — often thousands of dollars — and then pays monthly sewer bills. 
'Hidden menace'
Regular water testing has shown that many septic systems aren't working correctly. The test results make sense because state and federal environmental regulators estimate that 10 to 20 percent of septic systems aren't working safely and there are more than a million in South Carolina alone.
It's a widespread problem with impacts in rural areas, suburban areas and barrier island communities.
When it rains, bacteria levels associated with human waste spike in waterways including Shem Creek and James Island Creek, according to Charleston Waterkeeper Andrew Wunderley.
"I think septic tanks are sort of out of sight, out of mind, and a hidden menace," he said. "The problem with septic tanks here in the Lowcountry is that we have soil types and geologic conditions that are not appropriate for septic tanks."
The water in James Island Creek and Ellis Creek failed state water standards for recreation nearly two-thirds of the time, based on weekly testing, Wunderley said. Shem Creek failed state standards half the time, and the best water quality results in the Charleston area, at the Folly Beach boat landing, still failed the test nearly one out of 10 times.
Septic systems are necessary in many places, and about a quarter of U.S. households rely on them. Problems arise when they are installed in unsuitable places or they aren't maintained and serviced.
"The failing septic tanks polluting waterways are absolutely an environmental concern and a public health concern," said Caroline Bradner, Coastal Conservation League's Land, Water and Wildlife Project manager. "People who can't flush the toilet for days — people shouldn't be living like that."
The challenge is that fixing the problem could mean requiring residents to connect to sewer systems, as Charleston County proposed. Many towns and cities already require residents to connect to sewer systems, but enforcement has been limited in places, partly because it's a costly burden for residents.
"We looked at (mandatory connection) as a financial burden," said John Wright, president of the African American Settlement Community Historic Commission, which asked the county to put the legislation on hold for at least a year. "If and when we go forward with this ordinance, it should be voluntary — not so much a mandate."
Not looking for trouble
In some places, such as Vero Beach, Fla., septic system owners are required to have their septic tanks regularly pumped out and inspected. If they fail inspection, then the property must connect to sewer. That allows people to keep using septic systems as long as they are working properly, but requires sewer connections otherwise.
On Folly Beach, most homes use septic systems, and the city requires inspections when properties change ownership.
"If they have repair work that needs to be done, we require that," City Administrator Spencer Wetmore said. "If it were actually a failed system, we would cut the water off until repairs are made."
Relying on septic systems, except in the business district, has helped control growth on Folly Beach.
"You could never build condos with a septic system," Wetmore said.
Starting next year, Folly Beach properties used as short-term rentals will have to have their septic systems inspected yearly.
In South Carolina, the state inspects and permits new septic systems where sewer service is not available but does not require septic system inspections later on.
"Septic systems, like private wells, are the homeowner's responsibility," the S.C. Department of Health and Environmental Control states.
DHEC action coming
In the early 2000s, Dorchester County required residents to connect to sewer lines if they lived close enough to one, but following complaints the county exempted people with preexisting buildings and working septic systems. Berkeley County requires residents within 150 feet of a sewer line to connect.
In April, Charleston County gave initial approval to regulations requiring people living in unincorporated parts of the county to connect if sewer service was available and required utilities to provide the service to homes along their lines regardless of whether they were in the county or a town or city. There was no exception for people with functioning septic systems.
The ordinance quickly raised concerns about the cost residents could face and concerns that requiring utilities to provide service could spur unwanted development. On May 6, the county postponed a planned public hearing as well as a planned second vote on the rules.
"A lot of people live paycheck to paycheck," said Freddie Jenkins, president of the Snowden Community Association. "People trying to raise a family, this could be devastating to them if they don't have sewer already."
One part of the puzzle county officials will be trying to solve is how to address the problem posed by failing septic systems without imposing a crushing financial burden on residents who own them. Options include long-term financing of connection costs and financial assistance. Since mid-2016, Charleston County has used grant funds to help replace or repair 59 septic systems, but there's a waiting list for assistance.
"Politically, it's a tough issue," Wunderley said. "Our point is that you can't brush it aside any longer."
He said DHEC could force the issue in some areas that have failed to meet water quality standards. That's what happened along Horse Creek in Aiken and Edgefield counties, where bacteria counts prompted a government response that got 95 septic systems repaired or replaced with sewer connections.
Laura Renwick, a spokeswoman for DHEC, said public notices are expected next week for plans for both James Island Creek and Shem Creek. Both creeks are failing water quality standards due to Enterococci, an indicator of fecal bacteria.