Monday won't be the typical start to the work week in the Charleston area as residents and visitors alike prepare for the sky to go dark mid-afternoon. 
To prepare, we've created one place to keep everyone informed on the viewing events, tips to have the best experience and odd facts on the total solar eclipse. You can read all of our coverage here.
Here are some highlights to know before venturing out tomorrow:  
Where and how to view it:
Here's our map showing times of when totality will hit South Carolina. The Charleston area should start experiencing totality around 2:46 p.m.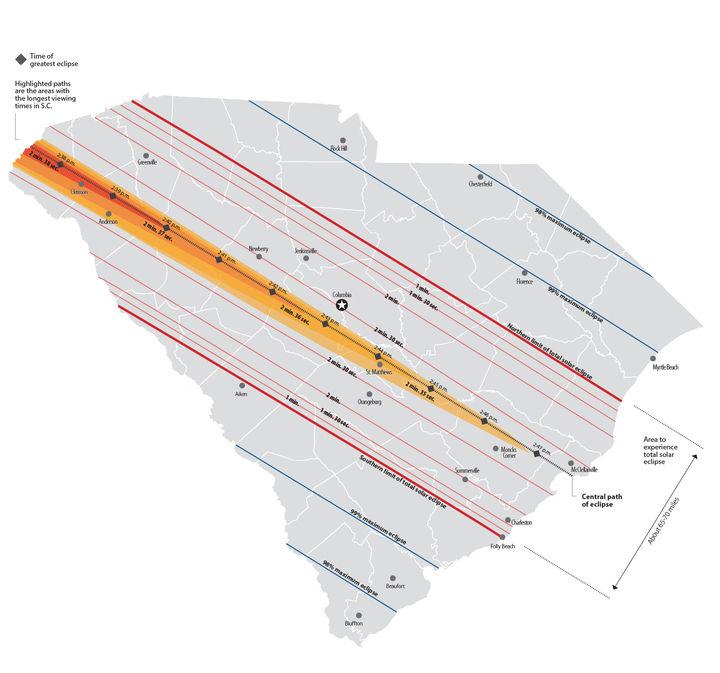 To celebrate, there are tons of events going on around town:
-"A Total Solar Eclipse Charleston" is a free family-friendly event at new venue, The Bend, along the Ashley River. (Oh, and the first 5,000 attendees will receive free viewing classes.) It will feature Grammy Award winning "kid-hop" artist Secret Agent 23 Skidoo and other family friendly activities. (Read more.)
-If after parties are more your forte, there are many events going on at bars and restaurants around town such as the "Total Eclipse of the Brick" '80s-themed celebration at The Brick or the "Dark Side of the Sun" event at the Charleston Harbor Resort & Marina.  (Read more.)
-For a complete list of all events around the Lowcountry, click here. 
-And if you'd rather not brave the traffic, that's cool too. Here's our suggestions for how throw an eclipse party in your own back yard.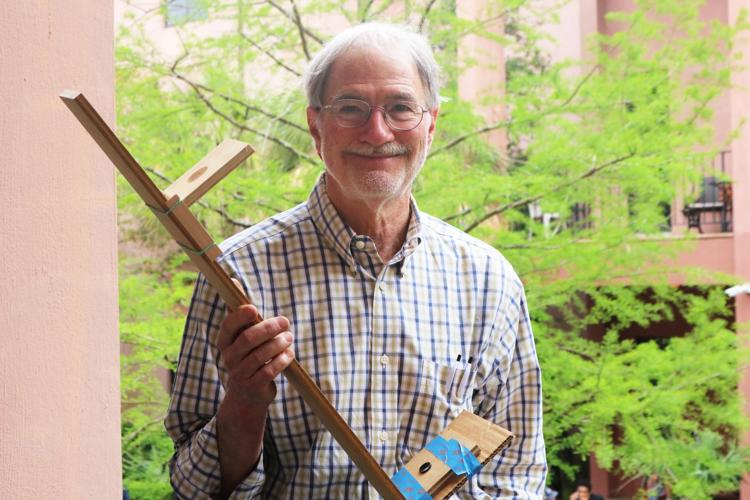 -You can even step it up a notch and make your own DIY telescope designed by a College of Charleston professor. (Learn how, here.)
How to stay safe:
-South Carolina emergency officials have been preparing for the big day for a while. They warn to stay off roads and get the proper protection glasses. (Read more.)
-Also, the city of Charleston has been putting extra rules in place as well. They're even closing the Ravenel Bridge to pedestrians for a few hours. They also really want you to wear the proper safety glasses. In fact, they want you to wear them so much that the mayor did this:
(Read more on how the city of Charleston is preparing.)
-So it's probably for the best you wear your safety glasses so that you don't have to go to a hospital, many of which are concerned about the amount of people crowding into the state. To be prepared they are "assuming the worst and hoping for the best." (Read more about emergency preparedness) 
-And finally, let us never forget the Lizard Man.
Government agencies are not ruling out the possibility of South Carolina's infamous creature appearing during the eclipse. Seriously. The South Carolina Emergency Division warns to "remain ever vigilant" regarding "possible paranormal activity" during the eclipse. (Read more.)
Other things you may have not have known about the eclipse: 
-How common are eclipses in S.C. in comparison to elsewhere in world? We have some handy graphics and explanations, here.
-Forty-seven years later, a unique record of the last total solar eclipse has resurfaced in Charleston — just in time for the next one. (Read more.)
-Wondering how animals will respond to the eclipse. Here's what we found out. 
-Did you know Airbnb expects their most popular night ever in South Carolina due to this? Read more about it here.
Still want to read more about the total solar eclipse? Never fear, see our entire section here.