Lane reversals on two South Carolina major highways are starting early Tuesday after Gov. Henry McMaster ordered evacuations along state's entire 187-mile coastline so residents and tourists can get out of Hurricane Florence's potentially devastating path.
The eastbound lanes of Interstate 26 from Interstate 526 near Charleston to I-77 near Columbia will close starting at 5 a.m. Tuesday, the S.C. Highway Patrol said. 
To the north near Myrtle Beach, eastbound lanes of U.S. 501 between S.C. 22 and S.C. 576 will close starting at 10 a.m. Tuesday for lane reversals, state transportation officials said. 
Traffic on all lanes of both major highways will flow westward at noon, the same time McMaster ordered the evacuation of one out of every five South Carolinians, about 1 million in all, from areas in eight coastal counties. 
Schools and state offices in 26 counties as far inland as Lexington in the Midlands will close as of Tuesday, enabling schools to serve as emergency shelters and making school buses available for evacuations.
"People, we need to prepare," McMaster said during a briefing at the state's emergency management center in West Columbia. "This one is particularly big, particularly strong. ... We don't want to gamble with a single South Carolina life."
While McMaster called the evacuation mandatory, officers cannot physically remove people from their homes. But those who stay behind should know that first responders might not be able to reach them immediately or at all in case of an emergency.
Most of South Carolina's coast remains in Florence's cone of uncertainty, raising the possibility of the state's first major hurricane strike in nearly three decades. 
By midday Monday, the hurricane blew winds near 130 mph, reaching Category 4 strength capable of devastating damage. Forecasters expect Florence to make landfall somewhere near Wilmington, N.C., before sunrise on Friday with winds as strong as 120 mph.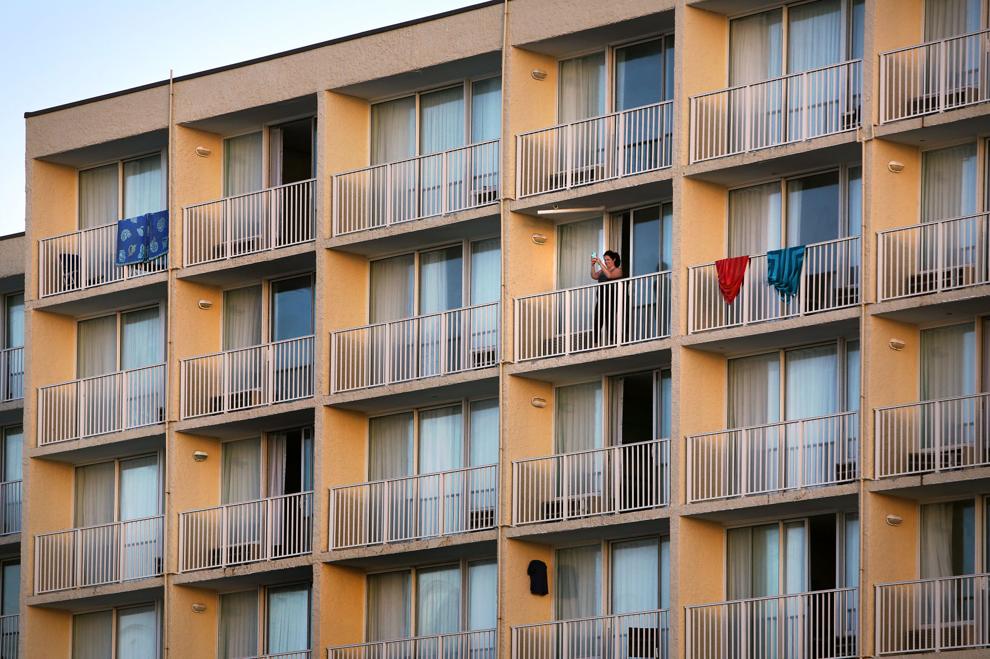 In South Carolina, Horry County, home of Myrtle Beach in the northeast corner of the state, is the focus of storm activity while bracing for what emergency officials called Monday "an unprecedented event" and "a very dire situation." 
"There's no scenario that we can see so far that will take this away from us like most recent storms," Horry County Emergency Management Director Randy Webster said during a briefing. "If we take the hit that we are expecting, this will not be like the past (where) 24, 48 hours and everything is back to normal. This will be remembered with Hugo and Hazel," the Myrtle Beach area's worst-ever hurricanes.
Horry County's population has doubled since Hugo destroyed piers, smashed homes and left thousands without power for days in 1989.
Even with four evacuation routes and fewer vacationers than during the summer peak season, it's likely to take more than a day to empty the homes, businesses and hotels around Myrtle Beach, said Gina Vasselli, a spokeswoman for Horry County Emergency Management.
"It takes a considerable amount of time," she said.
About 3,000 state transportation workers are ready to deploy if needed to fix roads and bridges. Some 440 state law enforcement officers are already on the coast to secure homes and businesses left by evacuees along with 1,600 National Guard soldiers. The number of guard soldiers is expected to double as Florence arrives.
"Lawlessness during this period of time will not be tolerated," State Law Enforcement Division Chief Mark Keel said.
Some of the 19 hospitals in the evacuation zones are seeking exemptions so they do not have to move patients, said Tommy Crosby, a spokesman with the state's Department of Health and Environmental Control. 
Last September, McMaster ordered evacuations on seven barrier islands along the state's southern coastline — including Hilton Head Island — to escape the storm surges of Hurricane Irma, which hit Florida. That order affected about 44,500 residents.
President Donald Trump asked people in Florence's path to heed warnings of state and local emergency officials. 
"To the incredible citizens of North Carolina, South Carolina and the entire East Coast — the storm looks very bad! Please take all necessary precautions," Trump tweeted with a short video of the large swirling storm. "We have already began mobilizing our assets to respond accordingly, and we are here for you!"
Most of South Carolina's coast was evacuated in October 2016 when Hurricane Matthew skirted the shoreline before coming ashore just north of Charleston with winds of 75 mph.
A year earlier, much-feared Hurricane Joaquin missed the East Coast but fueled what experts called a "fire hose" of tropical moisture that aimed directly at South Carolina, dumping up to 2 feet of rain over several days and killing 19, most of them in the Columbia area.
The last major hurricane to hit South Carolina was Hugo in September 1989. It came ashore just north of Charleston with winds of 135 mph, causing 13 deaths in the state and $6.5 billion in damage in 1989 dollars.
With Florence speeding up, McMaster declared a state of emergency Saturday, which allowed the state to begin putting hurricane preparations into effect and allowed the governor to use the National Guard and deploy law enforcement officers.
The declaration also triggered South Carolina's anti-price-gouging law, which remains in effect until the emergency status ends. Taking advantage of the storm by unfairly hiking prices for food, gasoline, hotel rooms or other needs is a misdemeanor punishable by a $1,000 fine and 30 days in jail, Attorney General Alan Wilson said.
On Sunday, McMaster asked the Trump administration to declare an emergency, which would allow federal money to flow to the state in direct help and reimbursements to state agencies soon after the storm passes.
The lane reversals allow McMaster, who is seeking his first full term in November, to avoid the traffic nightmares on I-26 when Gov. Jim Hodges ordered an evacuation in advance of Hurricane Floyd in September 1999. It took drivers up to nine hours to reach Columbia.
State officials have been practicing the lane reversals ever since that fiasco, which contributed to Hodges' loss in 2002.  
Gov. Nikki Haley's 2016 order for Hurricane Matthew marked the first time those practice drills were put into use. Officials called it a success, with traffic steadily moving at up to 70 mph.
Andy Shain, Andrew Brown and Andrew Knapp contributed.