CORDESVILLE — Once a vibrant house of worship used by the area's black community, the inside of the 19th century-era church is now vacant with broken pieces of wood and glass scattered across the floor.
But decades since Taveau Church stopped hosting regular worship services, steps are underway to save this piece of Berkeley County's history.
Faith leaders, historians and others from Cordesville United Methodist Church have begun efforts to preserve the structure that was likely built by slaves and has fallen in disrepair over the past few decades.
'Holy Ghost Headquarters'
Taveau Church, located on Doctor Evans Road, was constructed in 1835 under the direction of Martha Caroline Swinton Taveau, a Presbyterian who had formerly been married to wealthy plantation owner John Ball Sr. Some time after her death in 1847, the church was used by black congregants.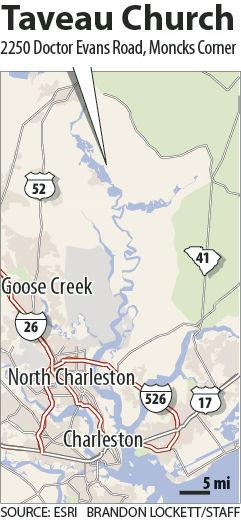 The Luce family, who purchased the property in 1936, donated the Taveau site to a Methodist congregation in 1949. 
Cordesville resident Charlena Rivers, 67, is one of the three living residents who attended Taveau.
Her grandmother, who was married to Taveau's lead minister, prepared communion. Services were celebratory and people shouted, sang and prayed. There was no organ or drums. But parishioners made music using washboards and by beating pews with sticks.
"Holy Ghost Headquarters" is what many called Taveau.
"They always had a good time," Rivers said.
Taveau, which dwindled to less than 10 members, merged in the early '70s with what is now Cordesville United Methodist Church, currently responsible for maintaining the Taveau site.
Taveau is also noted for its architecture. Details include paneled shutters and a portico supported by four columns. The building is an unusual example of 19th century-era church architecture and exhibits sophistication rarely seen in rural church design, reads the church's nomination form to the National Register of Historic Places.
The inside features a balcony, constructed in many congregations to separate black churchgoers from the whites who sat in pews at ground level. Local historians aren't sure whether Taveau ever had a mixed congregation, they said, but it's unlikely that blacks would have been allowed to worship independent from white slaveholders.
Some Cordesville UMC members tried providing regular upkeep of the site, pooling funds to care for the lawn and maintain the graveyard. But preserving the building proved too challenging for the mainly elderly congregation that welcomes about 25 parishioners on any given Sunday.
As the parishioners who attended Taveau have died, so has the urgency to save the site, said the Rev. Clayton Jones, pastor of Cordesville UMC. Today, there are only three residents living who attended the historic church.
"There was no interest in the folks that did not come from Taveau," Jones said.
The structure fell in disrepair. Today, its exterior consists of rotted wood, broken windows and gaps in the ceiling. The building had been vandalized several times, leading members to install a fence in front of the property.
Saving Taveau
The deteriorating 184-year-old building caught the attention of historians.
Robert Macdonald, director emeritus for the Museum of the City of New York who currently lives in Mount Pleasant, watched the building fall into disrepair as he often passed by the property on his way to Mepkin Abbey.
He recently connected with Clarence Brown, a Cordesville native, and Pastor Jones to discuss preservation efforts.
The group has reached out to contractors about repairing the roof to keep rain from causing further damage. After the building is stabilized, the group hopes to find an architect to discuss what can be done to restore the historic structure.
Leaders in the effort hope the church could be a community center or place for senior citizens. A restored house of worship used only for special services would be ideal, as well, similar to others in the area.
Taveau, which sits beneath oak trees, would be an ideal wedding venue, said Brown, who serves as the project manager for the initiative. 
Once leaders in preserving the site get estimated costs, they'll begin raising funds. They said funds for the National Register of Historic Places site would come from preservation groups, foundations, corporations and individuals.
Historians are optimistic that many will support the effort.
"Once people understand the uniqueness of this building, people will come forward with significant gifts," Macdonald said.
Other historic places where blacks worshipped have been preserved in Berkeley County. The Cherry Classroom, located in Moncks Corner, dates to 1876 and doubled as a church in the African American community. The building remained unused for decades until residents raised funds through fish fries and banquets to renovate the structure and open it as a museum in 2011. 
Rivers is glad to see efforts being made to preserve the place where she attended Sunday school with her family.
"Its been a long time coming," she said.