BOWMAN — Charleston Highway is the main road through the center of this small town about an hour from Charleston along Interstate 26. There isn't a stoplight, just a few stop signs.
A once-thriving dairy community in Orangeburg County, Bowman now has just under 1,000 residents. These days, what brings a lot of people to this tiny outpost is the UFO Welcome Center, built by Jody Pendarvis over the past 25 years to greet aliens, should they decide to visit South Carolina. 
Pendarvis' neighbor Devontay Turkvant said he has lived across from the UFO Welcome Center for two years now.
"I grew up on the other side of Bowman and knew all about it my entire life," Turkvant said. "People are really into this. With the solar eclipse there were a ton of people watching it in his yard."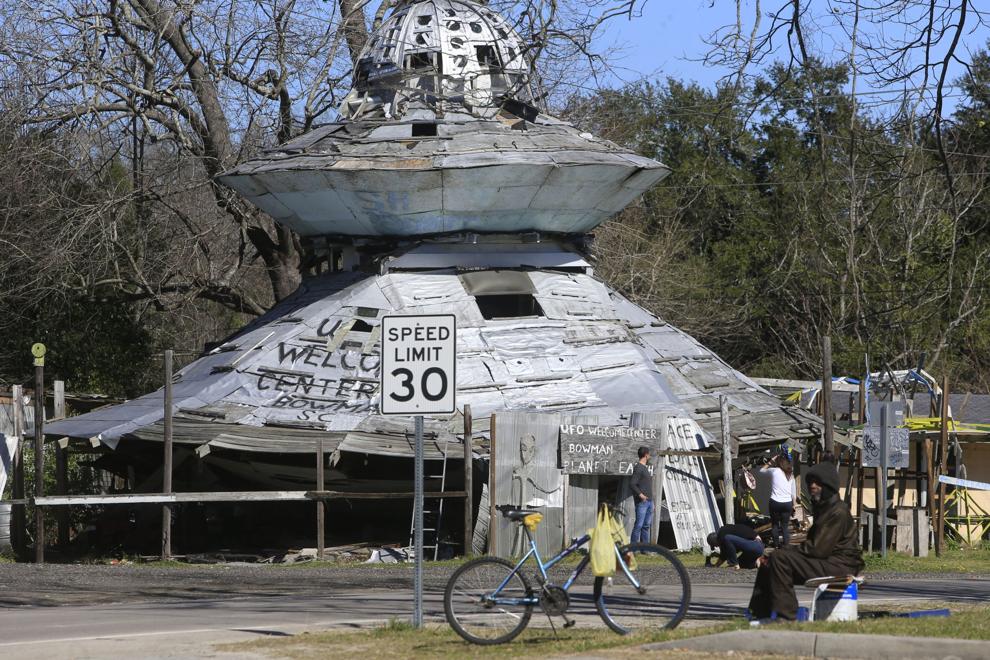 Bowman Country Store manager Sonya Patel said people come into the store and ask about the welcome center, wanting to go inside.
"Jody does come in now and then to play his lotto," she said.
The land where the gas station is on was once owned by Pendarvis' grandparents, who also had 52 acres of farmland in town.
Mike Mack, a resident of Bowman, was sitting outside the store recently, watching customers go in and out.
"I went up once," he said of the welcome center. "I thought it would have buttons and lights, but it just had wires dangling in it. I think he's still building it." 
Built from the ground up
A sign near the outside entrance of the welcome center reads, "Space People Only. Enter at Own Risk, Danger."
As you walk in the narrow hallway entrance, a visitors' registry is presented next to a few American flags, a television remote and a toilet. The book asks you to write down your name and what planet you're from.
The ceiling boards are covered in exposed wires and cables that are intertwined throughout the whole welcome center. Staircases take you to a dome-shaped room at the top, where dozens of pie plates are used as porthole windows. From there, you can look out for any signs of UFOs in the sky or see Jody sitting in front of the TV flipping through to a channel playing old episodes of "Star Trek."
Rafa Key, 7, and her mother, Danielle Key, were headed back to Charleston from a concert in Charlotte when Rafa saw a billboard that that said "UFO Welcome Center tilt right Bowman." Jody paid for it himself.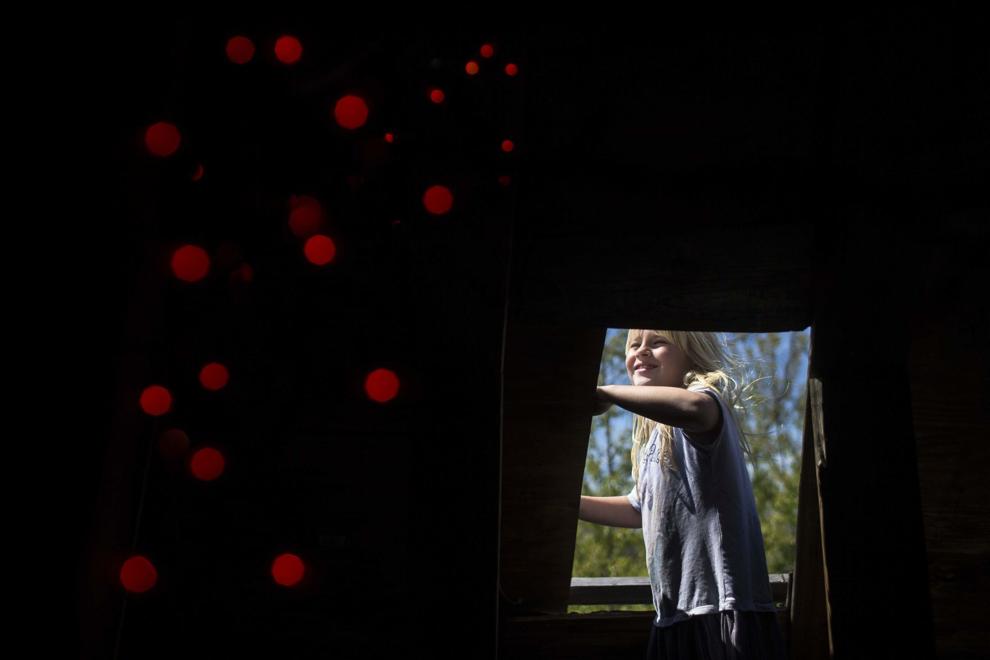 Wearing her Magic Space T-shirt, Rafa's face lit up as she explored the welcome center's different rooms and windows. 
"She loves everything with spaceships or planets," her mom said.  
As Rafa and her mother left the welcome center, another car pulled up.
Andrew Bowman and his fiancee, Ashley Amstutz, were driving back home to Akron, Ohio, from Gainesville, Fla., when they saw the sign. They took a few cellphone photos, exchanged a few words with Pendarvis and went on their way.
This is a typical day for the UFO Welcome Center. The billboard has helped bring in curious travelers since it went up in May 2018.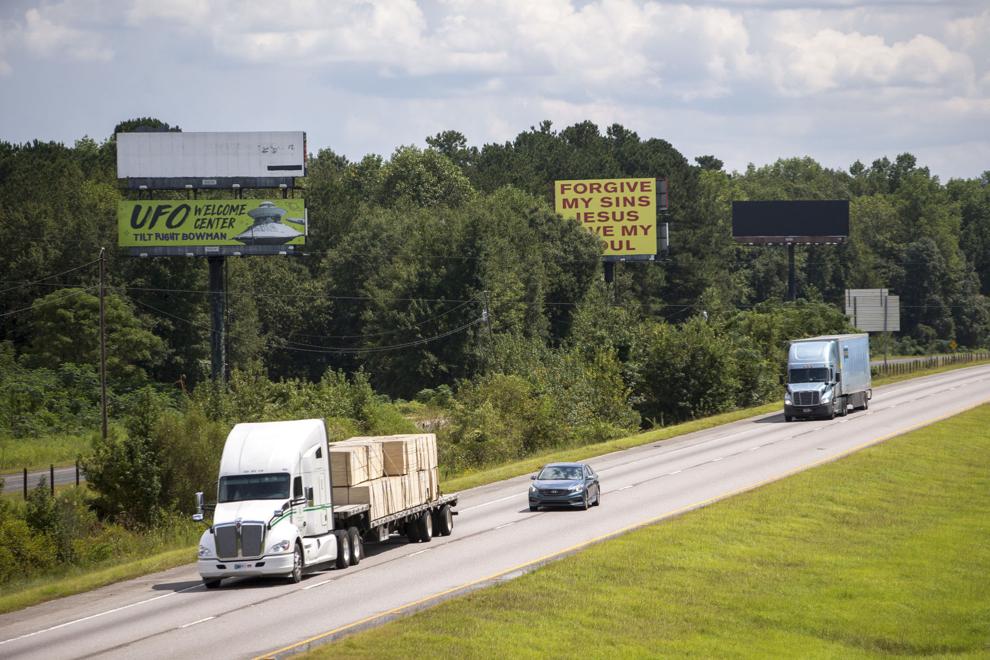 The welcome center began as an office space outside of Pendarvis' trailer. It sprung up without a diagram or any plans, just a place where he could work. He used plywood and material he found from his grandparents' property or that was discarded around town. 
"I walked into town hall and applied for a building permit and got an application to run for mayor," he said. "I got 41 votes." 
On a recent Monday, Pendarvis parked his spray-painted truck next to the UFO Welcome Center with two large wooden planks in the back. He was just getting back from the out-of-town hardware store for supplies to add support beams to the 16-foot-tall, 46-foot-wide welcome center. After unloading, he went straight to his circular saw and cut the wood to fit precisely along the walls. He has been continually adding onto the structure since he first started it in 1994.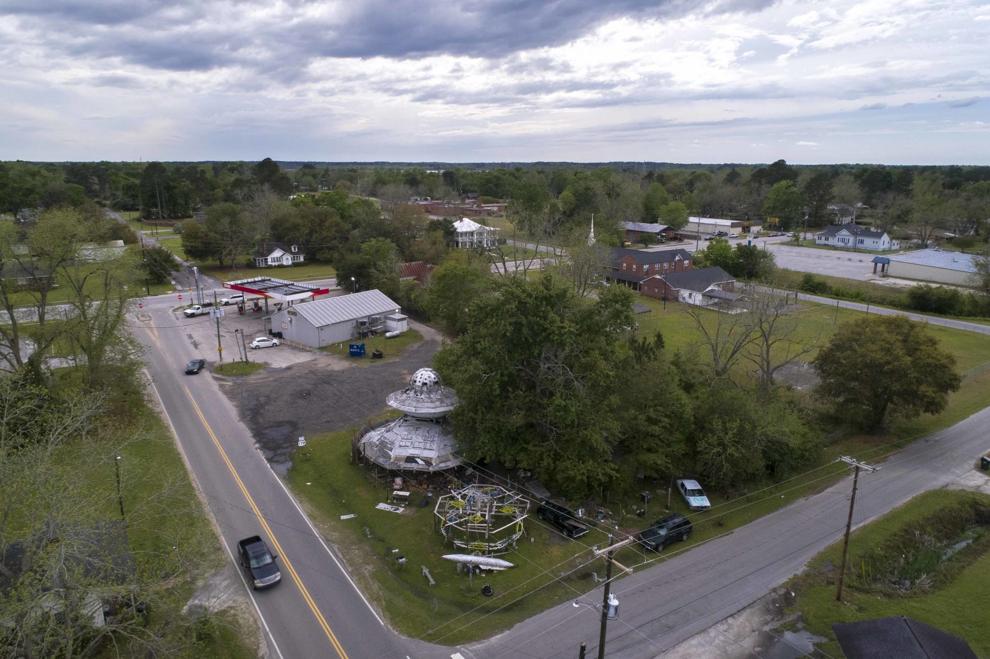 An eccentric passion project
Bowman Mayor Marion Glenn said he wants to make the UFO Welcome Center more of a true town welcome center.
"I have been trying to persuade him for years to have something more attractive inside and out. I want to have people come in and look at it, with different drawings and things that promote the town. It could show where town hall is and where families could come and take pictures."
Pendarvis is indifferent about it and said he will hand it over once he's gone, but for now it's Jody's Welcome Center.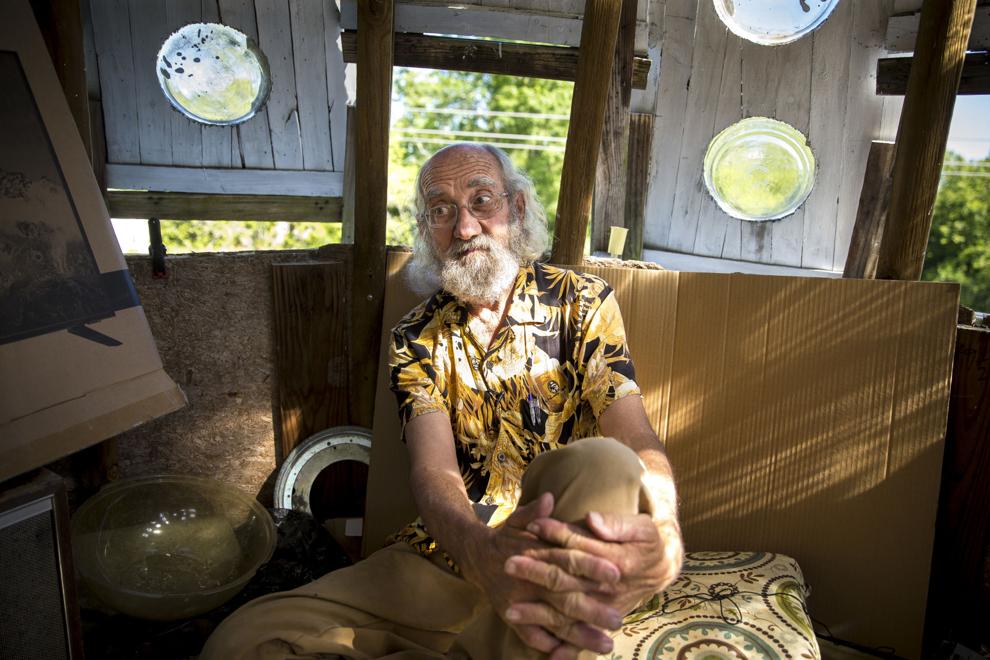 Former Fire Chief Ethel Sue Davis isn't a fan of the center.
"It's an eyesore. I'm surprised one of the hurricanes hasn't knocked it over yet."
To Pendarvis, it all just rolls off his back.
Maggie Sanford of Orangeburg met Jody when he struck up a conversation with her at Waffle House, where she works. She has known about the welcome center since it was first built.
"Jody would come and get the same order. He would talk to everyone," she said. 
"I think that most people like him and see him as a pretty cool cat, a lot of people think he's crazy or eccentric."
Pendarvis gave her a cookbook that has photos of the UFO Welcome Center in it. The book is called "South Carolina Back Road Restaurant Recipes."
After graduating from Bowman High School in 1970, Pendarvis served in the Air Force from 1973 to 1984. He had a military education there working on computers. After the military, he earned a bachelor's degree in computer science from South Carolina State University in 1990.
Four years later, he started work on the welcome center.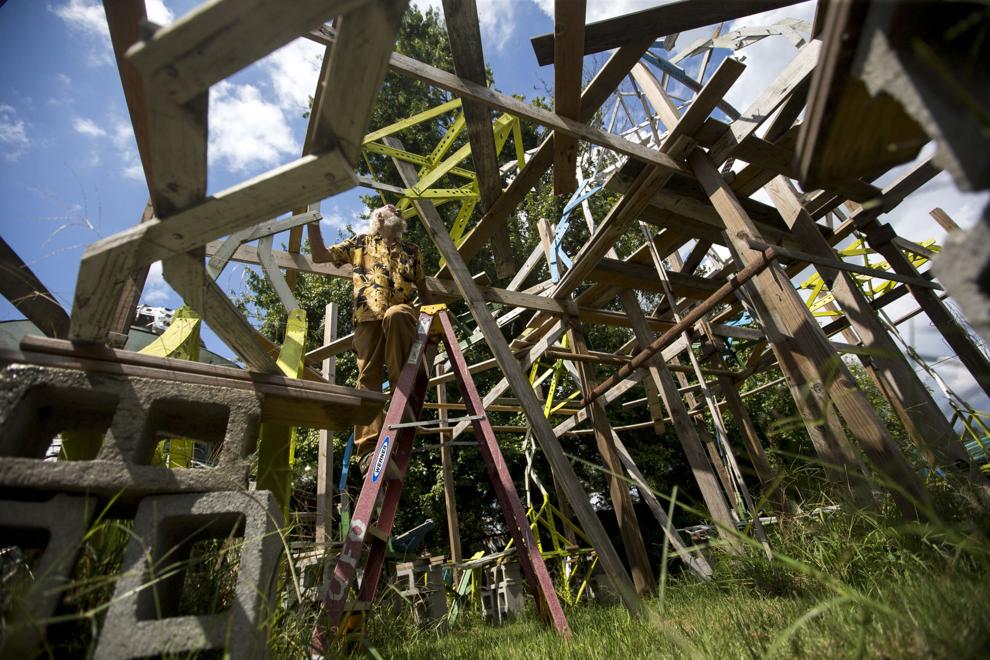 Pendarvis said he wasn't a true believer in aliens back then, but in 1999, during Memorial Day weekend, he left work at 3 a.m. and saw two moons directly in the west at the edge of the tree tops. On the left was the real moon and to the right there was a second — and it was moving toward him.
Jody laughed and said, "I guess it is true. If you build it, they will come."
Pendarvis has his own IMDb page that shows several short videos and interviews of him at the welcome center. One interview is from 1998 on Roseanne Barr's talk show.
"How are you?" she asks.
"I'm doing great," he said. "I'm waiting for the space aliens to come on down and land. They can land now."
Later in the interview, he said, "I'm afraid someone is going to say, 'Jody. you're a nut.' "
Roseanne responds, "Um, Jody, you're a nut. But we still love you."