COLUMBIA — The sister of Charleston church shooter Dylann Roof was arrested Wednesday for carrying weapons at her affluent Columbia-area high school, authorities said.
Morgan Roof, 18, also was charged with simple possession of marijuana, the Richland County Sheriff's Department said.
An administrator at A.C. Flora High School alerted a school resource officer about a student having pepper spray and a knife and making a Snapchat post that alarmed the campus. The incident took place on a same day when thousands of students nationwide walked out of schools to protest gun violence after last month's Parkland, Fla., high school mass shooting.
Anger over what was called the National Student Walkout sparked a post from a Snapchat account associated with Morgan Roof that was shared around social media Wednesday.
The post read: "Your (sic) walking out for the allowed time of 17min, They are letting you do this, nothing is going to change what (the expletive) you think it's gonna do? I hope it's a trap and y'all get shot we know it's fixing to be nothing but black people walkin out anyway."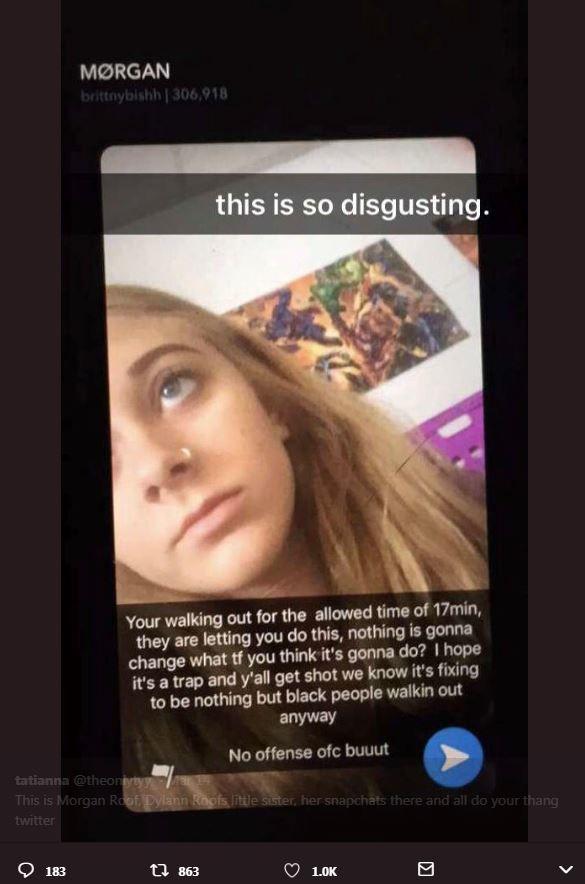 Teachers searched Roof following the Snapchat post and found the weapons and marijuana, Richland County Sheriff spokesman Curtis Wilson said.
Roof was arrested and sent to the Alvin S. Glenn Detention Center where she released after posting a $615 bond, according to online court records. Roof has an April 23 court date. She was ordered to stay away from the school in Forest Acres as part of her bond, according to WIS-TV in Columbia.
Roof has no other criminal record in Richland, Lexington and Kershaw counties. The arrest was her first disciplinary incident involving police at the school, Wilson said.
Chris Slick, a government communications manager who was a longtime neighbor of the Roofs, told The Post and Courier, "Tragedy has struck this family again." 
"This is not the Morgan I knew. She didn't hate people. She didn't have prejudices like this — in fact, I witnessed the opposite," Slick said. "I hope that one day, one day she finds peace and seeks forgiveness for what she did today. I cannot say I wish the same for her brother."
Dylann Roof was sentenced to death for the 2015 racially motivated mass shooting of a pastor and eight parishioners during a Bible study at Emanuel AME Church. 
Morgan did not attend any of Roof's trial in 2016 and did not testify. However, she visited Roof in jail with their father, Benn.
When Morgan said that she wanted to be at her older half-brother's execution, it was unclear if she was joking or trying to be supportive. She said that she had never been to one.
She also tried to tell Dylann that she loved him, but Roof, for his part, just answered her blankly.
"I love you, Dylann, even if you don't love me back," she said. He responded: "OK."
In July 2017, the only child of Benn Roof and Paige Mann was asked on her Tumblr blog why did she seem so happy when her brother was sentenced to death.
"Of course I care… but I'm not gonna let what he did effect (sic) what I do and how I live my life. I'm happy (because) I deserve to be," Morgan Roof wrote. "I have an amazing life and friends and support system. I went through and still have to deal with something unbelievably terrible that nobody understands. I choose not to let what he did ruin my happiness."
Roof's arrest was the second weapons-related incident at A.C. Flora in two days.
Sheriff deputies also arrested two 16-year-old students for bringing a Smith and Wesson .380 handgun and loaded ammunition magazine to the Forest Acres school on Tuesday. That incident is not related to Roof or the National Walkout day, a Richland County Sheriff spokesman said.
Gov. Henry McMaster used the arrests at A.C. Flora to renew his call to have trained officers stationed at every S.C. school.
"We don't need anymore legislative study committees, debates, or deliberation, we know what we need to do and we need action now," he said. "Today was proof positive."
Jennifer Berry Hawes and Jamie Lovegrove contributed.