SUMTER — Military drones that are used to find and kill terrorists overseas are being piloted in South Carolina, and a permanent headquarters for the operation is soon to be in the works. 
Airmen at Shaw Air Force Base in Sumter County have already been using the MQ-9 Reaper, an unmanned flying aircraft that can carry at least six laser-guided missiles and bombs, to covertly attack terrorist organizations. Air Force Staff Sgt. William Banton said the group's mission is to provide "dominant persistent attack and reconnaissance" for the United States.
"Currently, two squadrons are flying planes that are 7,000 miles away," said Steve Creech, the former mayor of Sumter and the city's representative on the S.C. Military Base Task Force, which advocates for the state's major military installations.
A few other U.S. bases that operate and house the MQ-9 Reaper include Creech Air Force Base in Nevada and Holloman Air Force Base in New Mexico.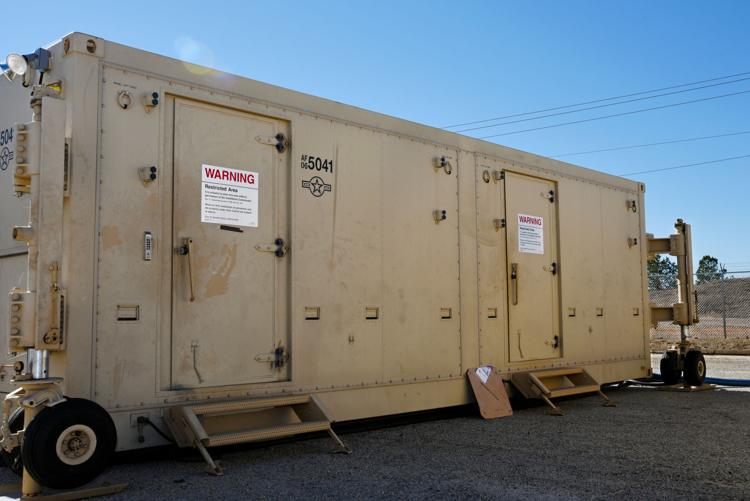 For the past year, the drones have been piloted out of mobile control units, essentially metal storage containers. But the U.S. government will be spending anywhere from $25 million to $100 million to build a permanent headquarters for the mission at Shaw. 
The contract is for "two new two-story buildings at Shaw Air Force Base," which will include "a Headquarters Building and an (operations building), which will house a multitude of various MQ-9 missions," according to a listing with the General Services Administration.
Construction on the new facilities is scheduled to begin in the fall and should take two to three years to complete, Banton said. 
Jeff Hamlin, spokesman for the Naval Facilities Engineering Command, said the project is still in "pre-solicitation" and hasn't been awarded to a contractor yet. 
The MQ-9 Reaper is 36 feet long with a wingspan of 66 feet. It looks similar to a small Cessna airplane. With a payload of 3,750 pounds, it can fire AGM-114 Hellfire missiles and drop bombs at a range of 1,150 miles.
Reapers aren't housed at Shaw, but are piloted remotely from the base.
A crew of two people, a remote pilot and a sensor operator, gather intelligence and fly the craft from computers at a remote location. Knowledge of theory of flight, air navigation, meteorology, flying directives and aircraft operating procedures are required for the job, according to an Air Force job listing. 
Joining the S.C. military mission
Secretary of the Air Force Heather Wilson announced the creation of the MQ-9 Reaper unit at Shaw in January 2018. The mission belongs to the 50th Attack Squadron, which is a part of the 432nd Operations Group in Nevada. It officially began operations in February 2018.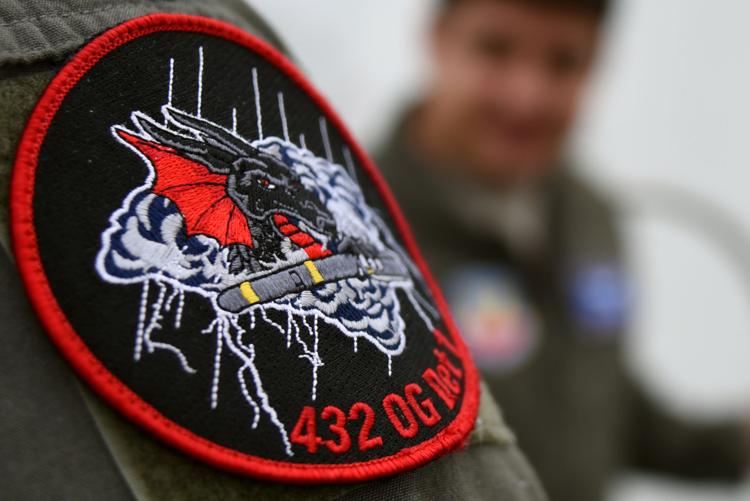 Activated in August 1917 as the 50th Aero Squadron, the 50th Attack Squadron has operated missions for almost 90 years in England, France, Guam, Okinawa and the United States. It was deactivated in 2005 and revived for the drone mission at Shaw. 
Shaw is already home to 20th Fighter Wing, the nation's largest F-16 fighter jet wing and Ninth Air Force. It also hosts Army Central and Air Force Central commands, which control the air and ground wars in the Middle East and Afghanistan.
Bill Bethea, chairman of the S.C. Military Base Task Force board, said the Reaper program is a unique addition and is helpful for recruiting, as well. 
"Drones are such a big part of our military's mission now," Bethea said. "It's certainly unique, and it's a good diversification for the base now."
Sumter contains the third-largest military presence in South Carolina, with an annual economic impact of approximately $2.5 billion that is supported by 17,000 jobs, according to a 2017 report from the Military Base Task Force. 
The addition of the Reaper mission has brought at least 400 people to Shaw Air Force Base, Creech said. More troops could be added to the operation in the future.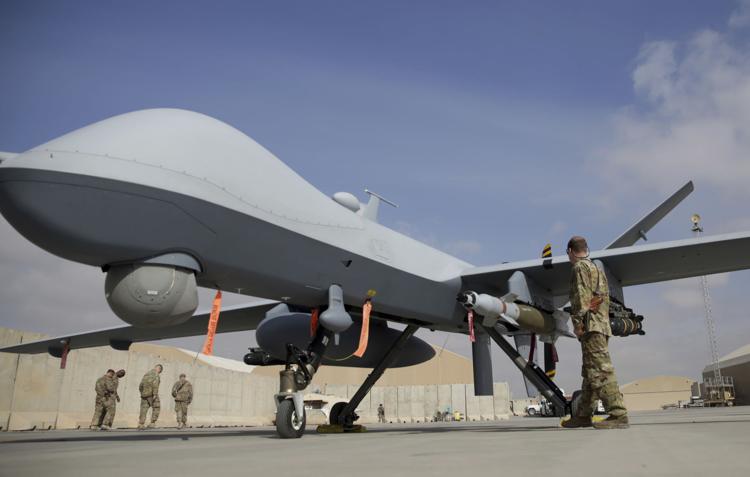 Military advocates were worried when the MQ-9 mission control center showed up on a Pentagon report of projects that could be defunded for President Donald Trump's border wall. The project escaped the chopping block.
At least $183 million was spent on defense contracts in Sumter County in fiscal year 2017 alone, according to the latest data from the Office of Economic Adjustment.
One of them was landed by New Jersey-based Honeywell International Inc., which makes the turboprop engine used on the Reaper. It was the third-largest contractor in South Carolina in 2017, netting $89 million.
Economic impact
The use of unmanned aircraft in warfare is somewhat controversial among human rights groups. Drone missions and civilian casualties resulting from them are highly classified and often hard to calculate, but the Bureau of Investigative Journalism has kept a database tracking as many strikes as possible.
Since 2004, more than 6,700 drone strikes have resulted in anywhere from 8,000 to 12,000 deaths, according to the organization's data. At least 700 of those casualties have been civilians.
Despite the concern with civilian casualties, some in South Carolina's congressional delegation have spoken favorably about the use of drones in warfare. 
When Shaw was named as a "preferred location" in 2017, Republican U.S. Sen. Lindsey Graham, known for his pro-military stance, called it a "positive step in the right direction." 
S.C. Democratic U.S. Rep. Jim Clyburn said in 2014 that then-President Barack Obama needed to launch drone strikes in Iraq. 
"I'm a great believer in drones, and I think that this situation cries out for it," Clyburn said at the time.
Charleston Democrat U.S. Rep. Joe Cunningham said in a statement that he was "thrilled" for the MQ-9 Reaper program to find a home in South Carolina. 
"South Carolina's military community plays a vital role in ensuring our national security and the security of our allies, and is an important contributor to our state's economy," Cunningham said in a statement. "Effective congressional oversight is vital to guarantee this capability is used in a way that does not needlessly endanger innocent lives and create more enemies for us in the process."
Rachel Stein, a spokeswoman for Clyburn, said the congressman didn't want to comment on the construction of the headquarters at Shaw.
Austin Livingston, a spokesman for Rock Hill Republican U.S. Rep. Ralph Norman, said the congressman did not want to comment about the drone facility, which is located in his district.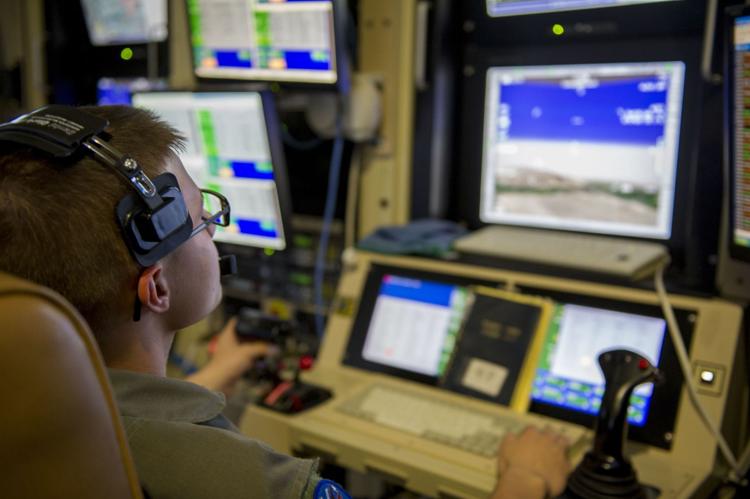 Sumter has the third-largest military presence in the state and an annual economic impact of approximately $2.5 billion that is supported by 17,085 jobs, according to a report by the S.C. Military Base Task Force.
Bases can potentially face closure or reorganization under base realignment initiatives, but Bethea said the drone mission provides longevity to Shaw.
"Sumter as a community has really welcomed these new service members, " Bethea said. "The MQ-9 mission has had a really significant presence."