With Charleston planning to double parking meter fees later this month and enforce them well into the evening, those who work in the bars, restaurants and hotels downtown fear they will be hit the hardest.
It currently costs $1 per hour to park in metered spaces, and they aren't monitored after 6 p.m., so they're effectively free until enforcement begins again at 9 a.m.
Several restaurant workers said those who work nights often hunt for the metered spaces because they're at least $1 cheaper than the garages, and workers don't have to feed them after the first few hours of their shifts.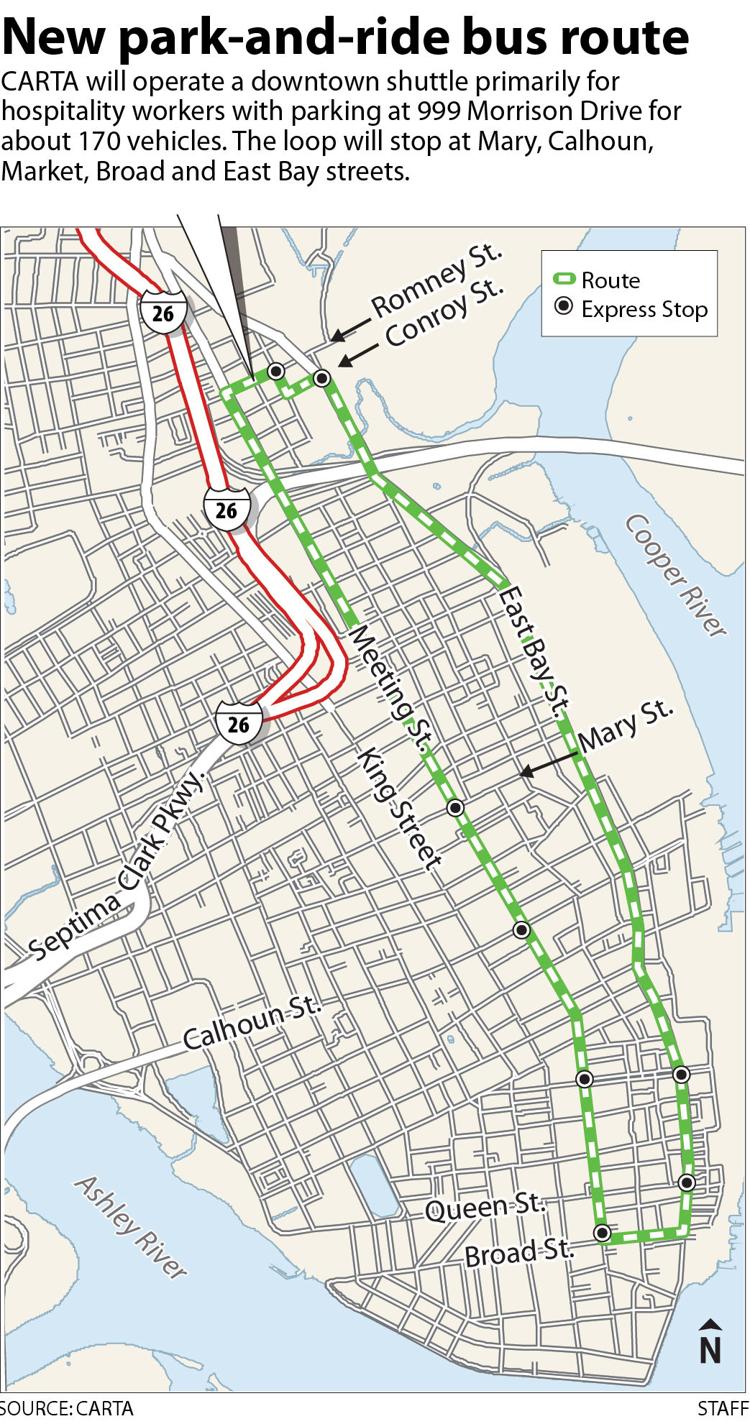 When the fee rises to $2 per hour and the spaces are enforced until 10 p.m., they say it will eliminate their cheapest option to park near their jobs. And because many low-wage workers such as dishwashers and hostesses are already facing escalating housing prices throughout Charleston, they say higher parking fees will only make it harder to live and work here.
"When you're already looking at housing that's getting more expensive, how are we going to staff these kitchens and these hotels that keep popping up?" said Michelle Weaver, executive chef of Charleston Grill.
The city says there's another option on the way that will be even cheaper and more convenient for hospitality workers.
The city has worked with the Charleston Area Convention and Visitors Bureau and the Charleston Area Regional Transportation Authority on a new park-and-ride bus system to shuttle workers from a parking lot on Morrison Drive to the main commercial areas on the lower peninsula.
The route's hours haven't been finalized, but officials say it will run in the early morning to accommodate hotel workers and past midnight to match the hours of bar and restaurant workers.
Initially, about 170 spaces will be available on city-owned property at 999 Morrison Drive. Users will be charged a $5 flat fee. The lot will be well-lit, and at least one security officer will be on the premises. 
Meter changes aren't going into effect until the service launches, said Josh Martin, adviser to Mayor John Tecklenburg.
CARTA has to work out details with its bus drivers before finalizing the launch date, but officials expect it to begin within a month.
The park-and-ride could offer the first real transit option for people who work downtown at night. Many bus routes on and off the peninsula stop by 9 p.m. 
Delia Smith, a server at Peninsula Grill, said many hospitality workers would gladly take CARTA to work instead of paying to park downtown.
"I have zero problem riding a bus," she said. "If I did not have to drive to work, I wouldn't. And most of the people I work with wouldn't either."
Her concern with the planned park-and-ride system is that it won't be large enough to meet demand. 
About 7,700 hotel and restaurant employees work downtown, according to the College of Charleston's Office of Tourism Analysis. Its survey last year found that about 80 percent of those workers drive to their jobs, and most end up paying for parking.
City Councilman Mike Seekings, also chairman of the CARTA board who helped orchestrate the new service, said the site is temporary and can be expanded into an adjacent property owned by Charleston County, if needed. It also could eventually be moved to a bigger site.
"This is a program that we're rolling out to show that it can work, and that it will work," Seekings said. "This is just the start."
Doug Warner, spokesman of the CVB, said the organization's role will be to spread the word to hotels and restaurants about the new park-and-ride option. 
At the same time, he said the CVB is under no illusion that it will put all the industry's parking woes in the rear-view mirror. 
"This issue is big enough that there is no one set solution," he said. "The park-and-ride is a big benefit, but it's not going to completely fix it."
In another effort to improve the downtown parking situation, City Council will vote Tuesday on a $220,000 contract with Kimley-Horn to conduct a parking study. The results, expected by September, will determine how many parking spaces exist on the peninsula and where new garages might be built, among other things.