More than 10 times the amount of EMS calls made in a newly adopted stretch of Berkeley County are being answered by Dorchester County as both counties try to sort through a late 19th-century mapping error.
Between Jan. 1 and May 22, Dorchester County responded to a total of 160 calls, county spokeswoman Tiffany Norton said. Approximately 136 single-family homes and 50 mobile homes are in the 13-mile-long stretch of land. 
Berkeley County, by comparison, had answered 16 total fire and emergency medical calls in the area, according to data obtained by The Post and Courier. 
Almost 20 years ago, surveyors realized that 2,900 acres of land in Dorchester County actually belonged in Berkeley because of the mapping error. On Nov. 7, the S.C. Geodetic Survey resolved the dispute and added the land back to Berkeley.
But the transition of the land from one county to another has caused a series of logistical issues relating to property tax revenue, emergency services and school district assignments. 
Between Jan. 1 and May 22, EMS and fire calls from the transition area were being routed to the neighboring county, Berkeley County spokeswoman Hannah Moldenhauer said.
"Our priority is safety," she said. "We want to respond to calls that we can respond to."
Berkeley County has, however, answered the majority of law enforcement calls. The Berkeley County Sheriff's Office has responded to 51 calls in the transition area as of May 22, in the transition area.
Jason Ward, the Dorchester County administrator, said tax revenues had already been collected in that area as of November and he worked with Berkeley County officials to determine how to best provide coverage for the area.
"We're working through all that," Ward said. "Over time, it'll be a matter of them having the ability to have an EMS station closer to the transition area to service those calls."
Starting July 1, EMS and fire calls in the transition area will be routed directly to Berkeley County. Moldenhauer said there aren't immediate plans to build an additional EMS service station in the area.
"We feel prepared to answer those additional calls," Moldenhauer said. 
Last month, Berkeley County said it had been responding to emergencies in the transition area since January. But the majority of the EMS and fire calls had been forwarded to Dorchester. 
"We all have some areas where one public entity is better suited than another to take care of an emergency," Ward said. "We're all just trying to put the citizens first."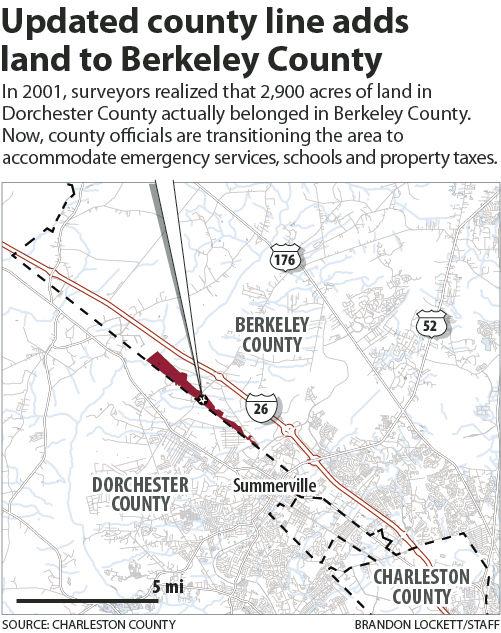 Lebanon Fire Department, C&B Fire Department and Pine Ridge Fire Department handle fire emergencies in the transition area, depending on the location. The mutual aid agreements that were in place prior to the boundary line shift are still active.
Dorchester County's EMS was honored statewide as the "medical system of the year" in March by the S.C. EMS Association. The agency responded to 20,246 calls and transported 12,614 patients in 2018.
The mapping error dates from Dorchester County's creation in 1897, the year it was carved out of portions of Berkeley and Colleton counties.
The mistake was discovered before 1990, but the two counties couldn't agree over how to transition the tract that runs from Four Hole Swamp to West 9th North Street in Summerville.
A state geodetic mapping survey in 2001 showed the boundary needed to move south. At the time, several residents bristled at the notion of switching counties, and officials ignored it until the state Bureau of Statistics in 2013 demanded that county lines statewide be reconciled.
Around 35 students from that district would be shifted to Berkeley County schools from Dorchester District 2 as a result of the boundary line moving. Approximately 41 students from Dorchester District 4 would be affected, too.
New polling locations and district lines are still being determined by the Legislature. Once it acts, voters already registered at their correct address will get new voter registration cards from Berkeley County that update their precinct and polling place.
"Our vision and goal has always been to make this a seamless process," Moldenhauer said. "There are some frustrations as we transition, and we're hoping to smooth out the wrinkles. But we're certainly happy about the partnership with Dorchester."