Scenic parks are finally turning up on the upper Ashley near Summerville — in the heart of the booming suburbs where a shortage of public access kept most people from enjoying the river.
The five parks are opening large stretches of the riverbank to some 300,000 or more people who live in the densely packed neighborhoods nearby, in parts of Dorchester and Charleston counties.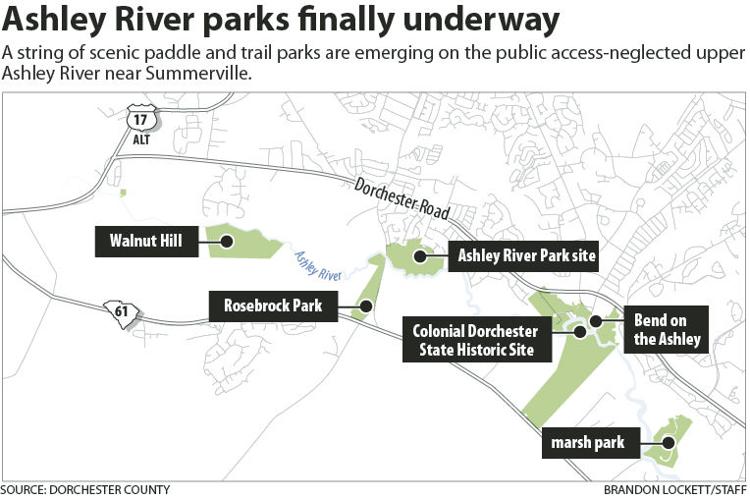 Until recently, the only convenient accesses on the upper river were a single boat landing and a state archaeological site.
Dorchester County, which is leading the effort with three of those parks, has managed to plow ahead despite a 4-year-old lawsuit that's kept $13 million in bond referendum money from being used and jeopardized matching grants. The referendum was approved by 60 percent of voters.
The lawsuit, led by former state Sen. Mike Rose, argues the county could not legally combine a bond to fund parks with a bond to fund libraries. It was dismissed in circuit court and has been appealed to the S.C. Supreme Court, which is expected to rule soon.
County leaders, who have made-do so far with earlier bond money, grants and other funding sources, say they are going ahead with or without that bond being cleared.
"We'll make lemonade out of lemons," said County Councilman Jay Byars, whose district includes the first of the river park properties.
"We're very confident the public supports parks," he said. "We'll see the public gets the opportunity to vote again (on a referendum)."
Backyard Escape
The 20-mile stretch south of Summerville, where the upper Ashley River turns from a blackwater creek to a tidal estuary, is the beginning of a state-designated scenic river in the heart of the booming Charleston metropolitan area, making it a near-at-hand escape from the trafficked suburbs. 
A paddle on the woodsy upper river means moments like spotting river otters playing or deer crossing in front of you, a red-shouldered hawk swooping past at eye level or a bald eagle staring down at you from an overhanging branch.
"There's not a lot of development because of the wetlands and floodplain," said Dorchester County Parks Director Eric Davis. "You're 3½ miles from Summerville and you feel like you're out in the wilderness."
On Saturday, more than 300 people crammed the still-padlocked Ashley River Park at Bacons Bridge outside Summerville for a 5K race that ran a riverbank trail before an 8-mile paddle starting at the park's opened paddle launch. The colorful boats lined the ramp like children at an amusement ride.
It was the inaugural Ashley River Adventure Race, the first event of its kind along the upper river. The Dorchester County Parks and Recreation Department put it together in the last few months in the hopes it could maybe draw something close to 200 people.
"We put on a cross-country race through an unopened park and a paddle down a scenic beauty. That one event shows us we can do a lot more," Byars said.
"I predict that in the future they're going to have to put in a (participant) cutoff. It was that a great race," said Jack Cunningham, one of the organizers of the longstanding Hunting Island Adventure Biathlon, who took part in the Ashley race.
"The fun, the camaraderie, running the park trails rather than pavement, the waterway is just gorgeous — it's a whole different environment," Cunningham said. 
Along with the 83-acre Ashley park, the others and the status are:
Open: The county's Rosebrock Park, 70 acres of riverbank trails across the river from the the Ashley park. 
Planned: The county's Walnut Hill park, 128 acres of wetlands and bottom 2 miles upstream. 
Planned: The town of Summerville's Bend on the Ashley, 38 acres adjacent to town-owned Herbert H. Jessen Boat Landing. 
Planned: A marsh park on 80 acres of the old Kings Grant Golf Course a mile downstream from the town park, including a walking trail and paddlecraft launch, to be managed by the city of North Charleston. 
Along with those, the county plans a paddle boat launch off U.S. Highway 17A. Colonial Dorchester State Archaeological Site has expanded to 325 acres and now spans both sides of the river.
Other areas are ahead of Dorchester County in park production. Charleston County has long had a growing assortment of recreation parks. Berkeley County has the vast open stretches of Lake Moultrie, the Francis Marion National Forest and the Santee and Cooper rivers.
As Dorchester County's population more than doubled in 30 years, to 130,000 by 2010, the county offered little in outdoors recreation except a few dirt put-ins on the Edisto River, which makes up its entire 50-mile southern border.
Until recently, to launch from Bacons Bridge you had to nudge your car down a steep dirt track dropping off the road to throw in at an unimproved bank that anglers had squatted on for years, said Howard Bridgman, of Summerville, a member of the Dorchester County Conservation Commission. On the way out you had to pump the gas to get up the track hoping nobody was coming down the road.
Bacons Bridge, "people used it as a great place to get rid of trash," he said.
What happened?
"The dialogue changed," Byars said. "Ten years ago when you talked to people they didn't want to pay taxes." Now "people are hungry for parks in their backyard. They're tired of driving to James Island or Mount Pleasant," he said.
The future
As suburban development continues to press around those 20 miles of river, the parks will become a string of outdoors destinations sought out by more and more people.
And it all likely won't be enough. County officials just purchased nearly seven acres of riverbank across from the Ashley River Park and are looking for more.
"I think these parks are going to be completely full from the day each one opens," Davis said. "I think they quickly will become regional parks."
The remoter Edisto River will be next. Audubon South Carolina has acquired 537 acres of old sand mine property with three miles of frontage along that stream near the Dorchester community in mid-county.
Plans are to restore or enhance natural environs and create a park along the lines of Audubon's Beidler Forest outside Harleyville "for passive recreation, birding trails, maybe some river trails," said Sharon Richardson, executive director of the state chapter. "It will serve an under-served area of the county."
The conservation organization already has talked with Dorchester parks officials about a management partnership, she said. 
It's more than just recreation, said Davis, the parks director. Keeping parts of the county green and the wetlands intact helps keep that wildlife-rich ecosystem in place and keep flooding from getting any worse.
The launch at the Ashley River Park was named for Bridgman in a ceremony last December. On a recent weekend he came across a paddling group from Florence at the launch with about 20 boats.
"The natural river was something we can't afford to lose," he said. "And that's what we were afraid of."