A disgruntled man with a gun killed a former co-worker at a popular Charleston restaurant Thursday and took at least one other person hostage for hours until police shot him.
Terrified lunchtime diners crawled and ran from Virginia's on King after the gunman barged in after noon, locked the door and announced "I am the new king of Charleston," witnesses said.
Police sirens wailed in the busy commercial district, and officers blanketed the downtown streets, a scene that served as a startling reminder of an episode two years earlier when a gunman shot nine church worshippers to death in a race-motivated crime a quarter of a mile away.
But the officers contained the shooter on the second floor of the King Street restaurant before they could take him down during a tactical operation. The suspect, described as an older man, was critically wounded.
No one else was hurt.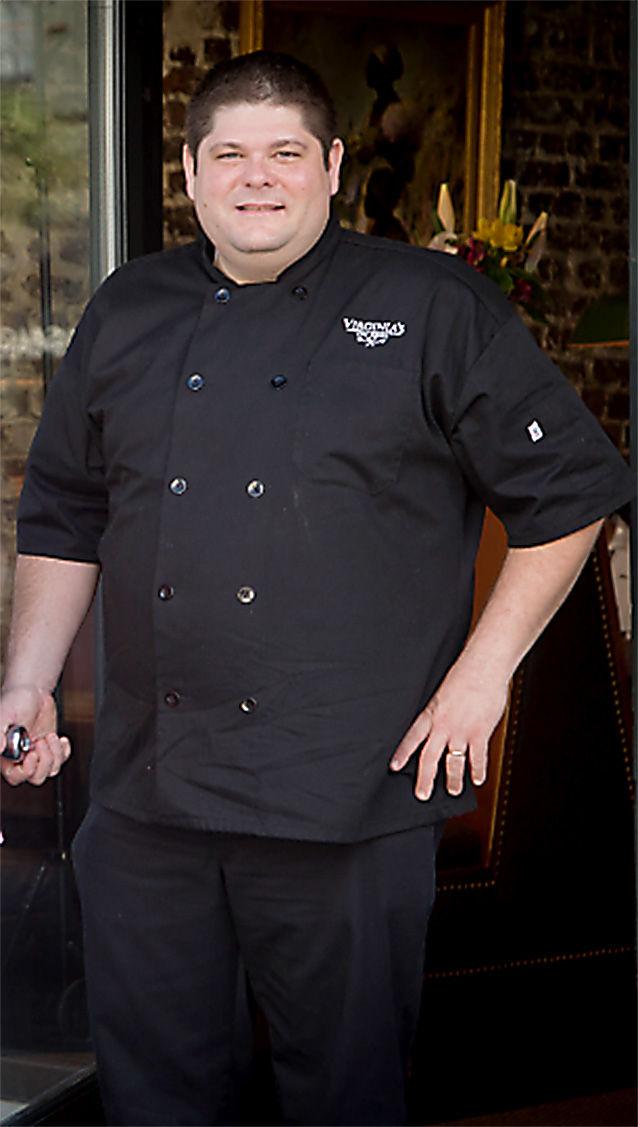 The Charleston County Coroner's Office identified the victim as 37-year-old Anthony Shane Whiddon, of Goose Creek.
Whiddon was the executive chef at Virginia's, the coroner's office said. He was transported to Medical University Hospital where he was pronounced dead.
Whiddon moved to Charleston to serve as opening chef for the now-closed Union Provisions. He previously held a line cook job at Charleston Grill. Before relocating to Charleston, he worked at Sea Island Company, a Georgia resort.
The father of two children, Whiddon joined Virginia's in 2016. He was just getting comfortable in his role as executive chef, according to colleagues who cited his pride over a recent photo shoot at the restaurant.
John Aquino, who works in the Virginia's building, said a manager was texting co-workers from a closet as the gunman kept hostages.
"I heard that a dishwasher got fired and came back in and shot the chef," he said.
The authorities offered conflicting accounts of how many people had been captive. One person was safely removed afterward, city officials said in a statement after initially indicating that a group had been held.
"This was not an act of terrorism. This was not a hate crime," Mayor John Tecklenburg told reporters gathered 100 yards from where city leaders first addressed the world about the mass shooting in June 2015. "This was a tragic case of a disgruntled individual.
"(He) took his anger into his own hands."
The gunman, who Tecklenburg said had suffered mental health problems, was not identified by authorities on Thursday.
Officials, including Gov. Henry McMaster, commended the quick police response.
"We send our prayers to lift up the families affected by today's tragedy in Charleston," McMaster said on Twitter. "As they always do, our law enforcement officers put their lives on the line today and likely prevented further loss of life."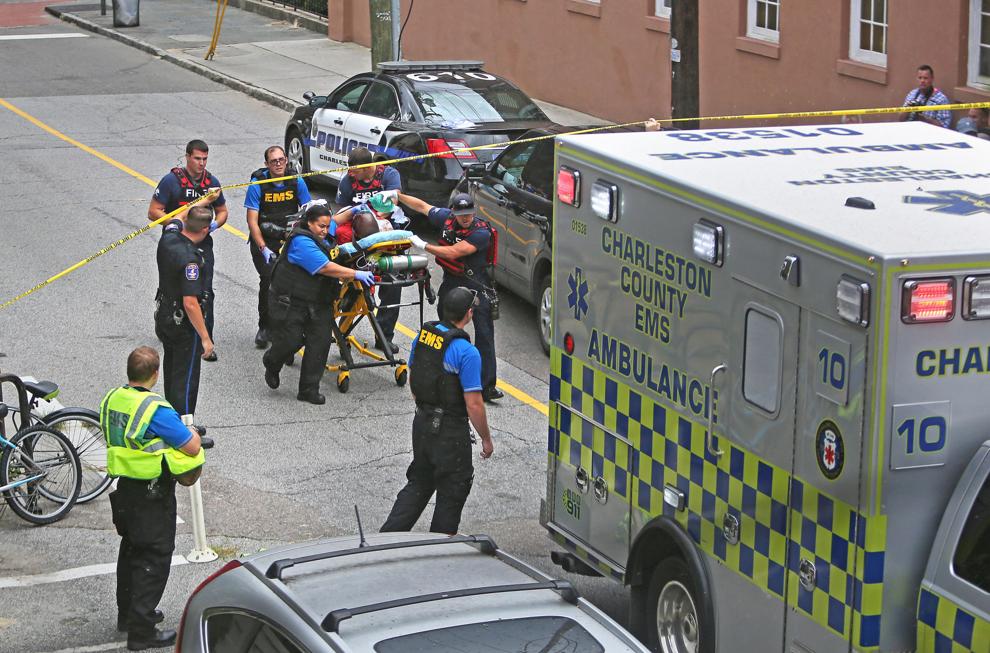 'A crazy look'
12:17 p.m.: Charleston police receive calls for help after a gunman shoots a man in Virginia…
Like many Charleston restaurants, Virginia's specializes in Southern dishes like fried chicken with collard greens or shrimp and grits.
The restaurant is part of Holy City Hospitality, a company founded by local businessman Michael Bennett in 2001. Its sister restaurants, including 39 Rue de Jean and Coast Bar & Grill, are nearby.
Holy City Hospitality's managing director, Marty Wall, released the following statement Friday morning on the loss of Whiddon:
"We are deeply saddened and heartbroken by what transpired yesterday at our restaurant Virginia's on King. We are devastated by the passing of Shane Whiddon, our beloved and well-respected chef and friend. Our thoughts and prayers from Holy City Hospitality and Bennett Hospitality are with Shane's family, our work family, and the customers and employees who are affected by this awful tragedy. We're extremely grateful for the incredible teamwork of the many law enforcement agencies and the Mayor of Charleston in handling yesterday's events. We would also like to thank the Pastor and staff at St. Matthew's Lutheran Church for all the support they provided law enforcement and our staff. The outpouring of support from the community has been remarkable and for that we are very grateful."
Virginia's takes up two stories in a building on the corner of King and Hutson streets.
To workers there, Thursday seemed like a normal, calm lunch hour.
But about 12:15 p.m., two waitresses and three kitchen staffers hurried past tables on the first floor and went through the front door, saying nothing to the diners inside, witnesses said.
Many were enjoying their meals when a man in his 50s or 60s emerged from the back of the restaurant. Clad in an apron, he also resembled a kitchen worker, the witnesses said.
But at first glance, the diners knew something was wrong.
The man was carrying a small revolver in his left hand. Some witnesses said he had called himself the "new king of Charleston." Other accounts varied.
"There's a new boss in town," he said, according to Tom and Patsy Plant, who had been eating with their daughter.
To Patsy Plant, he looked like an "ordinary grandpa."
"But he had a crazy look," she said. "It was very crazy."
He told about 30 customers to get down.
Bill Rosene of Mount Pleasant, who had been eating cornbread with his wife, looked up and saw the man walk down an aisle. Then Rosene saw the gun clutched at his side.
"Everyone get on the floor!" the man said, according to Rosene. "Get on the floor!"
No one screamed.
"But everyone was kind of frantic," his wife, Tia, added.
As people ducked down, the gunman changed his mind.
"No," he said, "everyone go to the back," the Rosenes recalled.
They quickly obliged. People move through the dining room. Some crawled.
"We did not want to give him a good target," said Peter Siegert IV, 45, of Maryland, who had been eating there with his father.
But as they herded away from the gunman, the patrons found two side exit doors.
"Then," Bill Rosene said, "everyone just ran out the door."
The first-floor diners scurried away, not knowing if more were still inside.
'I just ran'
It was unclear when the gunfire went off.
Cato Roemo was having lunch nearby when he heard three shots. He saw a body in the street, he said.
"I just ran," he said.
When officers from the Charleston Police Department arrived, the wounded person was inside, Interim Chief Jerome Taylor said.
The man was taken to the street, where paramedics did CPR. He was taken to Medical University Hospital, but he later died.
Officers, sheriff's deputies and federal agents converged on the restaurant. They drew their pistols and slung rifles over their shoulders. SWAT team snipers set up in nearby buildings and on rooftops.
Richard Sikoral, a construction worker at the Marion Square Hotel project across the street, led sharpshooters to the upper reaches of the unfinished building. Minutes later, two more SWAT members climbed scaffolding and took positions.
At a hair salon and other restaurants, people were told to stay inside. Doors were locked. Construction workers were ordered to leave. The Charleston Area Convention and Visitor's Bureau closed. Some area schools were locked down.
A man spoke on a cellphone, hoping to hear about his nephew who works near the scene.
Dozens of children and family members were kept inside the nearby Children's Museum of the Lowcountry.
"The children (had) no idea," visitor services associate Bobby LePire said.
Sarah Cobb, owner of MOSA Boutique on King Street, stuck her head through an open door to check on the commotion. The police told her to stay inside.
"We've got an active shooter," a policeman said while telling people to leave the street. "We don't want anyone else getting shot."
Officers showed up and broke a window to get inside, said Sandy Troeder, who works nearby.
Likening the quick police response to the mass shooting at Emanuel AME Church, Charleston County Sheriff Al Cannon said the officers managed to get inside the restaurant and stay there for most of the time while the gunman was upstairs with hostages.
Crowds gathered behind yellow police tape as the situation unfolded, hoping to reach their workplaces or to hear news that the situation was over.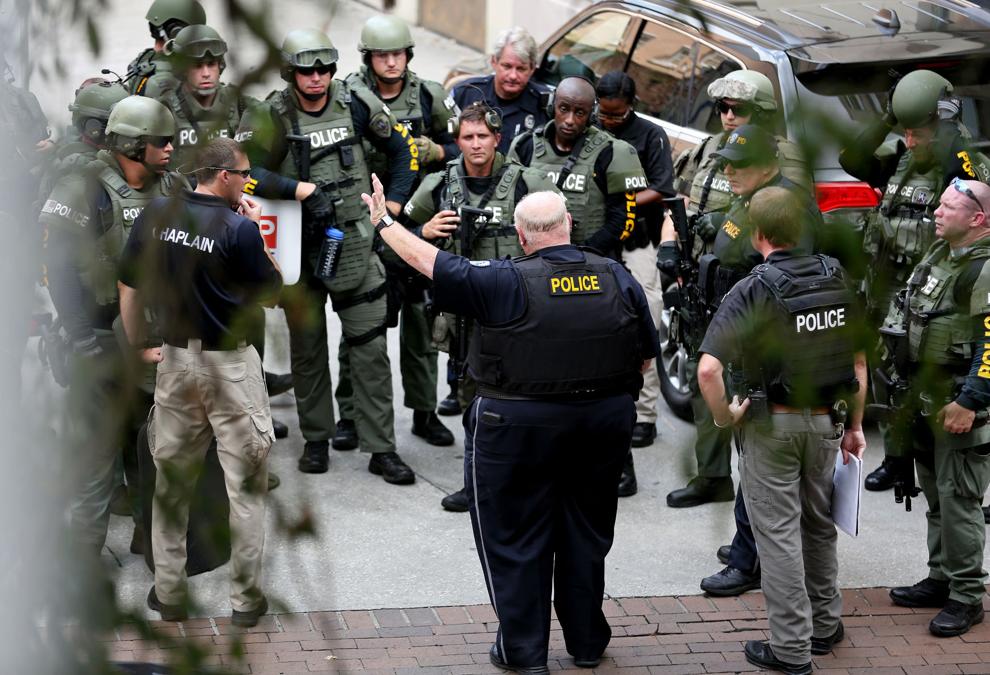 'The norm'
About 2:30 p.m., two hours after the ordeal began, a loud bang echoed between the historic buildings, startling tourists standing outside a Meeting Street hotel.
The sound, Cannon said, was likely an intentional explosion meant to distract the gunman.
A Charleston police officer shot the man, the police chief said.
The mayor said the man had "mental health challenges," but he gave no details.
"We tragically lost a member of our community," Tecklenburg said.
After an ambulance took the wounded gunman away, rain started to fall on Charleston. The sun poked through the clouds, and church bells rang.
"I'm glad to hear the bells of St. Matthew's are ringing," the mayor said.
Visitors in the popular tourist destination said the disturbance hadn't tinged their opinion of the Holy City.
"It's just random," John Griffith of Wilmington, N.C., said as he surveyed the police vehicles on the normally bustling Upper King Street. "But it's unfortunate (that) it's become the norm."
Brooks Brunson, Michael Majchrowicz, Prentiss Findlay, Mary Katherine Wildeman, Glenn Smith, Hanna Raskin, Schuyler Kropf, Gregory Yee and Tony Bartelme contributed to this report.