A thriving part of one of the nation's most popular tourist destinations has been named an Opportunity Zone — a "severely distressed" area where federal tax breaks are offered to developers and investors.
It's some of the hottest real estate on the Charleston peninsula — an area loaded with luxury hotels and apartment buildings, high-end restaurants and bars — extending along and adjacent to King and Meeting streets, from Marion Square on Calhoun Street to the former Piggly Wiggly on Columbus Street.
Now, investing in that area comes with federal tax breaks on investment gains through a program meant to help impoverished communities.
"That's amazing," said Steve Wray, broker in charge of Carolina One Commercial Real Estate. "I can't figure out how that got in."
The area, Census Tract 7, got in the Opportunity Zone program because it was the No. 2 priority on the city of Charleston's list of 10 potential zones.
It was eligible because, with a small population that's dominated by College of Charleston students — more than half the residents are ages 18 to 24 — household income in that census tract is low enough that it's considered a "severely distressed" area.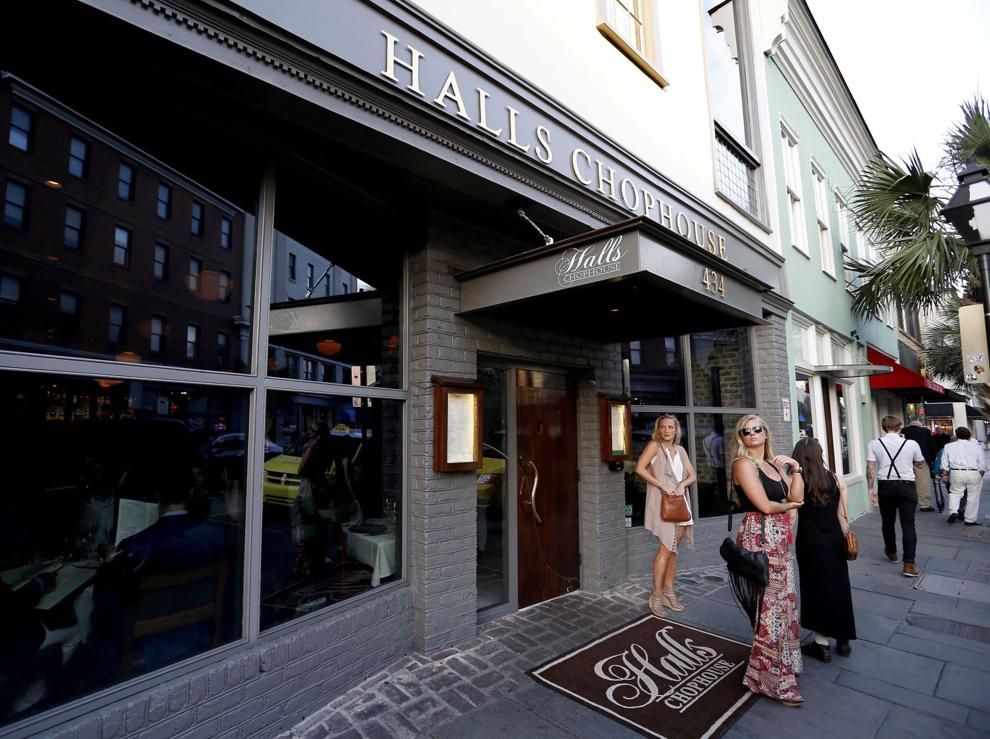 As the Opportunity Zone program rolls out across the nation, championed by North Charleston native and U.S. Sen. Tim Scott, the inclusion of some thriving areas has raised questions about who could benefit from an estimated $100 billion of investments predicted by Treasury Secretary Steven Mnuchin.  
"We asked for every census tract we knew to be eligible to be considered," Charleston Mayor John Tecklenburg said. 
The city's application to designate Opportunity Zones said: "Private capital is already flocking to the area, and its enhancement would help to provide the community with more of what it needs."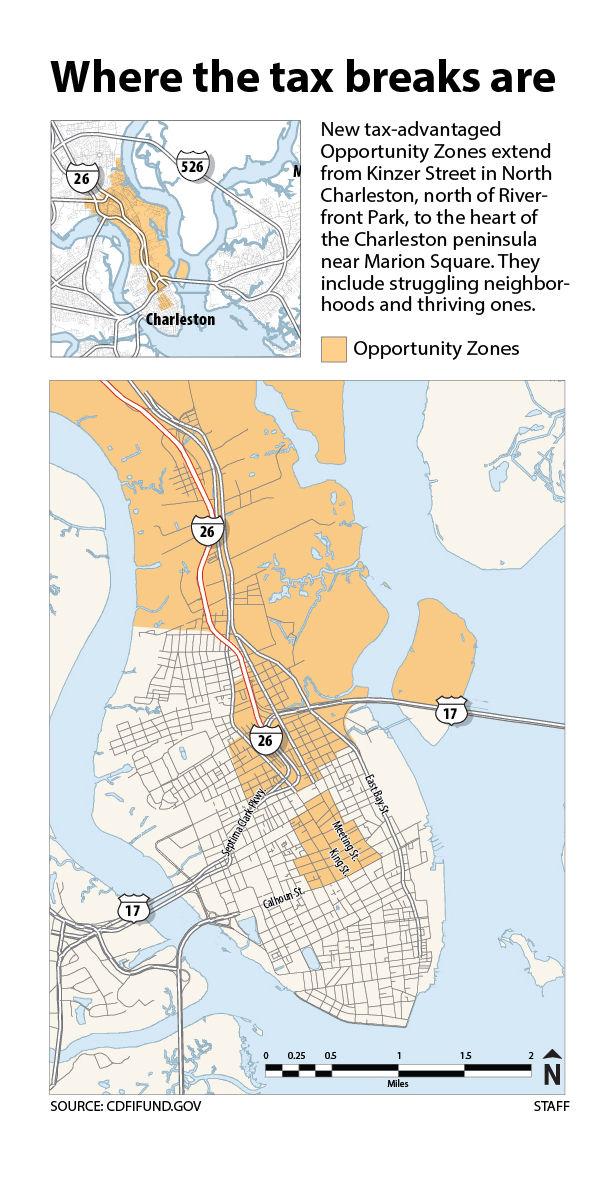 West Ashley left out
The state selected four of the 10 census tracts recommended by Charleston. Six others, half of them in West Ashley and the rest on the peninsula, were rejected.
The other three Charleston zones selected include a swath of the industrial Neck Area where a 182-acre redevelopment project known as Magnolia has long been planned, the area where the former Cooper River bridges used to sit, and also the thriving upper Morrison Drive corridor.
The city later asked Gov. Henry McMaster to take Tract 7, the area from Calhoun to Columbus streets, off the list and replace it with a West Ashley area that includes Citadel Mall.
"The mayor gave that to the governor, personally," said city spokesman Jack O'Toole. But by then, it was too late to make the change, he said.
Opportunity Zones are Scott's signature initiative to help low-income areas, like the one where the senator grew up in North Charleston. The idea attracted bipartisan support and was included in the tax code overhaul approved last year.
In a June editorial published in The Post and Courier, Scott said that "this piece of legislation aims to lift up entire neighborhoods by attracting private investment to areas most in need."
The zones are generally low-income census tracts recommended by local governments, nominated by the governor, and approved by the federal government. Investors who have taxable gains from selling stock or property can reduce and delay federal taxes by directing the money into an Opportunity Zone.
Many of the 135 newly created zones in South Carolina are in places where there's already substantial interest from investors and developers — downtown Charleston, Greenville, Myrtle Beach and Summerville, for example.
In Myrtle Beach, which was the fastest-growing metro area on the East Coast for the past three years, a swath of the city from the hotel-lined beach to U.S. Highway 17 has been designated an Opportunity Zone. The zone extends up the beach from 4th Avenue South near Family Kingdom Amusement Park past the SkyWheel and Ripley's Believe it of Not! to 23rd Avenue North near Ocean 22 by Hilton Grand Vacations.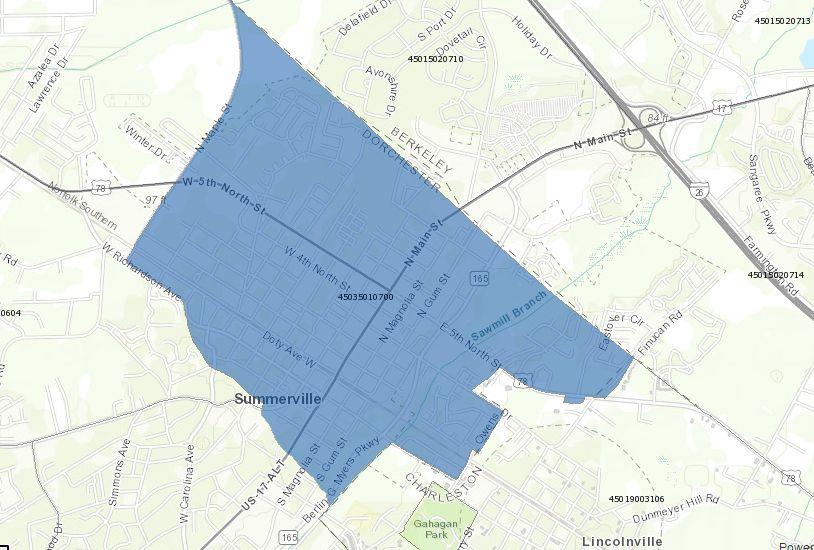 There are also newly created zones in places where major developments have long been planned and are already approved, including some of the East Edisto property including the Spring Grove development in western Charleston County, the Volvo manufacturing site near Ridgeville, and the former Navy base in North Charleston. 
"The benefits to the community, and the investors, will be tremendous," said Wray, the commercial real estate professional. "It's incredible, to me, that this actually came from our government."
$3 million per acre
Wray said including areas that are already seeing rapid real estate development and business creation doesn't mean investors will bypass struggling areas Opportunity Zones were meant to help, such as North Charleston's Chicora-Cherokee neighborhood.
"While I love NoMo and I would be all over anything on Morrison Drive, the price of an acre there is $3 million and up," Wray said. "Other areas might have an advantage because the price of admission is lower."
Every county in South Carolina has at least one Opportunity Zone, and most have several. The federal government has now certified 8,700 zones, which amounts to 12 percent of all the census tracts in the nation.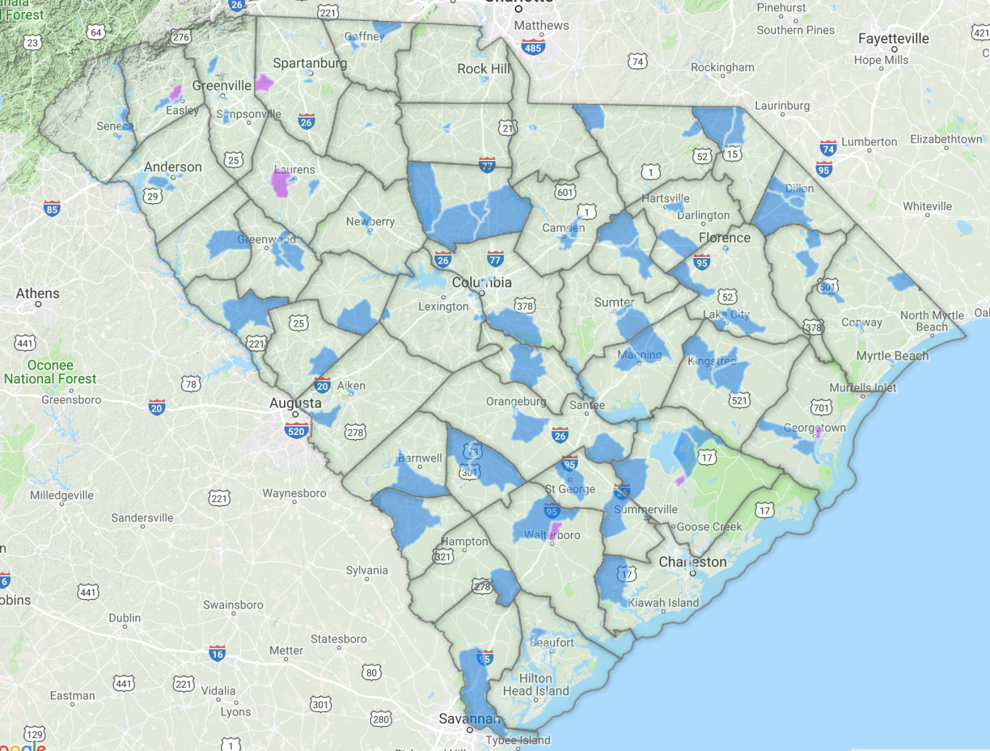 "I'm hopeful that it will help with our redevelopment efforts, and create some affordable housing," said Tecklenburg, Charleston's mayor.
Detailed rules for Opportunity Zones haven't been published by the federal government, but so far there's nothing to require investments that create jobs, affordable housing, or needed services such as grocery stores.
Some zones have quickly drawn scrutiny, such as one in Nevada where The Washington Post reported that a brothel owner could benefit, and zones in Maine where developers sought to include already planned developments in the new tax-advantaged areas, the Bangor Daily News reported. 
Gentrification fears
One city in California, Redwood City, asked the governor there to not consider two zones proposed in the city, due to concerns about gentrification that could displace local residents, The Daily Journal reported. Some groups that study tax policy have raised similar concerns.
"Even if the tax breaks drive some new investment into low-income areas, this does not guarantee that these investments will ultimately benefit low-income families within the opportunity zones," said the Institute on Taxation and Economic Policy. "In fact, additional investment driven by opportunity zones could have the unintended effect of fueling higher real estate prices that serve to displace low-income citizens and businesses rather than benefit them."
University of South Carolina research economist Joey Von Nessen, who often speaks at real estate association conferences, said that in the state's rural areas the Opportunity Zones could help spur development. Rural areas generally have higher unemployment and have not seen the rapid growth experienced in South Carolina's urban areas.
"Any communities that are just beginning to see growth, at this period in the economic expansion, it may be beneficial to help them maintain the momentum," he said. "The metrics of success will come later, down the road, but we can think of them largely in terms of employment and wage growth."
Not all developers will be interested in the Opportunity Zone capital gains tax break.
Charleston developer Mike Bennett owns a large property in the Charleston peninsula where the Courtyards apartments used to be, on Meeting Street. He plans to build a hotel there, and the property is now in an Opportunity Zone.
"I don't have a lot of capital gains because I've only sold one building in 40 years," Bennett said. "I like to build things and own them forever."
Long-term investors in Opportunity Zones also have a tax incentive. If investments within a zone are maintained for at least 10 years, any capital gains on those investments aren't taxed at all.