South Carolina and North Carolina are about to be thrashed by a hurricane bigger than the two states combined.
Amid predictions of disastrous damage and widespread flooding to come, Hurricane Florence is expected to stall off the coast of North Carolina into Friday — near the states' border — but still throwing out a wide circle of powerful winds and pummeling rain.
But there was some good news late Wednesday night. Florence continued to weaken but was still considered a dangerous Category 2 storm with winds at 110 mph, down from 140 mph, as it approached the coast a few hundred miles off Myrtle Beach.
More than 10 million people were under hurricane warnings or watches in the Carolinas and Virginia, while Georgia declared a state of emergency as well.
The storm, the first major hurricane of the 2018 season, is expected to drift south to make landfall below Myrtle Beach by Saturday, maybe still as a hurricane, before rapidly weakening as it moves across the state.
Forecasters stressed the danger associated with Florence, comparing it to Hurricane Hugo in 1989.
"The threat to life from storm surge and rainfall will not diminish, and these impacts will cover a large area regardless of exactly where the center of Florence moves," National Hurricane Center specialist Stacy Stewart said Wednesday.
"This one really scares me," Hurricane Center Director Ken Graham said.
Late Wednesday, Florence's tropical storm force winds extended nearly 200 miles. Its hurricane force winds extended 70 miles.
Rain predictions varied. The official Hurricane Center outlook called for anywhere from 5 to 20 inches of rain across South Carolina and anywhere from 20 to 40 inches across North Carolina.
The storm surge could be as high as 4 feet near Charleston, as much as 6 feet in Myrtle Beach and as much as 13 feet in North Carolina. 
No coastal city, including Charleston, is considered out of the woods for possible landfall.
In Charleston, the Interstate 26 lane reversal for evacuations is scheduled to end Thursday night when tropical storm-force winds arrive.
Across both states, most stores and businesses had closed while gasoline and other supplies were getting scarce. Residents and vacationers were taking South Carolina Gov. Henry McMaster's advice to leave the coast and low-lying areas. 
David Williams, who lives in the Charlotte area, spent the week securing vacation homes and boats on the Grand Strand. Two years ago, Williams, 60, rode out Hurricane Matthew on his 72-foot vessel. But the powerful Florence wasn't worth wrangling with, he said.
Williams docked the boat at a marina off the Intracoastal Waterway, which separates Grand Strand beach communities from the mainland.
"Everything's deserted anyway," he said. "And it's going to get a little hairy. ... I'm going inland."
The National Hurricane Center and S.C. Climate Office forecasters continued to indicate the storm might well stall "near the coast" of North Carolina or northern South Carolina until Saturday. Under that scenario it would drift toward Orangeburg by Sunday morning, weakening to a tropical storm before falling apart.
At least some computer model runs appeared to be falling into that consensus.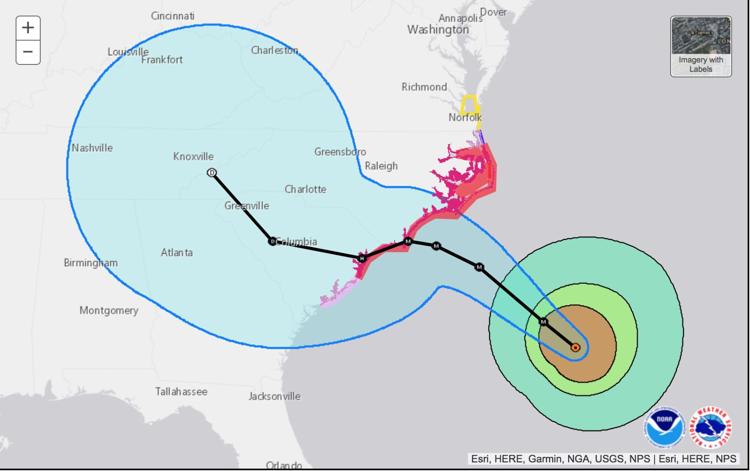 But one of the main computer model runs continued to suggest that after stalling near landfall, the storm will drift down along the South Carolina coastline as far as Charleston or Savannah over the weekend — maybe as still a hurricane.
Such a southward drift has never happened before in recorded hurricanes on the Southeast coast.
Meteorologist Bob Henson, with the private company Weather Underground, and Charleston-based meteorologist Shea Gibson, of the private company WeatherFlow, said the storm's winds would be expected to ease as it drifted but couldn't say yet how much.
"It would be a huge mistake to consider Florence less of a threat on such a track. Unusual tracks with big storms often produce unusual outcomes," Henson said.
Either way, "It's gonna be a lousy weekend here," Charleston Mayor John Tecklenburg said Wednesday. He urged people to get out of the city.
In South Carolina, hurricane warnings extended as far south as the Santee River near McClellanville and hurricane watches as far south as Edisto Beach.
A warning means hurricane conditions are expected within 36 hours; a watch means they could occur within 48 hours.
Officials stressed common sense was the best route in the face of an unpredictable, possibly fatal event.
"You can take control of your destiny by getting out of the way of this storm," Mount Pleasant Mayor Will Haynie said.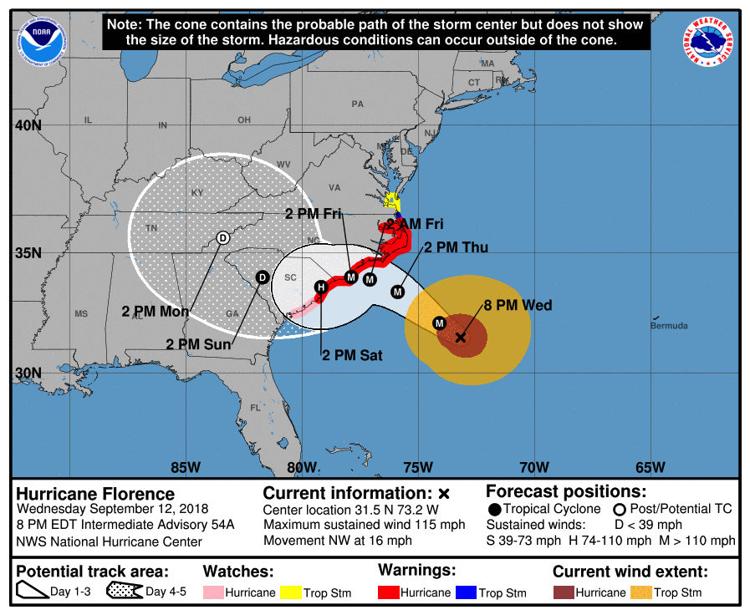 Charleston Police Chief Luther Reynolds said the more people out of the city, the safer emergency responders will be.
"We are a resilient community. We are going to recover from whatever comes ... but, the safest thing to protect human life is to evacuate now," Reynolds said.
Henson, of Weather Underground, said that Florence should be considered a historic storm.
"Its strength, size, and potentially unorthodox track all point to outcomes that may lie outside historical experience," he said.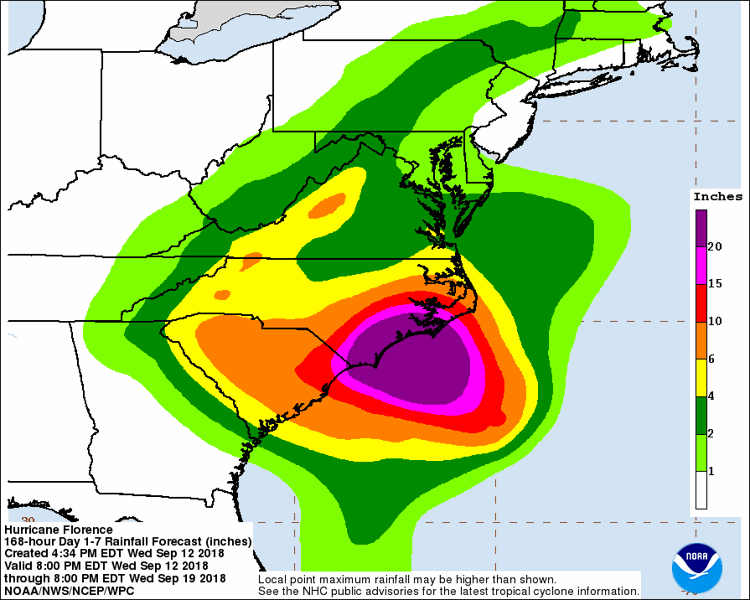 The winds and worst of the surge are most likely to arrive Thursday evening in Charleston, but the first of it could be felt as early as Thursday morning.
Andrew Knapp and Hannah Alani contributed to this report.