Brooms and dustpans replaced rocks and spray paint Sunday as an army of volunteers descended on Charleston to clean up the demoralizing mess left by an angry mob that smashed, burned and pillaged much of the city's central business district.
But even as they set about their work, new pressure points sprouted from the city's iconic Battery seawall to the capital of Columbia, where law enforcement officers fired tear gas at protesters advancing on that city's police headquarters. They represented the latest flash points in a week of tension and violence that has roiled the nation over the death of George Floyd at the hands of Minnesota police. 
Charleston officials asked for help from the National Guard and imposed a strict 6 p.m. to 6 a.m. curfew in an effort to keep demonstrations from turning ugly as they did Saturday night, when tear gas, flames and gunshots filled the air.
Charleston's police chief predicted that things would not look good when the sun rose over his city Sunday. He was right.
Daylight revealed a long swath of destruction through the downtown area, delivering a gut punch to restaurants, shops and hotels that had just recently re-opened after many weeks of coronavirus-imposed lockdowns. 
The scene that greeted the clean-up crews was daunting. Carpets of broken glass. Store shelves stripped clear. Graffiti scrawled across historic buildings. Alarms pealing through the humid air.
Hundreds showed up to help, sweeping up debris, boarding over shattered windows, scrubbing angry messages from walls of stone and wood. They started showing up before the county curfew had lifted, offering assistance to shell-shocked business owners. They risked potential exposure to the coronavirus in doing so, but many said they felt compelled to do what they could to help their city to recover. 
"There is no better city in the nation. And if you love this city as much as we do, you have a responsibility to take care of it," said Seaton Brown, a College of Charleston worker who pitched in with his friend Erin Furnadel.
Hundreds had also marched through Charleston in peaceful protest Saturday afternoon to honor Floyd and other African American men who have perished at the hands of police. But, as was the case in cities across the nation, the tenor of the event soured as night fell. Soon, riot-gear-clad police struggled to contain an angry mob smashing, looting and burning.
Charleston Police Chief Luther Reynolds said 10 people were charged overnight and more arrests are anticipated. He said he suspects the vandals causing property damage downtown were from outside Charleston, but he didn't immediately have data to back that up and police did not release the names or addresses of those charged. Similar assertions have been made in cities across the nation, but no one seems clear about where these potential outside agitators are coming from. 
He said no one was seriously injured in Saturday's episode, but four firefighters were treated for smoke inhalation.
Simmering tensions
Minneapolis, where Floyd died after a police officer kneeled on his neck for nearly nine minutes Monday, is about 1,300 miles away from Charleston and has a decidedly different makeup and character. But the Charleston region has plenty of its own racial injustices to fuel lingering discontent, from the police killing of Walter Scott in April 2015 in North Charleston to the slaying of nine black worshipers at Charleston's Emanuel AME Church by a white supremacist just two months later. The city was a major hub in the slave trade and a hotbed of Jim Crow justice for decades. For many, those wounds lie just below the surface, waiting for the scab to be ripped off anew. 
As volunteers tended to the wreckage Sunday, more than 200 protesters gathered along the Battery seawall, holding signs and chanting "Black lives matter" and "I can't breathe" as passing motorists honked in support. Across the street, a much smaller group scrubbed away graffiti on the city's monument to Confederate soldiers who died in the Civil War. The group meets weekly to fly a Confederate flag at the monument, with protesters staring them down. The crowd Sunday dwarfed any past face-offs, and police stood on the sidelines, ready for trouble that never emerged. 
But later in the day, protesters fumed as police refused to let them march up the towering Ravenel Bridge over the Cooper River for a planned rally. Other efforts to gather in Marion Square and on downtown streets also were shut down as a law enforcement helicopter circled overhead. Police, aided by other departments, showed up in force, clad in riot gear, weapons at the ready and with an officer in an armored personnel carrier barking out orders to disperse from these "unlawful assemblies."
Meanwhile, law enforcement officers in South Carolina's capital city fired tear gas at several hundred protesters as they marched toward the Columbia police station, where demonstrations devolved into gunshots and vandalism a day earlier. The gas hit protesters as they gathered at the Statehouse, driving them off before they reached their final destination. 
Some yelled obscenities at the police as they stumbled away. Hundreds of yards away, protesters regrouped in small clusters, washing their faces with bottled waters and calling friends they had lost in the fray. Outside a nearby wine bar, paramedics treated one man who was bleeding from his side.
Lawrence Nathaniel, the activist who organized this weekend's protests at the Statehouse, said he felt terrible about how they ended. But he vowed to keep organizing daily protests at the Statehouse until officials agree to a make a number of changes aimed at making police more accountable, including a use-of-force database and intensive mental health evaluations of all officers assigned to minority communities.
"I want the narrative to be about peace and transparency in our police department," said Nathaniel, who formed the group I Can't Breathe South Carolina.
Political and religious leaders offered similar messages. Among them, U.S. Rep. Jim Clyburn, a South Carolina Democrat, urged people to organize to promote change but avoid vandalism and violence that he said dishonors the memory of Floyd and others who have died. 
Bishop Samuel Green, leader of South Carolina's AME churches, and Bishop Robert E. Guglielmone, who heads the Catholic Diocese of Charleston, also pleaded with protesters to remain peaceful and not let violence drown out their message for justice.
It remained to be seen if those messages would resonate with protesters, but the alternative was on plain display in Charleston early Sunday.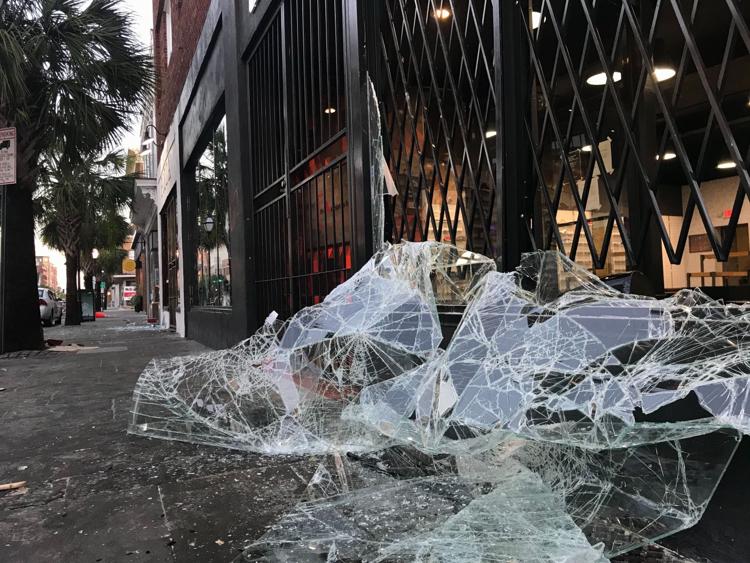 Landscape of destruction
Broken glass and trash littered the length of King Street by the time Charleston police restored order to the area late Saturday night. Shops in the City Market and a few along East Bay Street were hit, as well. 
Brian Lucier held up a large stone that smashed out the front windows of his shop, King's Leaf Cigar Lounge, across from Marion Square where the protest began. He had just opened the lounge a short time ago after being shuttered since March because of the pandemic.  
One of his employees was standing by the front door Saturday night when a man ran up livestreaming the chaos on his phone and claiming to have a gun. The worker ducked inside and the man dashed across the street and started shooting. No one was injured, but the episode left Lucier and his worker shaken.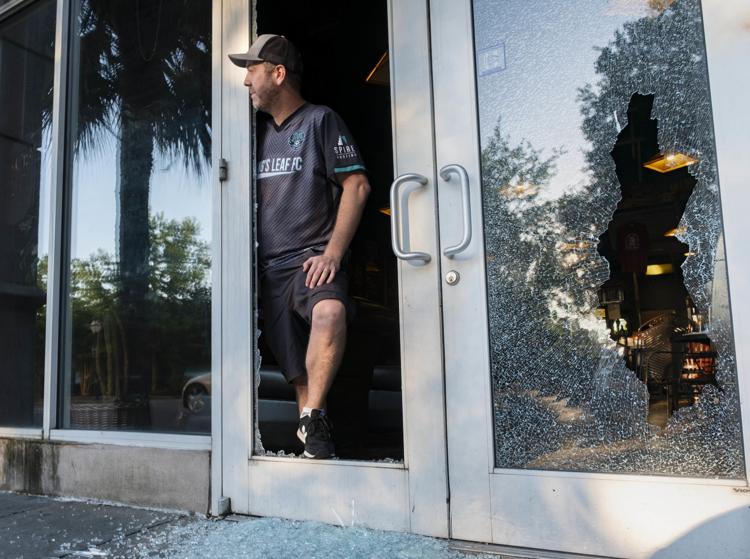 "All this just adds insult to injury," he said. "We've been bleeding for three months now and then this happens."
An employee at nearby Halls Chophouse reportedly fired a handgun into the air when one of the patrons, former Clemson and professional football player Jim Stuckey, was injured in an altercation with members of the crowd outside. Stuckey was a defensive tackle for the San Francisco 49ers and the New York Jets in the 1980s, and videos of the encounter quickly spread on social media. 
Heather Tiller, owner of Filigree Charleston jewelry store on John Street, was nowhere in sight when the violence erupted, as she had not yet reopened for business since the pandemic shut down stores in March. She arrived at her shop Sunday to find the windows shattered and most of her merchandise gone, save for some pieces here and there on the ground amid the wreckage. 
Around the corner and up the street, Stars Rooftop & Grill Room had been having its best night since the coronavirus quarantine, with staff and diners in good spirits. Then, around 8:30 p.m., vandals started throwing chairs at the front window, startling everyone inside, said Taylor Jacobs, Stars' director of food and beverage. 
Staff locked the front door and ushered the patrons to safety out the back, said Heather Greene, who directs Stars and the Amen Street and Sipango restaurants on East Bay Street. Then, they worked to get the staff out safely. A short time later, rioters stormed the front, forcing their way in and raiding a manager's office. They didn't get into the safe but plenty of damage was done, she said. 
"It started to feel like everything was going to be OK, and that we were finally getting back to normal," Greene said. "And now this happens."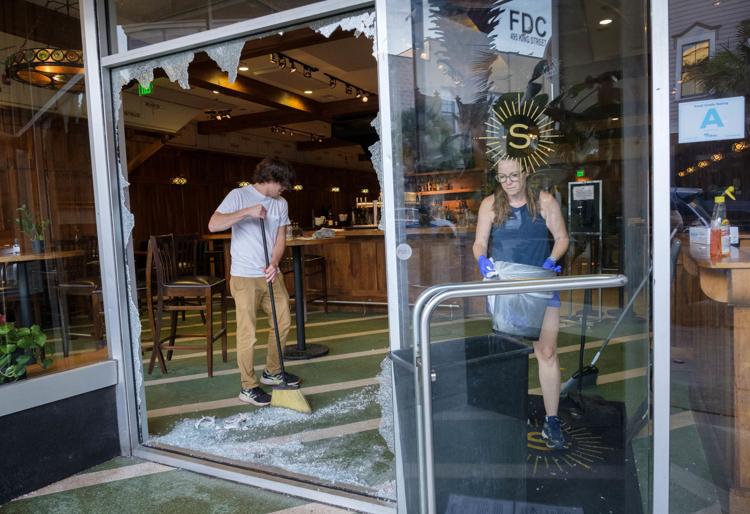 'Heartbreaking and embarrassing'
Vandals targeted independent, local operators and chain stores alike. Rioters crashed through glass windows and doors at Blue Bicycle Books, H&M clothing, Pottery Barn, Circa Lighting and so many more. Looters stripped shelves in The Athlete's Foot store and helped themselves them to a bevy of products after ramming through the Apple store's inch-thick glass front. Farther up King Street, a convenience store owner showed off a bandage hiding a head injury he got when looters clipped him with a rock before raiding his cash register and lottery tickets.
Problems extended all the way into North Charleston, as well, where officials said four stores were broken into at Tanger Outlet. The stores burglarized were Ralph Lauren, Coach, Tommy Hilfiger, and Nike.
Lionel Gagum, 38, marveled at the damage on King Street. He had participated in the protest Saturday, but went home when evening arrived. He returned Sunday morning and winced at the damage and the squandered goodwill the demonstration had initially generated. 
"This doesn't help at all," he said. "Breaking into these businesses hurts nobody but us in Charleston."
Anti-police and BLM graffiti covered walls along a stretch of glass-covered King Street near the American Theater. "Shine bright like a diamond," the marquee read.
A thin river of water ran from the West Elm furniture store where vandals started a fire overnight. Burglar and fire alarms kept ringing, as they had for hours. "We're all in this together" read a sign in a nearby window.
Bartender Elliot Miller was among the first to arrive Sunday morning to help with the cleanup. He couldn't sleep all night after seeing the scenes of violence play out on TV. He and some friends grabbed cleaning supplies and headed downtown.
"It's just heartbreaking and embarrassing," he said, shaking his head as he surveyed the mess.
Lasheia Oubre felt the same way. She attended Saturday's rally and felt proud of how the crowd carried itself and delivered its message. But that night, she felt horrified as she and her family watched the violence unfold on television. Her grandchildren couldn't understand what had happened and asked her why people were destroying their city.
"'Babies, I just don't know,'" she told them.
When she woke up, she grabbed a broom and headed straight for King Street to pitch in. Her spirits lifted as she saw how many others had turned out as well, filling the street with helping hands.
"This is a beautiful sight," she said, leaning on her broom. "Now this is our Charleston." 
Thomas Novelly, Fleming Smith, Emily Williams, Avery Wilks, Adam Benson, Seanna Adcox, Jenna Schiferl and David Slade contributed to this report. 
Check back for more on this developing story.