Extremely dangerous travel conditions are expected for much of Charleston and coastal South Carolina through Thursday morning as the overnight low will cause snow and ice to refreeze on roads and bridges creating the potential for black ice.
Note: This story was originally published on Wednesday. For the latest information go here.
That comes after a day that saw The National Weather Service record a bit more than 5 inches of snow in Charleston, the highest accumulation recorded since December 23, 1989, when Charleston saw a record 6 inches of snow.
That makes today the third snowiest day on record in Charleston, the weather service said. The second highest snow total was 5.4 inches on February 10, 1973.
The combination and snow and ice has S.C. Electric & Gas reporting 3,700 power outages statewide, with more than 1,300 customers in Charleston County, 2,300 in Beaufort County without electricity, as of 5:30 p.m.
Despite the unusual winter weather, Department of Public Safety Director Leroy Smith says South Carolina has not seen any storm-related deaths.
A winter weather advisory is in effect for all areas tonight.
Snowfall
- Video by Mark McKellar in West Ashley
Officials say parts of coastal South Carolina have seen one of their top five snowfalls since records have been kept. Snow reports received indicate that 4 to 6 inches of snow has fallen north of the Edisto River Basin, the weather service said.
More than 5 inches of snow fell in Dorchester County where a state of emergency has been declared. A curfew for all of Dorchester County, with the exception of North Charleston and Summerville, will be enforced from 6 p.m. Wednesday until 7:30 a.m. Thursday.
Up to 7 inches of snow fell north of Charleston in Summerville as a powerful storm moved off the coast. Other snow totals include: Sangaree: 6 inches, Mount Pleasant: 5 inches, West Ashley: 5 inches, and Johns Island: 4 inches.
Travel conditions
With the ice that fell early Wednesday and the snow on top it, officials expect travel conditions to remain poor. Law enforcement wants everyone to stay home if possible.
"People are not heeding our warnings to stay off the roads. Response times have been impacted," the city of North Charleston said in a tweet recently.
With roads expected to refreeze overnight, conditions are expected to remain hazardous on Thursday, according to the city of Charleston. People strongly advised to avoid unnecessary travel.
Ice will hang around for a few days on road surfaces and other spots that don't melt. The cold, though, will soon loosen its grip. Friday and Saturday will be sunny with highs in the upper 30's, but not enough to melt this much snow.
Overnight temperatures will fall back to the lower 20's overnight with wind chills nearing single digits.
Sunday's high rebounds into the 50's and overnight temperatures start to ease. Highs will be near 60 Monday and into the midweek.
It will get colder after that, "but compared to what we've seen the past several days, it's not going to be that cold," said NWS meteorologist Carl Barnes.
A fun time in Mount Pleasant
- Video by Andrew Knapp
Winter storm drops snow on Charleston
- Video by Matthew Fortner
School closures
All Charleston County School District facilities will remain closed Thursday and Friday. Monday will be a teacher work day. Students will return to school Tuesday.
Dorchester Districts 2 and 4 schools and offices also will remain closed Thursday. A determination will be made then about Friday.
The College of Charleston will remain closed on Thursday.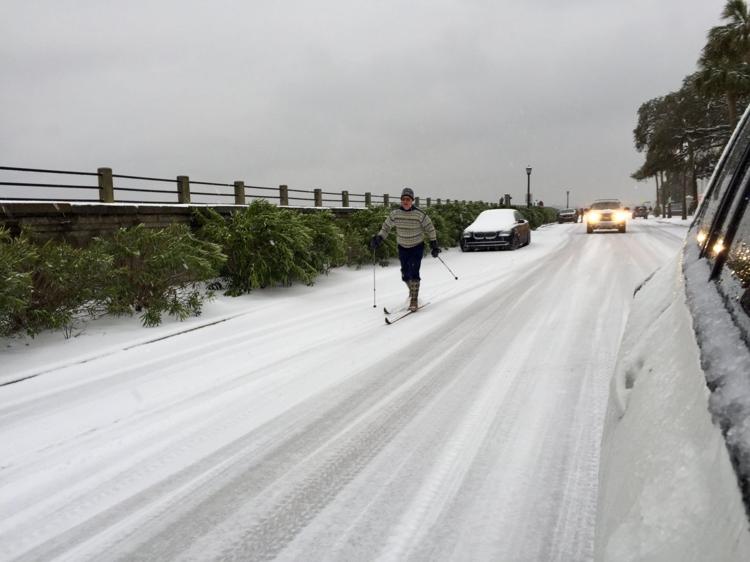 Road conditions
After receiving a briefing from top state emergency officials, Gov. Henry McMaster urged South Carolinians to exercise caution and avoid traveling unless it is absolutely necessary.
"It is cold, cold, cold and it's going to stay cold, so that means stay indoors," McMaster said in a news conference at the South Carolina Emergency Operations Center, warning that the freezing temperatures may stretch into Monday even after the snow stops.
There are multiple reports of snow and ice covering roads and bridges, and law enforcement across the region is asking people to stay home.
Hanahan police reported that a Berkeley County paramedic was injured by a sliding firetruck on North Rhett Avenue in Hanahan. The truck was responding to an accident when it lost control on a bridge.
Check all road conditions here. For Charleston area road conditions go here.
A total of 183 law enforcement officers have been tasked with responding to the event, Smith said, including 165 State Highway Patrol officers and 18 S.C. Department of Natural Resources officers.
The department is focused primarily on the coastal region up to Orangeburg and Richland Counties.
"We are highly visible along our corridors," Smith said. "We are seeing a lot of collisions and disabled vehicles that we are assisting as well."
More than 1,400 employees from the S.C. Department of Transportation have been deployed, said director Christy Hall, as several bridges along the coast have frozen over.
Deputy Adjutant General Van McCarty said the South Carolina National Guard is also prepared to respond to the winter storm if needed and has established contact with counterparts in Georgia and North Carolina in case there are any requests for aid between the neighboring states.
Shelters
Two warming centers are open in the North Charleston area: Aldersgate United Methodist Church at 1444 Remount Road and the Charleston Area Convention Center at 5000 Coliseum Drive.
Here is a list of all the open shelters in South Carolina.
Airports
Charleston International Airport is closed. The airport tweeted that Joint Base Charleston closed the runways because of ice. The airport shares runways with the Air Force at the North Charleston facility.
The airport said flight operations would not resume until the Air Force determines the runways are safe for aircraft and passengers.
Photo Gallery
Stay informed
Check postandcourier.com often and follow @postandcourier for the latest on closings, road conditions and storm updates.
Reporters Andrew Knapp, Brenda Rindge, Mary Katherine Wildeman, Bo Petersen, Jamie Lovegrove, Digital Editor Jason Kristufek and the Associated Press contributed to this report.
Sign up for our daily newsletter
Get the best of The Post and Courier, handpicked and delivered to your inbox every morning.