For several hours Tuesday evening, around 600 gathered in front of the South Carolina Statehouse to peacefully protest President Donald Trump's executive order on immigration, which barred people from seven predominantly Muslim countries from entering the U.S.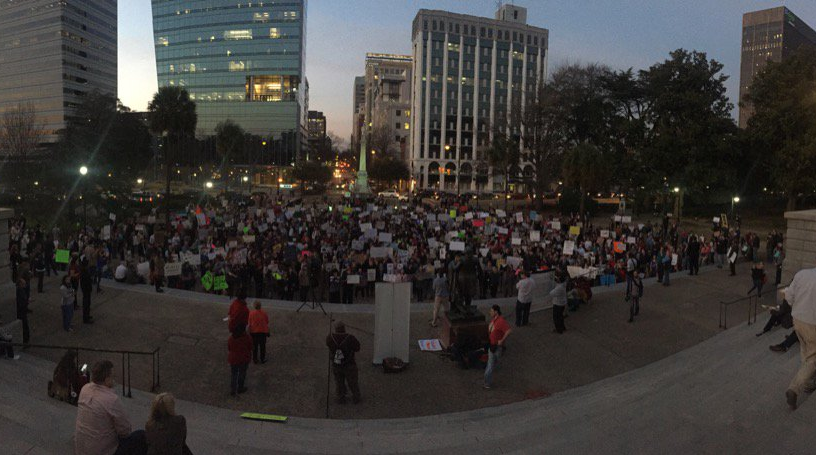 A diverse group of protesters, which included men, women, children and seniors at one point lined both sides of Gervais Street.
Many held handmade signs – some hastily put together on the spot – chanting and urging passing drivers to honk their horns in solidarity.
Spontaneous sign making at the protest of @realDonaldTrump immigration executive order pic.twitter.com/60KFvX81RI

— Maya T. Prabhu (@MayaTPrabhu) January 31, 2017
As night fell on the protest, speakers took to the stage. 
"The statue of Liberty says 'Give me your tired, your poor, your huddled masses," said Kevin Gray of the Harriest Tubman Freedom House project. "No where on that statue does it say 'but only after extreme vetting.'"
Speaker says she volunteered in Somali refugee camp. people were kind and welcoming. Said it's unfortunate US doesn't return the courtesy pic.twitter.com/a766J85eOb

— Maya T. Prabhu (@MayaTPrabhu) January 31, 2017
Elected officials appeared absent from the protest, but Bill Nettles, former U.S. attorney for South Carolina was in the among the group. 
Maya Prabhu and Andrew Knittle contributed to this report from Columbia.