Speaking as one, Charleston City Council on Tuesday night unanimously ordered the removal of the John C. Calhoun monument from Marion Square, a deeply symbolic act amid the nation's long struggle with the legacies of slavery.
As the sun set, the 115-foot-high statue possibly cast its last shadows over the square. The air simmered with humidity, and the park had an empty feel, a contrast to the energy and emotion during recent protests there.
In other Southern cities, notably New Orleans, crews had removed Confederate statues swiftly and under the cover of darkness and there was a sense of anticipation lingering in the heavy summer air: Would the Calhoun statue be taken down tonight?
The answer came at 11:35 p.m., when police announced that they were closing Calhoun Street to remove the monument.
City officials had been coy about the timing during the council meeting, with Mayor John Tecklenburg dodging a direct question about what would happen next.
He spoke in more general terms, about how removing the monument wasn't about erasing history, as some critics have charged. Rather it was about writing a new chapter for the monument and the city.
"Unlike cities I've seen where statues have been pulled down and destroyed," Tecklenburg said before the vote, "this motion will preserve and protect the statue and put it in a place, in an appropriate place where its history can be told not from a high tower over our city but where it can be contextualized."
But the closure of Calhoun Street to make way for crews meant the monument's fate likely was sealed, a swift end to its 124-year perch over Marion Square, a controversial symbol since its inception.
As word spread, more and more people gathered in Marion Square. Some laughed, some clapped, a few cheered. Ashana Bell came to watch the statue removal with her son's girlfriend Tuesday night.
"It's about time and hopefully it's endemic of systematic change and move our country forward with peace and unity," she said. Moments later, a woman played the kazoo to the tune "Hey, hey, hey, goodbye." And then a large crane appeared.
The city's dramatic move happened against a bonfire of protests and riots after George Floyd's death at the hands and pressed knee of a white Minneapolis police officer. But it was fed by decades of tinder, historians noted.
Ultimately, several historians said on Tuesday, the city's move is a reminder that monuments are snapshots, attempts to make more permanent the values and beliefs of a specific moment in time.
Understanding that time helps us put today's history-making vote in context.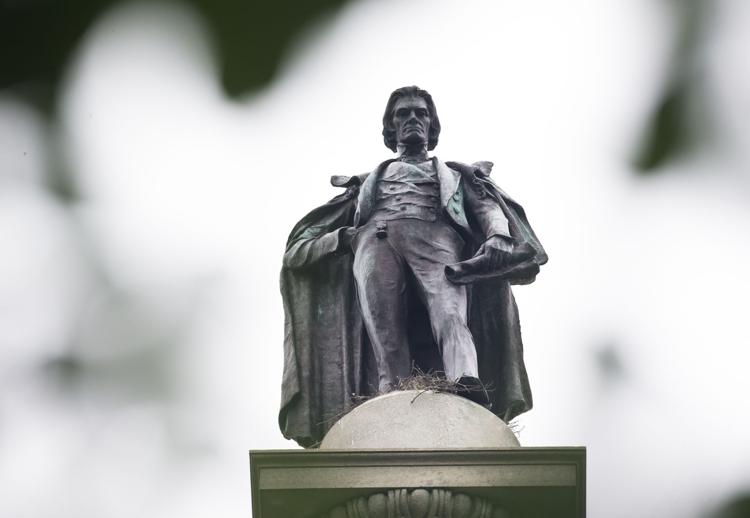 A powerful slavery defender
Calhoun, the man, was a divisive and important leader in America's early years. Tall, thin and with a hawk-like face, he was a stern and gifted orator, referred by one contemporary as "a cast iron man who looks as if he had never been born and could never be extinguished."
As a young congressman from South Carolina, he pushed the ill-prepared country into war with Great Britain in 1812. He ran for president in 1824, dropped out but was twice elected vice president. A plantation owner, he was an ardent defender of a state's right to nullify federal laws it considered unconstitutional — including laws that might abolish slavery. He died in 1850. It's said that among his last words were: "The South. The poor South!"
The drama over how to memorialize Calhoun began soon after his death. It's said to have originated in the parlor of a home on Meeting Street, a conversation that eventually led to the formation of the Ladies' Calhoun Monument Association. A fundraiser was launched, but a woman related to Calhoun by marriage ran off with the cash, the equivalent of $16,000 today.
By 1858, organizers had managed to lay a cornerstone, including a cannonball and a lock of Calhoun's hair. The effort to erect the monument stalled through the Civil War but was resurrected in the late 1880s. White elites were erecting monuments across the South during these years, a trend described by College of Charleston historian Adam Domby in his book, "The False Cause."
Domby argued that Southern whites forged a new and false narrative that slavery "was benevolent" and that Reconstruction was "a failure caused by northern interference." Between 1865 and 1900, he wrote, "the fact that the Confederacy was founded to preserve slavery was largely replaced in white Southern memories with a new cause as a means of claiming victory."
The first monument to Calhoun went up 1887, but it didn't last long. It was disparaged, vandalized and sold for scrap. The next statue — the one ordered removed Tuesday — was erected in May 1896.
Cast in bronze, it weighed 6,000 pounds and stood 12 feet, 8 inches high. It was placed on a column 115 feet in the air so it would be more difficult to vandalize. It showed the stern-faced Calhoun in a stance, as if determined to make a point, his right arm cocked to his hip, left hand holding a document and a heavy cape behind him. He had a downward gaze.
African Americans immediately took a dim view of the new monument then and in the decades to come. Mamie Garvin Fields, a black educator in Charleston at the time, later wrote that, "here was Calhoun looking at you in the face and telling you, 'you may not be a slave, but I am back to see you stay in your place.'"
A city's reckoning
A fierce thunderstorm blew through downtown Tuesday night as a few onlookers waited to see what would happen to the monument. Buff Ross stood under a grand live oak as the rain fell. He said he was from Sullivan's Island and that for the last eight years he'd worked with the Make It Right Project and other groups to remove the statue.
"I never thought I'd see it in my lifetime," he said "I thought this one was going to be the hardest to bring it down."
Council's decision Tuesday seemed swift, given the city's record of moving slowly on issues of race. After the shooting of Walter Scott in North Charleston in 2015, and the shooting of nine people in Emanuel AME Church three months later, the city narrowly agreed to apologize for slavery in 2018. City leaders also debated whether to add a sign to the Calhoun monument to explain Calhoun's defense of slavery, an effort that fizzled.
Those moves were marked by emotional appeals and packed rooms. But Tuesday night's vote had a more clinical feel, perhaps because it happened during a Zoom video meeting, a concession to the surging COVID-19 cases in South Carolina.
Councilman Robert Mitchell called for the vote. One of council's three black members, he reflected first on the city's civil rights struggles. "I know how the city of Charleston was all that time in the '50s. When we talk about heritage and peace coming together, it wasn't like that, it didn't happen," Mitchell said. "Now is the time, now we need some healing process."
Two years ago, Councilman Harry Griffin voted against the slavery apology, but said Tuesday night he'd recently talked with a lifelong friend about white privilege. "The suppressed anger or hurt, I see that now two years later," Griffin said. "I can see how a statue, while it is a piece of rock, can be a symbol for all that is wrong in our city."
Councilman Karl Brady said he'd studied history in college and learned that monuments often were attempts to "rewrite and re-frame the history of an era."
To him, the Calhoun statute fit that description.
City officials have not publicly announced when the statue will be removed and it was unclear where the statue would be moved to. City staffers are talking to different museums and academic institutions. In the meantime, it will be stored at an undisclosed indoor location.
It's also unclear whether the city will end up fighting the state. Gov. Henry McMaster said the state's Heritage Act was designed to protect monuments from being removed. The city said the act doesn't apply to this monument. "That's a legal question," the governor said. "It depends on how you read the Heritage Act and there are people who read it in different ways."
Charleston received phone calls from over 300 people about the statue before Tuesday night's meeting: 291 people said they wanted the statue to be removed, 50 said they did not want the statue removed, four asked that the statue be relocated and one person offered to buy it.
Change and permanence
At about 9:30 p.m., the rain had passed but a lightning bolt turned the sky purple. More people gathered in the square.
Susan and William Lizak walked along the fence line along the monument reading protester signs and taking photos of the Calhoun statue. The couple, who have been frequent visitors to Charleston for the past 14 years, drove to the city from their home in Wilmington, N.C., Tuesday morning after hearing of plans to remove the monument.
They were saddened by the news, feeling like it took away from the deep sense of living history that makes Charleston a special place.
"These statues are part of history, they are part of life. For them to take them down because it doesn't suit their beliefs ... it's just destruction," Susan Lizak, 56, said. "How are we going to teach our kids about history if we take all the statues down and change the names of the streets?"
Fred Auld was dressed to impress, wearing a fedora, a red-and-white striped tie and a blue blazer with a "Washington Light Infantry" patch stitched on to the breast coast. He's a member of the group. Earlier in the day, the group — which acts as the caretaker of the land in Marion Square — said publicly they would not interfere with the City Council's decision to remove the monument. Auld was disappointed. "I'm not happy with it," he said. "I love Charleston history ... I feel like we should have had a stronger stance."
The next chapter
Historians have debated fiercely about whether removing monuments was akin to "erasing history." Some argue in favor of adding signs to put the monuments in more accurate historical contexts. Others argue contextual signs aren't enough.
In 2017, the American Historical Association issued a statement saying that the goal of removing a monument "is not to erase history, but rather to alter or call attention to a previous interpretation of history." The group stated that most monuments were erected "without anything resembling a democratic process" and that it was "time to reconsider these decisions."
Dell Upton, an architectural historian at UCLA, said the removal of the Calhoun monument "removes an intentional insult to African Americans — one that they understood when it was put up and that they still understand, but it's also, one hopes, a first step toward dismantling the structures white elite rule in South Carolina."
"Monuments represent the values and visions of the individuals that put them up. We can say that for sure," added Bernard Powers, emeritus professor of history at the College of Charleston and director of the Center for the Study of Slavery in Charleston. But over time, as societies change, some fail the test of time.
Powers said that he worries that the removal trend could go too far. "We've got to pick and choose," he said, referring to Thomas Jefferson, a slave holder who helped write the Declaration of Independence. "If you go too far down the road, you're really saying that the only people you can recognize aren't really people, because all humans fail."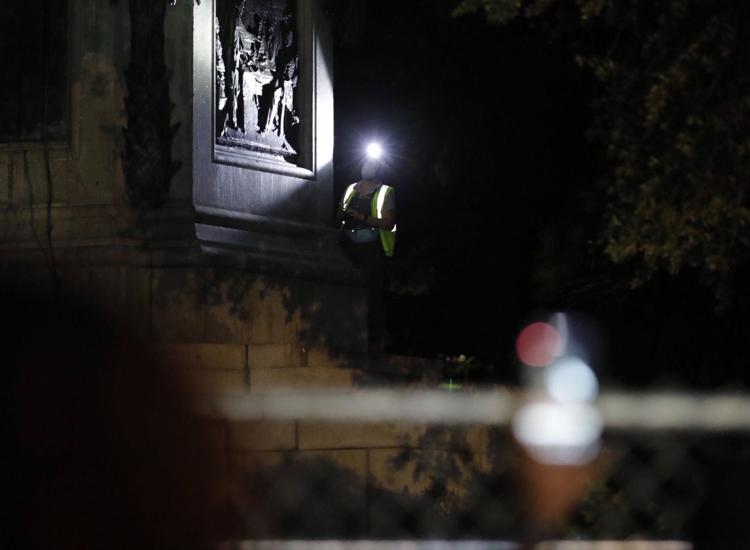 The crane arrives
By 10:30 p.m., a few stragglers walked through the park and took pictures. The only things lighting Marion Square were the blue beams of parked squad cars and a few park lanterns. The monument blended into black sky, then was suddenly illuminated by another lightning bolt, reminding those in the park that Calhoun was still there.
Then police closed the streets to make way for the removal crews. Tamika Gadsden was with a small group late Tuesday night at the edge of Marion Square. She paused to reflect on the moment. Calhoun is coming down. But there is still work to be done.
"This is not a marker of progress for the city," Gadsden said. "This is about resistance. This moment was about the uprising we saw across the country. We're just happy that the mayor and the council came to the same conclusion as the people."
Just after midnight, a semi truck pulled up in front of the statue, the bed loaded with wooden pallets. Masking tape covered the truck's logos and license plate. (In past removals of Confederate monuments, crews were threatened.)
Two lifts rolled onto the grass. Wearing headlamps, the crew got to work.
Reporters Rickey Dennis, Thomas Novelly, Glenn Smith, Sara Coello, Adam Parker and Seanna Adcox contributed to this story.