A court reporter assigned to the judge in the Statehouse corruption probe has been removed from the case after an online comment critical of the special prosecutor was posted on social media, court administration officials said.
At issue is a comment posted Feb. 17 on The State newspaper's website. It ran beneath an article detailing Solicitor David Pascoe's objections to the way Circuit Judge Carmen Mullen handled the sentencing of former House Majority Leader Rick Quinn.
Quinn received probation after pleading guilty to an ethical misconduct charge. Pascoe wants to see Quinn serve a year behind bars.
The comment, which took a dim view of Pascoe's position, appears to have been posted from the Facebook account of Wanda Rowe, a Beaufort-based court reporter assigned to Mullen. Among other things, Rowe recorded and transcribed Quinn's guilty plea proceedings in December.
"When a solicitor passes up a golden opportunity to go to trial, but won't take responsibility for agreeing to a plea = classic cop out," the comment from Rowe's account stated. "Don't blame it on the judge."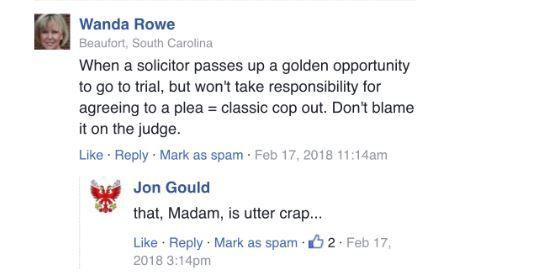 Tonnya Kennedy Kohn, interim director for South Carolina's Court Administration, told The Post and Courier that officials were "aware of the comment attributed to a court reporter and are reviewing the matter."
"Out of an abundance of caution, we will be assigning other court reporters to the proceedings," she said in an email.
The next hearing in the case is Wednesday when Mullen is expected to hear arguments whether she should reconsider the punishment for Quinn, a Lexington Republican. That hearing is scheduled for 9 a.m. in Beaufort.
Rowe could not be reached for comment Tuesday. Mullen's office did not respond to an email asking about the matter. Pascoe, when reached, declined comment.
Court reporters are seldom in the mix of heated courtroom battles. They are usually off to the side, recording the day's events as they unfold. But their services are a crucial part of the justice system, chronicling every facet of a case for the public record and potential appeals.
Like the judges they serve, they are supposed to be impartial, as both sides in a legal skirmish count on the transcripts of proceedings to accurately reflect what occurred.
John Freeman, the University of South Carolina law school's professor emeritus on professional ethics, said longtime court reporters likely feel loyal to the judges they serve, but most take great pains to avoid an outward appearance of favoritism.
"This is very unusual. It's unseemly, frankly," he said. "When the subject matter is public corruption, you don't need public employees weighing in and taking sides. … You don't need court personnel muddying the water in a case like this."
Quinn, a 22-year veteran of the Statehouse, resigned ahead of his December guilty plea in a deal that allowed him to sidestep the potential for a decade in prison if he had been convicted of all the charges against him. He pleaded guilty to a single count of misconduct in office, acknowledging only that he had an omission in his 2016 economic interest filing.
Pascoe wanted the judge to consider a much broader array of misconduct attributed to Quinn, who allegedly used his public office to advance the agendas of his family's clients. He and his father, veteran political operative Richard Quinn, have denied those allegations.
In a Feb. 16 motion, Pascoe said he would not have agreed to a guilty plea if he knew Mullen would not weigh other allegations in sentencing Quinn. He wrote that Mullen told him in chambers to "go light on the facts so the plea won't blow up." 
During the sentencing hearing, Mullen told Pascoe that considering any additional accusations in sentencing would violate Rick Quinn's constitutional rights and that the prosecutor should have taken the case to trial if he wanted all of the charges considered against the former lawmaker.