MOUNT PLEASANT — Nearly half the homes that still rely on failing septic tanks in Snowden, an African-American settlement community, could be connected to the town's sewer system this year, but a requirement to annex into Mount Pleasant is causing friction.
At issue is the second phase of a sewer line project that started more than a decade ago which would replace septic systems that regularly back up into homes or overflow in yards, sending raw sewage into the marsh and creeks that lead to the Wando River when it rains.
Mount Pleasant Waterworks plans to extend sewer lines to 66 homes this year. The majority of them are not in the town but are part of unincorporated Charleston County. The unincorporated properties would be required to join the town in order to get sewer connections.
"Why are we being held hostage?" said Richard Grant, of Isaac Boston Street. "Why must we go into the town of Mount Pleasant in order to obtain sewer. Why, why, why?"
Grant was among several community residents upset by the annexation requirement who found sympathetic ears on Charleston County Council this week. In fact, the council chairman threatened to sue Mount Pleasant, if necessary, over the annexation requirement.
"I'll be damned if I'm going to let somebody do that to these people," said Council Chairman Elliott Summey, who is a Mount Pleasant resident.
County Councilman Teddie Pryor said the policy is illegal, unethical and "in the year 2019, that's really disturbing."
Several predominantly black communities east of the Cooper River are surrounded by Mount Pleasant subdivisions and businesses but most homes in those communities are not incorporated into the town.
That means different rules for all sorts of things, from property taxes to land development. Mount Pleasant requires property owners to annex into the town in order to get sewer connections, which are generally necessary for land development because that makes the property subject to the town's more restrictive development regulations and fees.
There are some large tracts of undeveloped land in Snowden, including a 20-acre tract owned by Olive Branch AME Church that's currently listed for sale for $8 million. With sewer connections, such properties could become residential developments.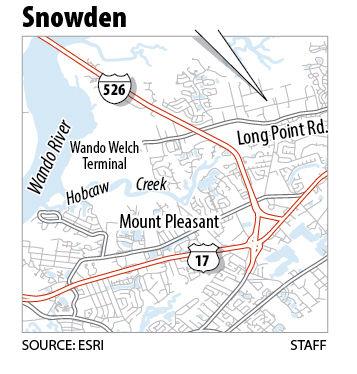 Summey said the annexation rule is the reason why a multi-story storage business will be built on Coleman Boulevard — because that business doesn't need access to the sewer system and can escape the town's development restrictions and impact fees by not annexing. He said homeowners shouldn't face such a choice.
"Providing sewer and water is one of the most basic things we can provide for people," he said.
The town of Mount Pleasant did not respond to repeated requests for comment.
Mount Pleasant Waterworks General Manager Clay Duffie said Snowden residents who don't live in the town don't have to annex, but they won't get sewer connections unless they do.
"Those county residents, they can take it or leave it," he said. "It's not something we're forcing on them."
Efforts to end the pollution caused by failing septic system and better serve Snowden residents have been playing out for years. It's costly to extend sewer lines, and costly for residents to connect to those lines.
"We're spending over $20,000 per lot," Duffie said. "Our job is to provide service, and that is what we're doing."
The focus of the sewer line extension project is connecting 28 Snowden residents whose properties are within the town's boundaries. Another 38 homes which are outside the town limits could connect to those lines if they agree to annex into the town, either right away or when the town's boundaries reach those properties.
The county has awarded federal funds to help lower-income residents pay sewer connection costs.
Duffie said the work should begin in the spring and will take about six months. The project area includes Snowden Road, Gurley Street, Coaxum Road and Latroy Avenue.