Almost two decades after it was salvaged from its watery grave not far from the mouth of Charleston Harbor, it remains unclear where the H.L. Hunley's final resting place will be.
Increasingly, it looks like the Confederate submarine could end up at Patriots Point Naval & Maritime Museum rather than North Charleston.
Any new museum home for the first sub ever to sink an enemy ship still remains in the early planning stages, with more questions than answers not only about the site but also about the building's size, scope and design, as well as its timetable.
The state agency tasked with building the museum recently donated $11 million to the International African American Museum, a sign of its renewed financial health and that it's committed to telling the full story of the state's history.
The Charleston Naval Complex Redevelopment Authority granted the money in early August, just two months after lawmakers extended an approximately $7 million a year state revenue stream until 2028.
Authority Chairman and retired Navy Rear Adm. William Schachte said the authority, whose name was expanded in 2014 to include the Naval Base Museum Authority, was able to make that IAAM commitment because of the extension, and the agency also remains committed to build the Hunley a multi-million dollar home.
"That's our responsibility. We will definitely accomplish that, and we hope to present to the public, particularly our South Carolina taxpayers, a state of the art maritime museum that they will be proud of," he said. "It's going to be challenging, but we're committed to doing the best we can."
Mount Pleasant back in play
In 2004, after a two years of jockeying, the city of North Charleston beat out Mount Pleasant and Charleston as the planned site for a Hunley museum, partly because North Charleston pledged $13 million toward its construction.
But a lot has changed since then.
North Charleston has withdrawn that offer. The Hunley has remained in a conservation tank longer than expected. And Senate President Pro Tem Glenn McConnell, whose political clout helped propel the project forward, drifted away from a leadership role on the project as he changed jobs a few times before retiring from public life this summer.
That has created a new vacuum. Schachte said talk of building the museum in Mount Pleasant is "still kind of delicate," but the idea appears to be quietly gaining steam.
State Sen. Larry Grooms, R-Charleston, said he favored the Patriots Point site all along and hopes that can happen now.
"It's my understanding that Mount Pleasant is back in play," he said, adding the new museum building also could incorporate new offices, ticketing and a gift shop for Patriots Point.
"The Yorktown visitors will visit the Hunley, and the Hunley visitors will visit the Yorktown," he added.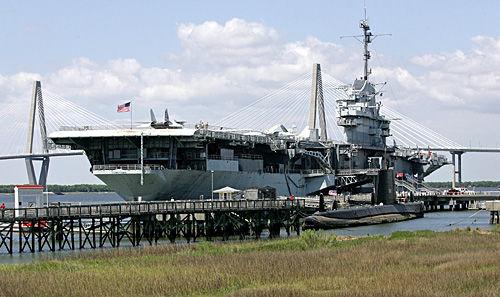 Patriots Point Executive Director Mac Burdette described the museum discussion as exploratory at this point, but he sees an upside.
"I can't speak for all my board members, but based on my conversations with them, from the very beginning, it made sense that the Hunley find its place at Patriots Point, which is the state's naval and heritage museum. It's common sense. But like with everything, the devil is in the details."
How big and how much?
Among the most important details will be the size and cost of any new building, and where the money might come from.
Robert Ryan, the Redevelopment Authority executive director, has said the authority has $20 million to $25 million on hand that isn't already committed and could be used for the museum.
That was before state lawmakers extended the authority's income stream this year, so that number could grow. Also, local governments and private donors may provide some help, if not with construction then with an operating subsidy. Very few museums make enough from tickets and gift shop sales to cover their costs. Donors often play a key role.
Burdette said Patriots Point has a potential site for the museum but no money to help build it. "We need to make sure that's something they understand," he said.
It also remains to be determined what aside from the Hunley might be included. The state already owns a Maritime Museum Collection of more than 8,000 19th century maritime artifacts, and Schachte said other items eventually could be added, too.
One of those might even be some remnant of The Planter, a Confederate ship that enslaved pilot Robert Smalls successfully stole during the Civil War and delivered into Union hands. A team of federal archaeologists announced that it might have found its remains off Cape Romain.
The best plan?
North Charleston Mayor Keith Summey said the city still has a site for a Hunley museum on part of the former Navy base just north of Noisette Creek.
"I think what needs to happen is that it (the Hunley) is put where it has the greatest chance of success. I think at Patriots Point, it not only would have a greater chance of success because of the number of visitors there already, but it may add to the number of visitors that helps the Patriots Point operation."
"We would welcome it in North Charleston, but I will not fight them doing what is best for the Hunley."
North Charleston City Councilman Ron Brinson said the city's commitment to the Hunley museum has been gradually dwindling since he took office seven years ago.
"Maybe it's time to think anew about the best place for the museum to go," he said. "From the very beginning and long before I got on council, I thought Patriots Point was probably the best location."
While part of the original Hunley Commission's responsibility has been given to the Redevelopment Authority, it still exists and will have a say.
State Sen. Danny Verdin, R-Laurens, chairs the commission and did not return messages left for this story.
It looks very unlikely the Charleston Museum, which also was in the running more than a decade ago, will re-emerge as a contender.
Museum Director Carl Borick said it seems to make sense for the Hunley to go to Patriots Point.
"We're in the middle of a strategic plan right now, and we have a lot of other priorities," Borick said.
Grooms said informal discussions have taken place between assorted players, including Patriots Point board members, to gauge their interest in a Mount Pleasant site.
"I believe there's a feeling among respective board members that this is the best plan moving forward," he said, adding a formal agreement among the agencies would be a next step.
"This is the best way to make sure everybody comes out the winner," he said.
Kellen Correia of Friends of the Hunley, the nonprofit that runs the existing museum inside the Warren Lasch Conservation Center, said the museum project will be on the agenda when the Friends' board meets in September.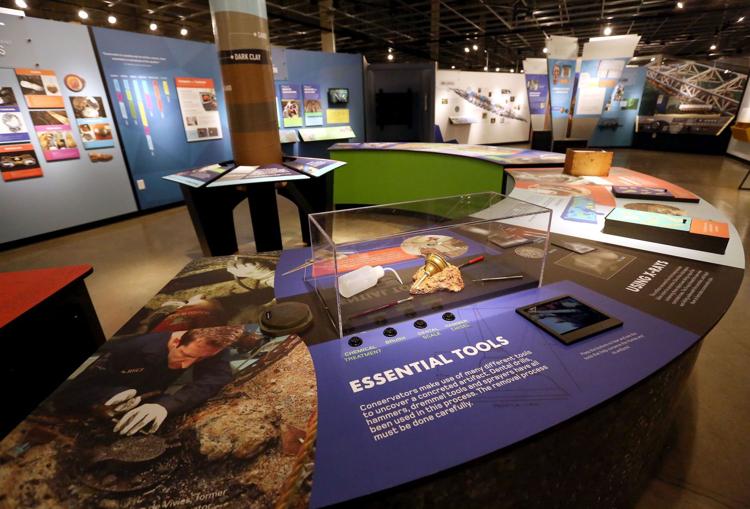 She said the sub's conservation is mostly done but added, "There is debate about when done is done." The final stage of conservation, which could include it being set in an airtight container filled with Argon glass, could be done at a museum.
Those hoping to place it in a museum realize they haven't made much progress as of late and the next year will be crucial.
"We certainly don't want the sub done and the museum not to be ready," Correia said.