One of six companies seeking federal permits to conduct seismic blast tests off South Carolina currently has its application up for review by state officials.
WesternGeco, a Texas-based exploration company, wants to test from Virginia to the Georgia border.
The S.C. Department of Health and Environmental Control is reviewing the request.
The "federal consistency review" is an opportunity for states and their residents to object to a proposed federal leasing activity if it pollutes, creates hazards, disturbs valuable sites or interferes with local economic interests.
In previous White House administrations, permit approvals have hinged partly on support of the onshore state government.
Exploration is opposed by Gov. Henry McMaster in South Carolina.
"It's the state's chance and DHEC's chance to say this work is not consistent with our coastal regulations and policies," Alan Hancock, energy advocacy director for the Coastal Conservation League, said.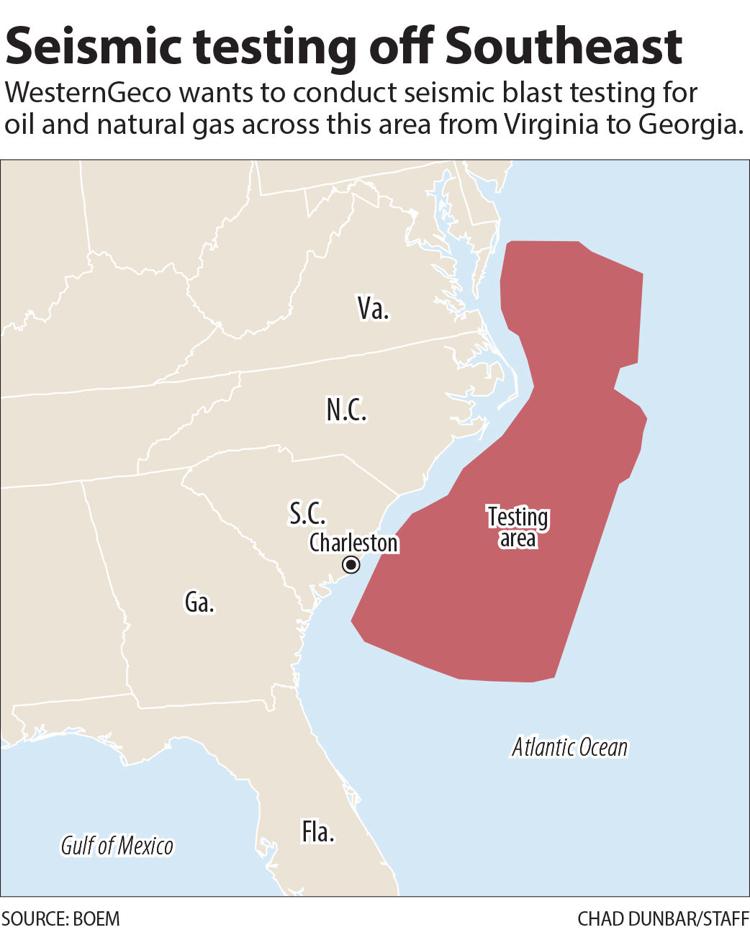 Seismic testing involves using loud airgun blasts underwater to map the oil and gas reserves under the ocean floor. The blasts have been shown to disrupt and injure sea creatures such as whales. The testing is a precursor to offshore drilling for oil and natural gas.
The testing would disturb proposed critical habitats, migration routes and fisheries, said Samantha Siegel, of the environmental advocate Oceana.
The Texas company is the only one currently up for review by the state, a DHEC spokeswoman said.
Six companies have a total seven permit applications pending at the federal Bureau of Ocean Energy Management that could include testing off South Carolina.
The future of federal approvals for testing and drilling for oil and natural gas offshore South Carolina is uncertain after an April remark by Interior Secretary David Bernhardt. In response to a court ruling that blocked the work in Alaska, Bernhardt said the department would wait on the result of its appeal before going forward with the work. But BOEM has continued to process applications for seismic permits.
WesternGeco was notified in May that the 2017 denial of its earlier permit had been rescinded and the bureau had resumed evaluating it.
The move is against political wishes by most leaders on the coast.
"There is absolutely no rational reason for the Interior Department to continue processing seismic testing permits after they've announced they will not be expanding offshore oil and gas drilling," said Rep. Joe Cunningham, D-S.C., who campaigned against the work and has made it a legislative priority.
Opponents have fought for more than six years against opening the Southeast coast to exploration. In South Carolina, the issue pits a concern for the environment and a multi-billion dollar tourism industry against potential revenue and jobs. Nearly every coastal government in the state, along with hundreds of businesses and thousands of residents, have publicly opposed the move.
McMaster, an early Trump supporter, has come out against the testing, and S.C. Attorney General Alan Wilson has sued to stop the work, using the same arguments made in the Alaska case.
"The governor's office has been in contact with DHEC and other interested parties to determine the best path forward with this particular application," McMaster spokesman Brian Symmes said. "The governor's opposition to seismic testing and offshore drilling is well-established and unwavering."
WesternGeco told BOEM it would use one ship with support and supply vessels and would test for five months.
"It is not anticipated that this equipment will have any environmental impact," the company said in its application. "The sources (sonic guns) have been designed to output the minimum amount of acoustic energy in order to achieve the geophysical objectives."
A state budget proviso by S.C. Sen. Chip Campsen, R-Isle of Palms, prevents state or local governments from approving plans to build any support facilities for testing or drilling. The proviso — which is a clause in the proposed budget — takes effect only for the budget year. Because the ships don't have to launch from the state, the proviso wouldn't necessarily stop testing.
Interested parties can comment on the WesternGeco request to the S.C. Department of Health and Environmental Control at https://epermweb.dhec.sc.gov until July 1.