WALTERBORO — For this small rural town in South Carolina's Lowcountry, the death of a fifth-grade girl after a fight with another student has prompted shock and outrage, and left the community with more questions than answers.
Authorities remain tight-lipped about their investigation. Officials have declined to confirm all but the most basic details surrounding the fight at Forest Hills Elementary School on Monday that led to the death of 10-year-old Raniya Wright.
The girl's mother posted on Facebook stating she believes bullying contributed to the fight, which led to her daughter's death.
School and law enforcement officials have been mum on details surrounding the fatal incident and declined to clarify.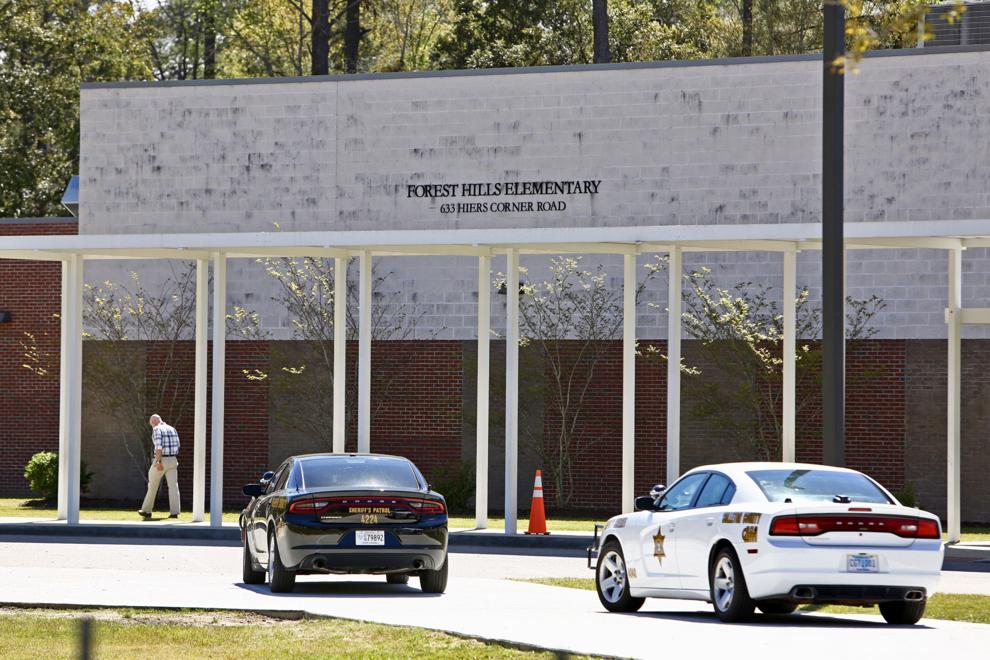 The Colleton County School District reached out briefly Wednesday morning in a statement on its Facebook page: "On March 25, a fifth-grade Forest Hills Elementary School student suffered injuries after a fight occurred in her classroom. School administrators promptly secured the scene, ended the fight and called emergency medical services to the school."
After school officials announced the student's death via Facebook, the district deactivated the page, hiding it from public view.
A Colleton County Sheriff's Office incident report released Wednesday provides few details.
School officials called 911 around 1 p.m. Monday to report that a student had collapsed, the report stated. Dispatchers immediately directed Colleton County Fire-Rescue units to the school, located at 633 Hiers Corner Road. The school resource officer was already on scene.
Wright was in the nurse's station at the school when authorities arrived. She was "unconscious but breathing," according to the report.
Fire-Rescue personnel took her to Colleton Medical Center, the report stated. Wright was later flown to Medical University Hospital in downtown Charleston.
"I have a lot to say," Ashley Wright, the young girl's mother, told a Post and Courier reporter as she waited at MUSC on Wednesday. "I just have to wrap my head around it all."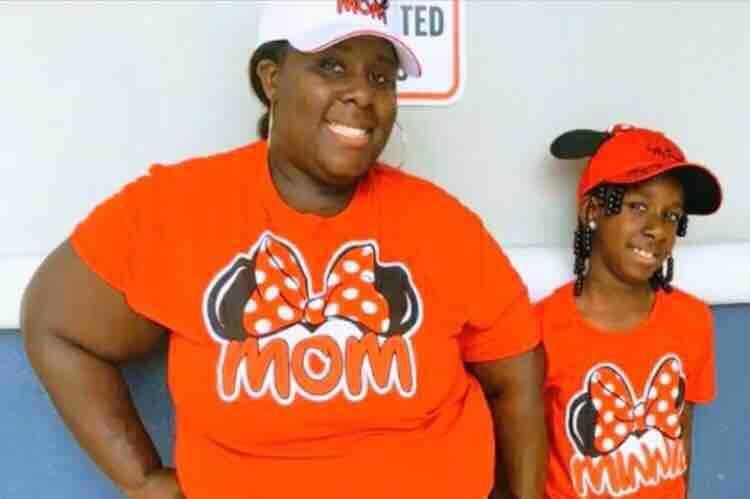 So much was still not known days after the initial incident: How did the girl die? What prompted the fight? Who was the other student in the fight? Were the students being supervised at the time? Will there be charges?
S.C. Rep. Justin Bamberg, whose district includes Walterboro, was confounded at the news of Wright's death and called for the immediate release of any potential surveillance video of the incident.
"How in the hell does this happen in an elementary school?" Bamberg said Wednesday. "When a little girl dies after a fight, it really makes you question what type of leadership is going on there and what are the adults doing."
An autopsy is scheduled for Friday morning to determine the cause of death for the 10-year-old.
At Forest Hills Elementary, school continued on a normal schedule Wednesday. Several students played on the playground during the afternoon. Inside, crisis teams of more than 20 counselors and psychologists were on site to offer support to students and staff.
Bullying statistics
Data provided to The Post and Courier by the S.C. Department of Education shows that Colleton County School District had the seventh-highest number of instances of bullying out of the 85 school districts in South Carolina, with 95 reported incidents in the 2016-17 school year, the most recent statewide statistics available.
During that same period, the Charleston County School District recorded the fourth-highest number of instances of bullying in the state with 152. Greenville County schools recorded the highest level of bullying in the state with 428 instances.
Ryan Brown, a spokesman for the state Department of Education noted that while the data is the best available, it is self-reported.
Other data provided to the newspaper by state officials showed that Forest Hills Elementary School, where Wright was a student, recorded 153 incidents during the 2017-18 school year. These incidents range from using inappropriate language to more serious activity such as threats and altercations.
According to the data, in the 2017-18 school year, there were 10 fights; three threats; 18 confrontations or altercations; and five instances of hitting, kicking or pushing.
So far, in the current school year through Jan. 31, Forest Hills has had 71 incidents. Among those, seven were for fights, two were indecent exposure and seven were confrontations or altercations.
Juvenile justice
The other fifth-grade student involved in the fight with Wright has not been identified. The student was suspended, according to district officials.
No charges associated with Wright's death had been announced as of Wednesday evening by the Colleton County Sheriff's Office.
Cases involving juveniles can be especially complex and follow a very specific set of rules separate from adult court proceedings, according to Stephan Futeral, a Charleston-area attorney with experience in the juvenile justice system.
Although the age of the other student involved in the fight has not been disclosed, Futeral said that based on the likely age of a fifth-grade student, it is highly unlikely that the case would move to adult court.
It is also highly likely that the student in question has been released into the custody of a parent or guardian because state law prohibits any child under the age of 11 from being held in a detention center, he said. If a child is between 11 and 12 years old, a family court judge has to order detention in a facility.
The case will eventually head to family court, where a variety of factors will be taken into consideration, such as the child's age, whether there is sufficient evidence to indict, the child's level of maturity, prior record with the S.C. Department of Juvenile Justice, seriousness of the offense and whether the act was premeditated, among other factors, Futeral said.
School violence
In federally mandated reports, Colleton County schools indicated there had been no homicides or aggravated assaults at Forest Hills Elementary between 2013 and 2017. The documents, called Persistently Dangerous Schools Reports, showed that the school had two weapons offenses reported on school grounds in 2017. However, the reporting mechanism would include any incident that took place on school grounds, regardless of whether students or teachers were involved.
While South Carolina does not track student deaths, Brown, the S.C. Department of Education spokesman, said the last incident he could recall of an elementary school student dying on school grounds was the Townville Elementary shooting in 2016.
Reliable data for deaths attributed to fights on school grounds was not available on Wednesday, but there have been some other recorded instances around the country.
In 2016, a Delaware high school student was beaten to death inside a bathroom at Howard High School of Technology, according to an article in The News Journal of Wilmington.
Waiting for answers
In Walterboro on Wednesday, a push for answers butted up against a lack of information in the case.
Angela Carr, who helped organize an online fundraiser for Wright's medical expenses, said she spoke with Ashley Wright Tuesday evening. The GoFundMe page had raised over $27,000 as of Wednesday evening.
"She is devastated and angry no one is giving her answers for her child. When your kids go to school you expect them to be safe, not get a phone call saying they were airlifting them to the hospital," Carr said in a Facebook message.
In a prepared statement, the school district referred to Raniya Wright as a "wonderful student."
"She loved to write, spend time with her friends, play basketball and loved being a big sister," the statement read. "She was actively involved in her church as a junior usher. She will be missed greatly by her family, friends and the entire school community."
A spokesperson for state Superintendent of Education Molly Spearman said the department has offered resources and assistance to the school district and the sheriff's office.
"My heart aches for the student's parents, peers and the entire Walterboro community as they grieve the loss of a child who has left us far before their time," Spearman said in a statement.
A vigil is being organized by area pastors Eric J. Campbell and Zane Brown and is planned for 6 p.m. Thursday at Pinckney Park in Walterboro.
Outside Forest Hills Elementary on Wednesday afternoon, a makeshift memorial sprang up alongside the school's welcome sign as several families stopped to place stuffed animals and other items.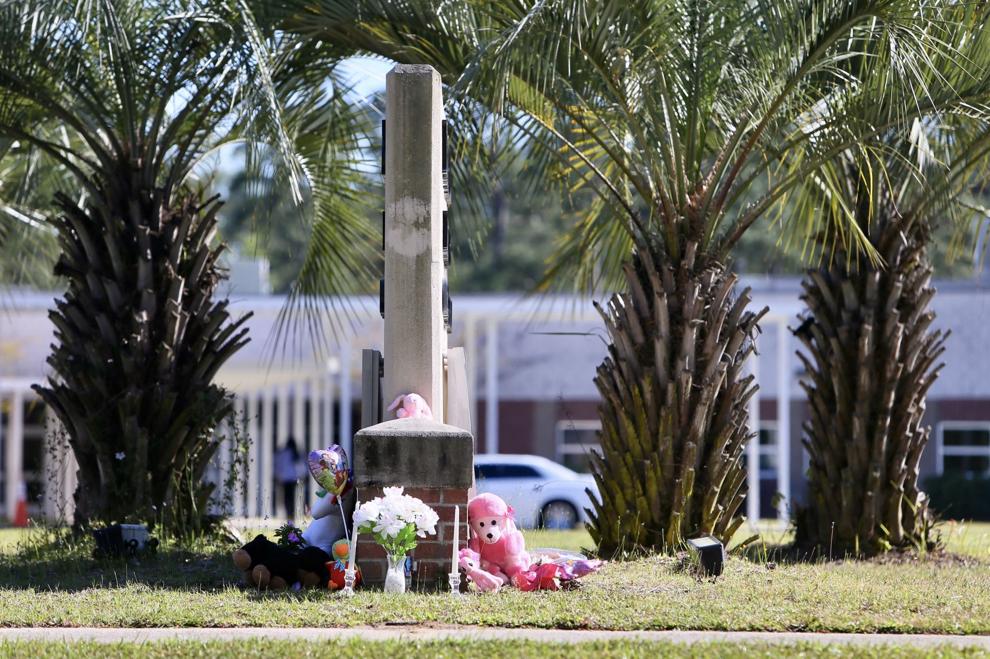 A woman and four young children left a cross.
White flowers sat in a vase flanked by two white candles. A purple, heart-shaped balloon floated just behind them.
Earlier in the day, Ashley Wright shared a photo of her daughter on her personal Facebook page.
The girl poses, her hair is in braids. The snapshot captures the beginnings of a smile on her face.
"As of 9:39 my baby girl has gain(ed) her wings," her mother said in the post, "justice4ny."
Thomas Novelly, Jamie Lovegrove, Paul Bowers, Angie Jackson and Andy Shain contributed to this report.