The debate about Confederate monuments tends to boil down to two sides: Leave them up or take them down.
Nathaniel Walker, an architectural history professor at the College of Charleston, knew a lot of his students were caught somewhere in between.
Many of them major in historic preservation, so they believe in protecting what was built long ago. At the same time, they're well aware that leaders from ancient Rome to the American South have used memorials and monuments to assert their power and their own versions of history.
The professor took their plight as an opportunity to shed new light on a conflict that Charleston's elected officials still haven't figured out how to resolve.
"These students, they have a great social conscience," Walker said. "They want our historic landscapes to be more empowering for everybody."
He used the local debate about the John C. Calhoun monument as a teachable moment for his Architecture of Memory class. The South Carolina politician died before the Civil War began, but his writings helped inspire the creation of the Confederacy. Among other things, he was a leading advocate for the institution of slavery, calling it a "public good."
The monument was erected in Marion Square at the height of Jim Crow in 1896, 46 years after he died. The state's Heritage Act makes it nearly impossible for cities to remove Confederate-related monuments, so Mayor John Tecklenburg pitched a plan last year to add a plaque to it instead to explain Calhoun's controversial past.
City Council couldn't agree on whether that was the right move back in January. The measure hasn't gone anywhere since.
With all of that in mind, Walker challenged students to design a new monument or an addition to the Calhoun statue that would reframe his prominence in Marion Square, where his sculpture looms over the heart of downtown from a 115-foot pedestal. 
"The only rule was, you weren't allowed to destroy him," Walker said. 
They came up with nine different interpretive structures that all aim to steal the focus from the towering Calhoun monument.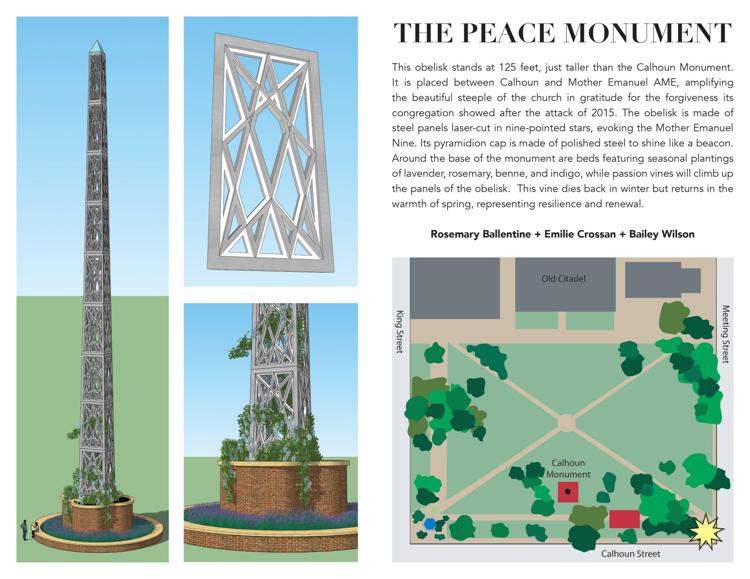 One group proposed a 125-foot obelisk, a pillar with a pyramid on top that's designed to catch the sun and "shine like a beacon." The structure, called "The Peace Monument," would be on the Meeting Street corner closest to Emanuel AME Church to create a space for people to reflect on the 2015 tragedy when nine churchgoers were gunned down. 
One of its designers, Greenville native Rosemary Ballentine, said she's a direct descendant of Robert E. Lee. This project was one of the first times she's had to confront her own past and interpret how she really feels about it.
"In my family, this is not something we talk about," she said.
Another student from Columbia, Patricia Ploehn, said she was there when the Confederate battle flag was removed from the Statehouse grounds. She helped design a "Shrine to African Ancestors," a flame-like structure meant to pay homage to the resilience of enslaved Africans and their descendants.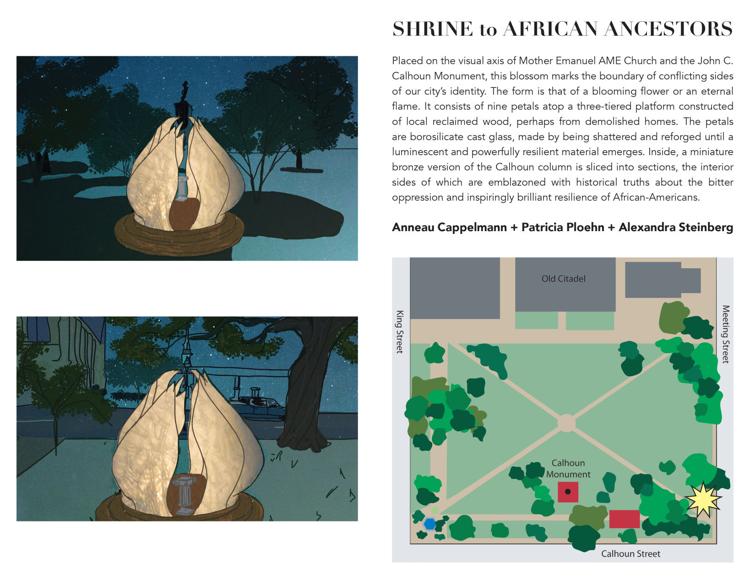 "We need to contextualize and redefine what we're going to make prominent in our nation's history," she said. 
Tecklenburg has said that's one of his over-arching goals. In addition to the plaque, he had proposed adding other monuments to the square to pay tribute to African-American history.
John-Michael Baldy, who designed a Roman-inspired dome to symbolize protection from tyranny, said the city should consider adding structures that match the Calhoun statue's physical prominence.
"Just putting a plaque on the monument and explaining that Calhoun was a bad man is not enough," he said.
Walker said what began as a classroom exercise might be a call to action for city leaders.
"I want this to be part of the conversation that ends with a beautiful monument that literally outshines Calhoun," he said.
The student exhibit, "Outshining the Shadows," will be on display throughout the summer on the second floor of Addlestone Library at the corner of St. Philip and Calhoun streets.