Giant pouched rats are Ellie Cutright's job and her passion — training them to sniff out land mines in Tanzania.
Not every 22-year-old gets that kind of work straight out of college, or could handle it. Cutright, of Charleston, is a natural. She is a 2018 behavioral research graduate of the College of Charleston and an adventurer, as one of her professors said. And she's a lifelong admirer of the rodents.
Her trainee rats show you why.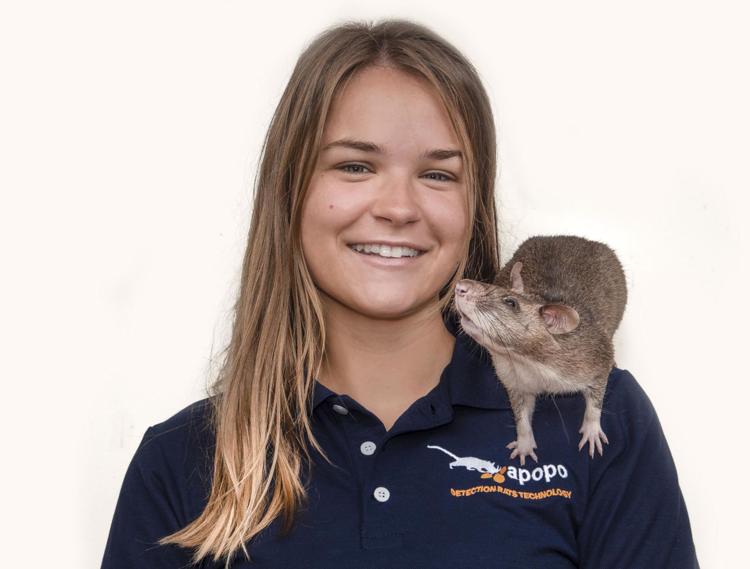 A giant pouched rat looks like a hamster would if it were as large as a rabbit. The rats have cheek pouches like squirrels that they stuff with food.
These guys are your best friend if you want to travel a road in the war-ravaged belt countries of Africa from Tanzania to Angola, or anywhere else in the world where literally millions of unexploded land mines lie hidden in the ground.
More than 15,000 people per year are killed by the mines worldwide, according to the International Campaign to Ban Landmines. 
The rats are light enough to not touch off a bomb and adept enough to sniff one out quicker than a metal detector. When they find one, they scratch at the ground to tell you it's there.
When they're petted they lick you like a puppy would. Cutright likes to cuddle the younger ones in her hand.
"They're extremely talkative! A 'normal' rat usually vocalizes only when it's threatened or hurt, but these rats are constantly squeaking," she said from Morogoro, Tanzania.
"They squeak with excitement and anticipation when they get food, with joy if you pet them. They squeak as a complaint when you wake them from a nap. Some even squeak in their sleep," she said.
Once trained, the rats can clear an area the size of a tennis court in 30 minutes, a job that would take a human with a detector as long as four days, according to APOPO, the Belgian-based group Cutright is working for. APOPO is a Dutch acronym for Anti-Personnel Landmines Removal Product Development.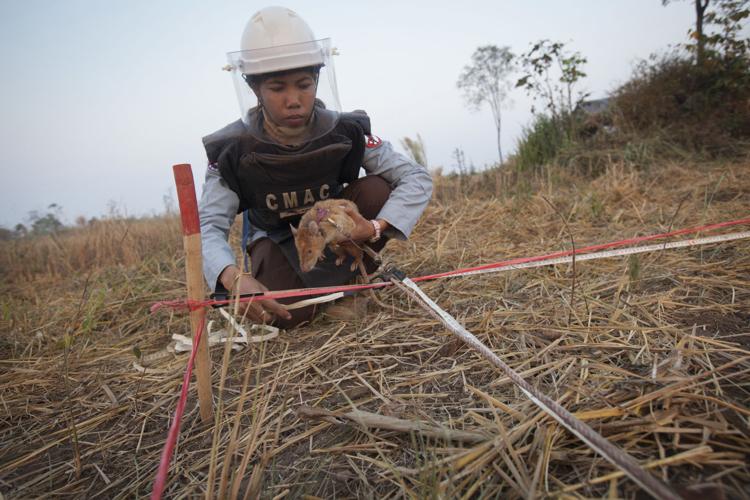 Rats trained by APOPO have sniffed out nearly 14,000 mines in Tanzania alone since the group arrived in 2000. All told, they have cleared more than 20 million acres worldwide so far.
As almost a side benefit, the rodents also are trained to sniff out tuberculosis in human mucus. The disease, largely eradicated in the United States, kills nearly 2 million people per year worldwide.
The rats' training starts at a young age. They must be habituated to social environments and noises like car traffic, then taught to differentiate the smell of explosives, key on it and alert their handler. They learn to work in harness, on a leash and begin by sniffing deactivated mines buried in a sandbox.
It gets hot enough that some wear sunscreen on their ears and tails.
Cutright is among a four-member research and development team at the APOPO facility in the lush African desert bush beneath the cloudy, rainy Uluguru Mountains. 
Vervet monkeys scamper in the trees outside the office. A camel grazes with cows and goats in a field down the road. Galagos, or "bush baby" primates, let loose at night with chirping that sounds like crickets and birds together.
After six months, Cutright has picked up enough Swahili to get by. She's learned to hail motorcycle taxi rides to get around and has fallen into rhythm with the laid-back, "Swahili time" way of life.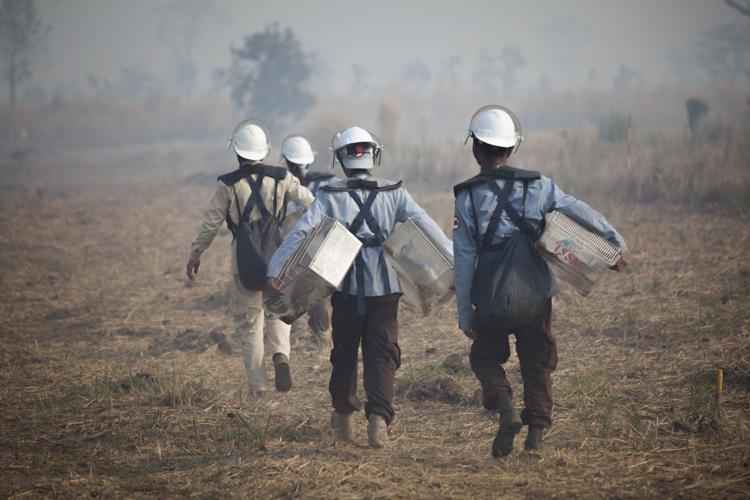 "The culture here is very different," she said. "People are community driven. Everyone is referred to as sister, brother, uncle and so on. Even the children are eager to say hello and high-five when you pass by. Although a lot of people struggle here and have much less than what Americans would consider the necessities, they are generally happy."
Cutright has loved rats since getting one after her sister did when Cutright was 9 years old. They set up obstacle courses and trained their pets to compete.
"We knew they were smart and easy to care for. We always thought they were cute," she said. "Luckily, my parents were easy going and nonjudgmental."
Chad Galuska, a college psychology professor with whom Cutright studied for two years, called her one of the most talented students he has mentored.
"She is passionate about the study of animal behavior," he said, "and she's using the results from her research to benefit the lives of both people and animals."