NORTH CHARLESTON — The land Joseph Hamilton's ancestor inherited as a freed slave in Colleton County following the Civil War was passed down through generations without a will.
Known as heirs property, it prevented Hamilton and his relatives from benefiting fully from the land's value. Hamilton and his family hired an attorney to help straighten out the legal ownership. He and his wife now use a portion of the property to run a tree farming business. Hamilton is also in law school because he wants to help other property owners.
"I want to use those skillsets to help other landowners," he said.
Hamilton's story and the experiences of several other Black landowners and farmers were shared during a March 14 meeting held in North Charleston with Deputy Agriculture Secretary Jewel Bronaugh and U.S. House Majority Whip Jim Clyburn. The goal of the discussion was for the USDA to share its ongoing efforts to root out generations of systemic racism, deeply integrate equity in decision-making and policymaking, and build equitable systems and programming inclusive of those served by the agency.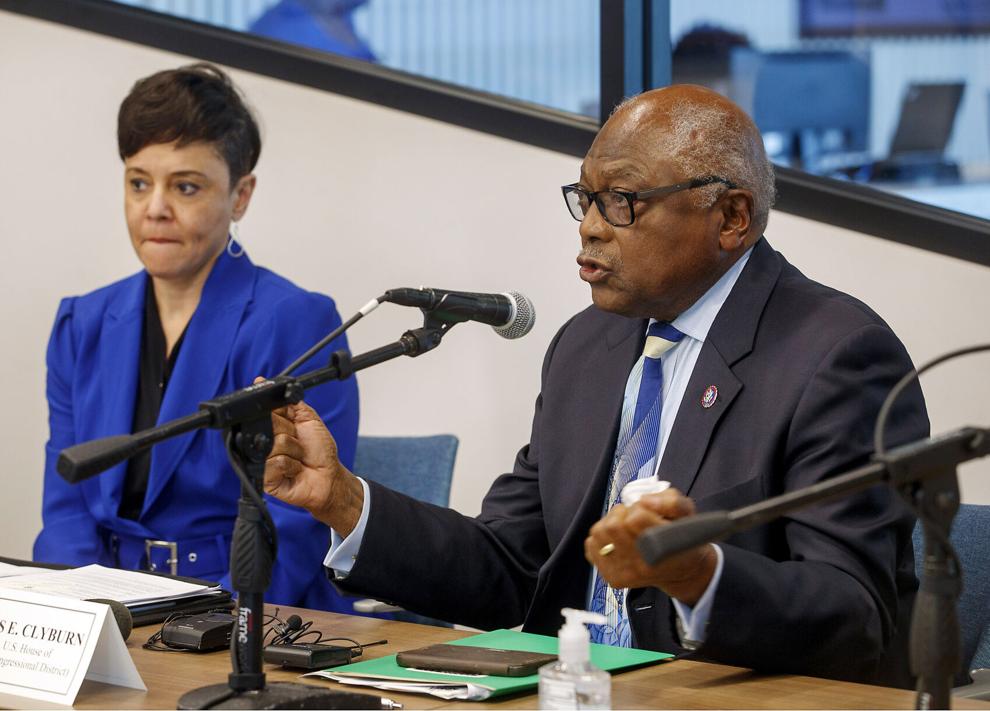 The gathering was held at the Opportunity Center, the new headquarters for the Center for Heirs Property Preservation.
Underserved farmers live throughout the nation, Bronaugh said. However, many of those who've been most impacted by issues like land loss reside in the South, she said.
"When we think about our historically underserved farmers and ranchers, many of them who have suffered the most live in the South," she said. "It is not just here in South Carolina, unfortunately, but certainly we have to acknowledge the experiences of South Carolina farmers."
During the meeting, Black land owners described experiences in which they were discriminated against by the Department of Agriculture when trying to access loans, and personal loss of land that'll never be returned to their families. They emphasized the need for "leveling the playing field" by ensuring that USDA staff do not mistreat minority farmers.
Bronaugh also said personnel issues must be addressed within the federal agency. Local offices must reflect the communities in which they serve, she said.
"There's an inherent lack of trust in USDA, and it's going to take some time to rebuild," she said. "But we've got to put the people in the office that folks in this room trust will give them good information."
President Joseph Biden's 2021 American Rescue Plan Section 1006, which provides direction and over $1 billion in funding for USDA to take action to ensure underserved communities have tools, programs and support they need to succeed, will help the USDA assist minority farmers in areas of land loss and heirs property issues, Bronaugh said.
Through the plan, the USDA has additional resources that can go out for farmers and ranchers so that they can get the money that they need for capital and land, she said.
"That's part of the the leveling of the playing field that we need to continue to do," Bronough said. "But we have more to do."
Biden's $1.9 trillion stimulus package also allocated $4 billion of debt forgiveness for Black and other disadvantaged farmers who have faced decades of discrimination from the federal government.
That effort has been placed in limbo amid lawsuits filed by White farmers who questioned whether money could be allocated by the government based on race.
The case is still in litigation, Bronaugh said. In the meantime, the USDA has placed a moratorium on foreclosures on those who have direct loans from USDA, she said.
The agency is also encouraging guaranteed loan lenders to follow suit to keep borrowers' operations from being taken away, Bronaugh said.
Clyburn, D-S.C., said he isn't discouraged by the lawsuits, filed by those he described as "people who would not like to see the resources of this country available to everybody."
"The things we need to do to make sure these people don't fall victim to the kind of history that we've had before, we're doing it," he said.