It wasn't long before the strip of beach got a macabre nickname: the "pit of death." 
It started in 2015 when a tourist from Pennsylvania spotted a bone sticking out of a mud flat on the north end of Edisto Island. The tide was coming in, and he quickly pulled out all the bones he could find before they were washed away.
Ashby Gale, a former ranger at Edisto Beach State Park, was on vacation at the time, but he stumbled on his own discovery in the area not long after: a skull, with a few teeth still attached.
Together, the bones and skull were components of a cow skeleton, dating back to the mid-1800s.
It was evidence of a beach community, hundreds of years old, that's now been lost to the sea. 
South Carolina's coast, like the rest of the modern shoreline, isn't fixed. Over time, it's fluctuated to spots that are miles from its current location. Those are changes that have happened over millions of years, but there are more recent examples that change, in the islands and the beach towns that have disappeared or eroded away. 
All of the bones were found on a section of beach that, hundreds of years ago, was marsh next to a causeway leading out to Edingsville Beach, once a busy path that would have carried plantation owners, their slaves and their cattle to a popular summer destination.
"It seemed to us it might have just been an ideal area for dumping sick or ailing or dead livestock," Gale said.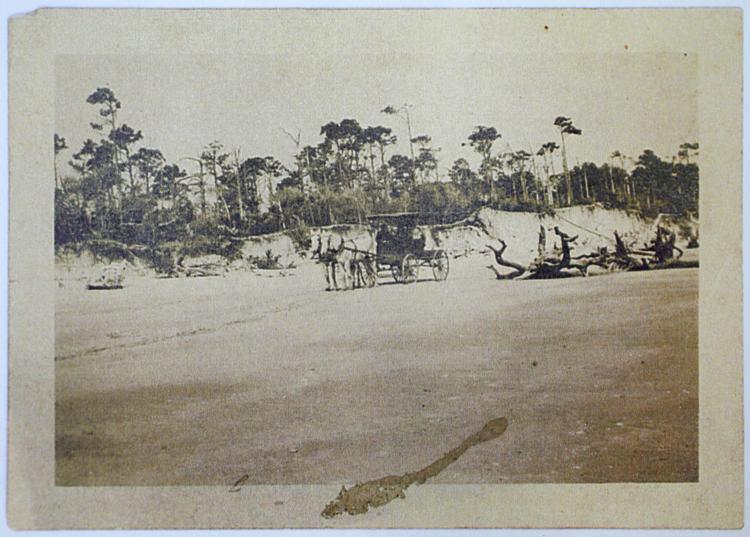 Today, Edingsville Beach is no more. The island sits completely underwater, leaving only the occasional artifact poking out of the sand on the nearby shore of Edisto. 
Buildings standards have changed dramatically since Edingsville was a bustling summer retreat, and today beach communities fend off the approaching ocean with tools like beach renourishment. But shoreline movement remains inevitable, and has only accelerated with the sea level rise brought by climate change.
Coastal communities are already seeing the effects: sunny-day flooding, more intense storms and a combined loss of more than $1 billion in South Carolina coastal property values from inundations in just the past 12 years, according to a recent study from the First Street Foundation. 
Ultimately, the process of coastal change can't be stopped, said Duke University Emeritus Professor Orrin Pilkey, who has been studying sea level rise and coastal geology for decades. 
"If I was living near the beach on a barrier island, I would be thinking about the future, and where do I want to go?" Pilkey said. 
Migrating islands
While residents near the water think of major storms as dreaded and rare disasters, such storms are also part of a process that has allowed barrier islands to move vast distances over time.
The coast of the Palmetto State was once 50 miles farther offshore, and once as deep inland as Columbia. Those changes ultimately happened over millions of years, but storms help fuel incremental shoreline movement, tugging barrier islands in one direction or another. 
In most cases right now in South Carolina, the beaches are moving towards the mainland — as long as a hard surface like a sea wall or another structure doesn't get in the way first. 
But a big enough storm can essentially move the boundaries of an island in one fell swoop.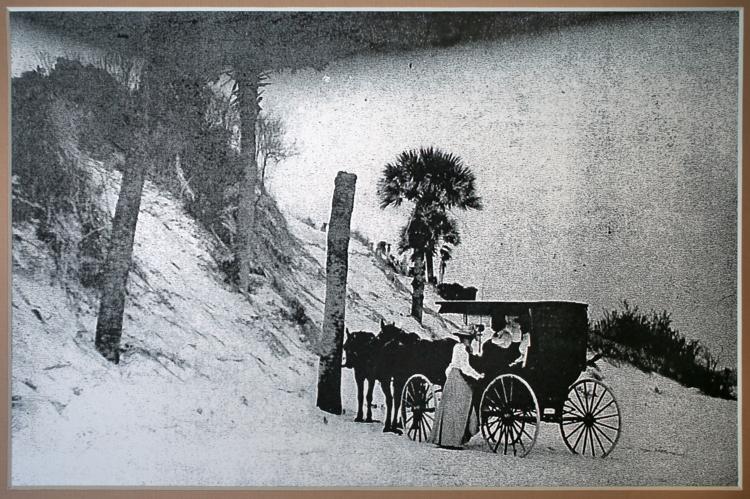 The pounding storm surge of a hurricane or tropical system pushes sand onto or past barrier islands, migrating the landform bit-by-bit. That's why beaches in the southeastern United States are often covered with oyster shells — they're clues that the beachfront used to be a salt marsh that's typically between a barrier island and the mainland, Pilkey said.
"Without storms, islands would be standing still and they would be buried by the next sea level rise," he said. "Storms are the reason barrier islands exist, come all the way across the continental shelf."
Some islands do end up disappearing, however, fusing with other landforms or gradually being washed over. Modern fixes to keep the shoreline in place, like beach renourishment, are ultimately "Band-Aids," Pilkey said. 
"(We) are just a little blip on a bigger curve," he said. "We're holding the shoreline still for a short period of time. In a geologic sense, it's just for a second or two."
'Antebellum Atlantis'
There is a section of beach just south of Frampton Inlet known as Edingsville Beach, but the original Edingsville is under the Atlantic Ocean.
That's why Nate Fulmer, an underwater archaeologist with the University of South Carolina, has dubbed it the "Antebellum Atlantis."
There's plenty of documentary evidence that described what life was like in Edingsville, a tony beach retreat for planters and their house slaves that saw its prime in the early 19th century. At one time, as many as 60 homes were on the island.
"They had an incredible amount of houses, churches, all kinds of support systems out there," said Gretchen Smith, director of the Edisto Museum. "It was quite an upscale colony."

But the decline of the plantation economy meant the island was already losing population before a series of severe storms ravaged it in the second half of the 19th century, Fulmer said. It was mostly empty during the Civil War, and the abandonment was so complete that around that time at least one building was floated off the island and up Store Creek — a former general store that is now home to a beauty salon on S.C. Highway 174. 
Some freedmen returned to Edisto Island after the war, but within a few years, there was no choice left but to leave permanently. A succession of hurricanes wreaked havoc at the end of the century, gradually decimating the isle's high sand dunes.
The 1893 Sea Islands Hurricane, which landed near Savannah and ripped up the coast at a minimum Category 3 strength, was the death knell.
A similar history of gradual decline is present on North Island, a summer retreat near Georgetown. Lafayette Village, a community on the island, was named after Revolutionary War hero Marquis de Lafayette paid a visit in 1777. 
Over time, North Island thrived as it was populated with rice planters from around Winyah Bay, who were then among the richest people in the United States. There were 700 people living on the island when a hurricane hit in 1820, according to Robert McAlister, author of "Georgetown's North Island: A History." 
About 100 people, mostly slaves, died in that storm. 
Homes were rebuilt and occupied up until the Civil War, when the Union Army converted the village on the island into a way-station for freed blacks headed into military service. After the conflict ended, the island was never again used for summer homes. 
North Island still exists today, as a part of a wildlife refuge. Like all barrier islands, it's changed dramatically. McAlister said that what was once the northern tip has attached itself to Debidue Island (the site of a private community, DeBourdieu Colony), as the inlet separating the two has migrated. 
"The inlet continues to shift to the south. It covered that entire village," McAlister said. 
And as the water moved, as it has shifted and pushed and inundated so many other barrier islands, it took most evidence of Lafayette Village with it.