North Charleston will continue to use Citibot, a mobile service that allows residents to report issues to the city with a simple text message. 
The city launched its partnership with Citibot in July. The local company established a number, 843-806-0204, that citizens can text to report potholes or broken street lights. The service then directs the information to city staffers, who are able to respond in real time.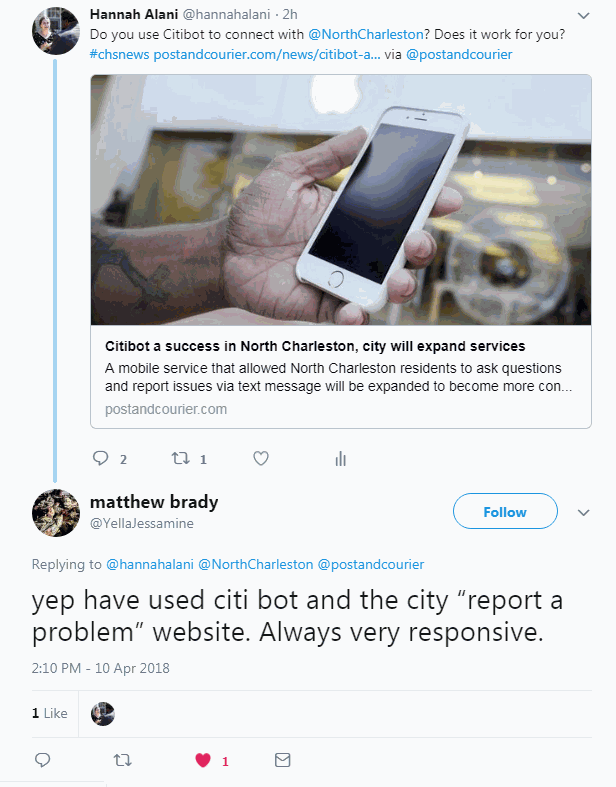 After six months of use, Citibot proved itself to be more effective than the more traditional ways residents can report issues, city spokesman Ryan Johnson said. These included creating a username and submitting information via a web portal or calling the city and speaking with a staffer. 
"When you have human, they only work eight hours a day," Johnson said. "Citibot never sleeps." 
Initial data showed the city improved resident engagement and work orders: 
94 percent increase in resident engagement.
112 percent more efficient in fixing issues such as broken street lights.
The city repaired or replaced 114 percent more trash cans, filled 76 percent more potholes and fixed 114 percent more street signs.
Andy Seavers, a resident of Park Circle, said in a Tweet that he used Citibot to report a street light that was out. 
"Not only was it fixed quickly, but an additional light was added to the pole," he said.
Johnson attributed the success of the service to its simplicity and low barrier of entry. An app is not required, so a smartphone is not required.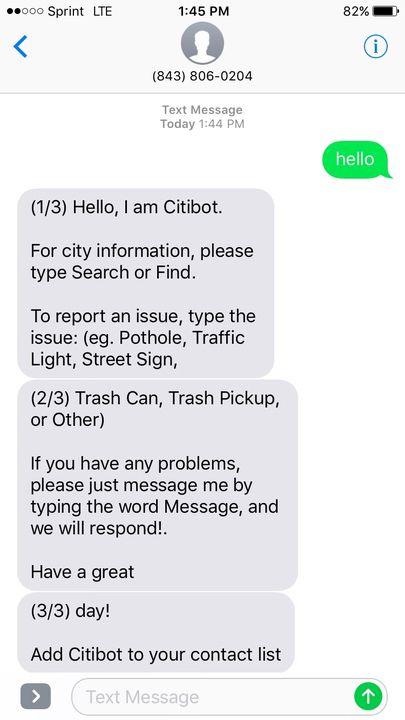 It's also quick. Users text "hello" to the local number, and the service immediately responds with the following message: 
"Hello, I am Citibot! For city information, please type Search or Find. To report an issue, type the issue: (eg. Pothole, Traffic Light, Street Sign, Trash Can, or Trash Pickup) If you have any problems, please just message me by typing the word Message, and we will respond!" 
The service is about to become more sophisticated, Johnson said. With Citibot 2.0, users will soon be able to converse with Citibot in a more human manner. For example, they will be able to send a single text that reads, "Hey, there's a pothole in front of my house at this address."
The city pays the Citibot service $1,000 each month. 
"If that's the cost for fixing potholes quicker, it's well worth it," Johnson said.