Caroline Cashion has run the video back and forth and looked at pictures from the game, searching for some clue as to what happened and why.
"It was just a freak accident," said The Citadel soccer player, who suffered a spinal concussion during an Oct. 13 match that left her without feeling below her waist and unable to walk.
"I watch the video and look at my dad's pictures, and that exact play happened four or five times in the game, and nothing came of those plays," she said. "It seems like such a random thing."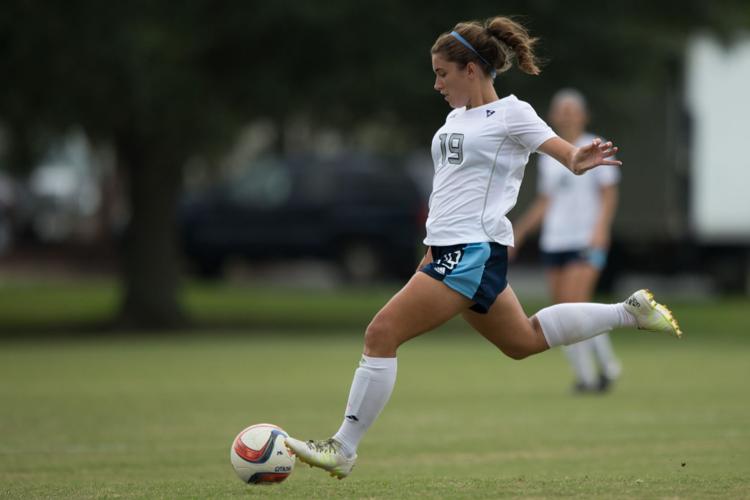 On Wednesday, 47 days since her accident, Cashion walked down King Street, carrying out interviews for her graduate-school classes and stopping in a coffee shop to study.
"It's my second day of independence," she said with a smile.
Cashion's recovery is the result of time and hard work in rehabilitation. Feeling has gradually returned to her lower body, with the exception of her feet and ankles. She began "walking" a couple of weeks ago with the help of a treadmill and harness before graduating to crutches.
Now, she's off crutches, walking on her own and beginning to run. Wednesday, she ran for 10 minutes at about 60 percent body weight on an Ultra G treadmill, which lifts body weight off of the patient. 
"I still have some balance issues," she said. "I can't bend over or I'll just topple over."
Cashion, who kicked for the West Ashley High School football team before going to The Citadel, vowed after she was hurt to return to the pitch with her Bulldog teammates next season.
That goal is still in sight, she said.
"Everyone is really happy with my progress," she said. "I have another check on Friday at the spinal clinic, and then next week I start going to rehab just two days a week, which means I'm getting better.
"And they think that when practice starts in February, I'll be out there with the team."