Any Citadel cadet can point the way to Capers Hall. The fortress-like white building at the southeast corner of campus holds classrooms and offices for academic departments including English, History and Political Science.
Citing a need for renovations and improved protection against earthquake damage, Citadel officials are looking to demolish the iconic 1949 building and replace it with a bigger, sturdier, more modern structure — while maintaining the school's Moorish architectural style.
Citadel officials estimated the project will cost about $51.1 million in a document submitted Tuesday to the state Joint Bond Review Committee. If the public military college receives final approval from the State Fiscal Accountability Board on Oct. 17, it will fund much of the project by issuing bonds, aiming to complete the new building in 2021. It would be razed and built in phases staring in the fall of 2019 to preserve classroom space during construction.
The new building would be 104,844 square feet — 40 percent larger than the current one — thanks to additional rooms in the rear of the hall. In addition to eight academic departments, it would contain offices for The Citadel's diversity and study-abroad programs.
It would also be the home of The Citadel's cybersecurity program, with at least one new feature for the campus. According to Bo Moore, dean of humanities and social sciences, the building would include a Sensitive Compartmented Information Facility, or SCIF — an enclosed area used by military and intelligence personnel with security clearances to access sensitive intelligence data.
"It's a rare capability for a college, particularly a college our size," Moore said.
The plans also include a three-story atrium, 37 classrooms, seven computer classrooms, a 250-seat auditorium, a fine arts classroom, psychology lab rooms and an art gallery.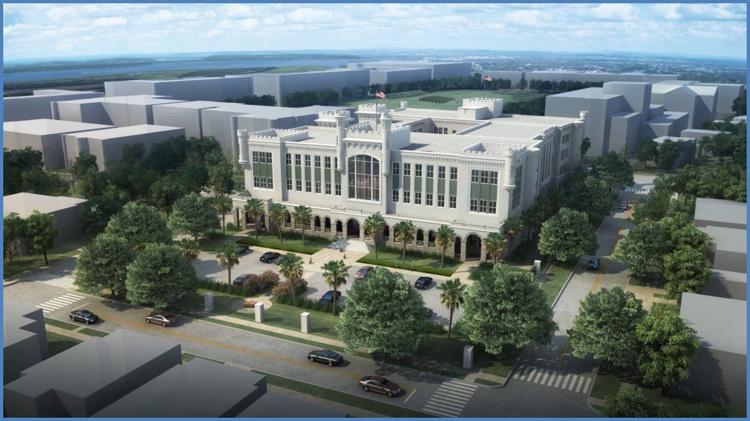 "We expect this to be a place where the community will gather for lectures, arts events and the like," Moore said.
Capers Hall was named for two brothers, Confederate Brig. Gen. Ellison Capers and Maj. Francis W. Capers, who was superintendent of The Citadel from 1853 to 1859. Col. John Dorrian, vice president for communications and marketing, said the school has not decided if the new building will keep the old name.
The Citadel originally sought approval from the state to do extensive renovations at Capers Hall, but it opted for a total rebuild after conducting a structural evaluation in 2014, according to Dorrian.
They discovered that the steel-frame building had un-reinforced brick and concrete masonry walls that would not be able to withstand a major earthquake such as the 1886 quake that laid large swaths of Charleston to waste. Rather than spend an estimated $7 million to $8 million reinforcing those walls to meet modern international building codes, Dorrian said the school decided to start from scratch on a new building.
This isn't the first time The Citadel has torn down a campus building and replaced it with a similar-looking structure. In 2004, The Citadel built a $28 million replacement for the Padgett-Thomas Barracks, intentionally designed as a near-replica of the 1922 original.
Before the rebuild, Padgett-Thomas was literally falling apart — chunks of concrete were spalling, or flaking off, and the school installed plywood and metal shields in the late 1990s to protect cadets from the debris.
While Capers Hall hasn't started to crumble like the old barracks building, Dorrian said it is ready for replacement.
"If you've been in Capers Hall recently, you'll see we have a track record of getting full use and life out of the buildings that we have," Dorrian said.
This story has been corrected. Capers Hall does not contain the Math department.