SUNSET — A financially hobbled Christian home for teenagers that punishes students by having them carry firewood for hours on end plans to move to South Carolina from New York, seeking a new campus in this remote corner of the Blue Ridge Mountains.
Freedom Village USA has long held itself out as a religious alternative for troubled teens — a place to work through addiction, misbehavior and the consequences of childhood trauma.
Before it made plans to move to the mountainous edge of South Carolina, its founder, pastor Fletcher Brothers, propelled its growth with a daily radio program beamed to the masses, calling his ministry "North America's premier Christian home for at-risk youth." And he has run it with a culture of intimidation, former students and staff said in interviews, airing misdeeds at chapel services, where he assigns punishments from the pulpit.
Students were governed by the decisions of a pastor with near-total control and what one promotional video calls a "tough-love personality." Surrounded by farmland in western New York, school staff monitored what little contact they had with the outside world, court records show. Some said in interviews that they were convinced that if they left Freedom Village, they'd be defying God's will.
Staff members, meanwhile, were paid inconsistently, often below minimum wage, according to state records. The school filed for bankruptcy last year after the state of New York ordered it to pay more than $1.5 million in back pay, interest and penalties.
"Fletcher claims dictatorship and no one can seem to stop him from doing as he pleases," two former staff members wrote to a federal judge in 2011. "He believes he is above the law, that rules don't apply to him and that he can treat people in any manner he pleases without any recourse."
They pleaded with the judge to hold the pastor to account "so that he won't think he can get away with deceiving and cheating more unsuspecting people."
Eight years later, Freedom Village's legal and financial challenges have intensified. It has faced claims of unpaid wages by nearly 30 past employees. A bankruptcy judge recently denied its case for financial protection, leaving it on the hook for its debts. It's now selling its land in the Finger Lakes of western New York, its campus for nearly four decades.
And it's coming to the Upstate.
'Spiritual help' 
Brothers' radio show and marketing campaigns have helped draw thousands of students, often sent by parents at their wits' end.
They represent challenging cases, often teens struggling with drugs, abuse and mental illness. Brothers has said that nearly all of his students were abused as children — 95 percent, by his estimate.
The school doesn't believe in the science of mental health or the professional standards that govern therapists and social workers. So deep-seated is Brothers' rejection of those fields that he has tried to cast the lessons of his college psychology classes out of his memory, he said in sworn testimony.
Instead, he favors a "spiritual help" approach toward treatment, one that relies on the assessments of Brothers and his staff. He has said he considers professional diagnoses as simply "interesting to know." He doesn't seek out staff with degrees in social work or psychiatry because "they've been indoctrinated in most cases in a failing system," he testified.
Freedom Village holds that the school's Christian counseling practices equate to talk therapy, according to Jonathan Bailie, who represents the ministry as operations chief for the National Center for Life and Liberty. NCLL is Freedom Village's legal counsel, and it owns the land the ministry is moving to in Pickens County.
The school has been accused of putting faith in students' better angels, even when their records would urge caution. For example, the time it admitted a teenager who had been accused of molesting his adopted sister. He came to Freedom Village with a court order not to spend time with anyone younger than 14 when he got there.
Three years later, the school paired him with a 13-year-old as a "big brother," court records show. Brothers said under oath that he'd become a "good, young man that was a model student" who offered to help a young student who was struggling. The staff decided they should be roommates.
The older student was arrested within months, charged with having sex with the boy. The boy told police that his "big brother," then 21, had started talking about sex, so he asked questions about it.
"He said, 'Here, I'll show you,' and he came over and got into bed with me," the boy explained in a sworn statement to police, alleging that the sexual contact continued for weeks. The man later pleaded guilty to attempted criminal sexual conduct.
When the boy's parents sued, their lawyer asked Brothers in a deposition how he'd try to counsel a student accused of abusing children. "Biblically," he answered.
Bailie said the ministry would not discuss the allegations, but he said that it has a "no-tolerance policy" for abuse and a requirement that any abuse that is discovered is reported immediately.
"Our goal is to make sure kids stay safe, because nobody, nobody is wanting to hear that a child feels unsafe," he said. "There was a policy in place at the time, but obviously we are trying to get better and better at making sure that those things are addressed."
The boy's family settled their case, which accused Freedom Village's leaders of negligence. It isn't clear that they have been paid: They filed a claim in Freedom Village's bankruptcy case last year.
'They had faith'
Freedom Village financed its early years in New York by borrowing money from its followers, taking to TV and radio to pitch them loans with a healthy return and a religious mission.
It managed to repay old loans with new ones, and for a few years, it had no problem finding new lenders, according to James Weller, a Rochester businessman. But contributions fell off and the church filed for bankruptcy in 1990.
"Many trusting people saw their loans as a way to support the church while earning a very high rate of return on their investment," Weller wrote in a sworn affidavit.
"They were senior citizens who had 'faith' their investment of a significant portion of their life savings would be paid back. They had faith because they were promised a payback by the Pastor when they made the original loan. They had faith because they had invested in a good cause blessed by a Lord who would never disappoint them."
Weller talked to them often. He was hired by the court to distribute money from the church to its roughly 2,000 creditors.
His job quickly became difficult. Freedom Village fell short of its $20,000-a-month repayment plan "almost immediately," Weller said.
The court was loath to take over a religious organization, and it figured slow repayment from a group with little cash was better than no repayment at all. So it let Freedom Village's bankruptcy case drag on for 22 years.
As that case wound down, New York officials started receiving complaints from former workers. They said that the ministry paid some of its staffers less than the minimum wage — sometimes $150 a week, or less — and it paid them inconsistently, according to a state appeals board.
Along with a stipend, Brothers said his staff was compensated in other ways, including room and board, education for their children and free medical care. "We've got people who have been here — and we've retired them out — they were here 33 years. They never bought a loaf of bread one time while they were here. They never paid a heat bill one time," he said.
New York's Labor Department found that some workers made less than minimum wage, even after accounting for their housing and meals. In all, 29 staff members complained to the state, saying that they'd been underpaid and that the church hadn't fulfilled promises of back pay worth more than $1 million.
New York slapped the ministry with an order to pay $1.5 million, a sum that covered fewer than half of the workers who complained. Others signed agreements with the church instead.
So the church told the bankruptcy court it would consider selling most of its land in New York's Finger Lakes. It listed its campus for sale last month. Bailie said Freedom Village's decision to move was unrelated to the wage claims and its most recent bankruptcy filing.
Before the land went on the market, the ministry told followers that it was leaving New York because of politics. It objects to a law the state enacted earlier this year guaranteeing abortion rights.
Instead, it says it prefers South Carolina's politics. Brothers said on his radio program that coming here is "kind of like moving into God's country."
A remote village
The new home of Freedom Village is in one of South Carolina's most remote corners, in a place where wildlife preserves run against mountain cabins and pastureland. It sits in a valley east of Lake Jocassee, where people and jobs are sparse, even by the standards of Appalachia.
The campus is a cluster of houses overlooking a pond that feeds a gurgling creek, hemmed in by mountains and state land. It's a vacant group home owned by the National Center for Life and Liberty, a Florida-based group that provides legal services to churches, including Freedom Village.
The legal nonprofit planned to reopen the group home last year but stopped when it realized renovations would cost more than expected. Bailie said his group didn't realize the facility was in such disrepair, so it looked for a partner to help run the home instead.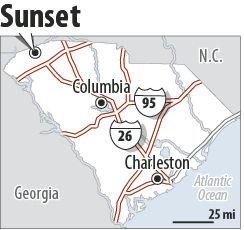 In the meantime, South Carolina's Department of Social Services said, a group home owned by NCLL housed children from Virginia without a license from the state. DSS spokeswoman Marilyn Matheus said the agency refused to give it one because the property had "several fire deficiencies." It sent a cease-and-desist order in August.
Freedom Village plans to lease the South Carolina property, though it hasn't set a timeline for its move to the campus off Victorious Valley Drive in Pickens County. It plans to go by a new name, Victory Village USA.
But DSS said it hasn't given the ministry a license to operate in South Carolina. The agency said it first learned of the planned move when a Post and Courier reporter asked if it had been approved.
Roy Costner III, the chairman of Pickens County Council, likewise said that county officials hadn't heard of the ministry's plans when the newspaper called Friday. "No one has applied for anything. No one's done anything," he said.
Bailie said the groups expect to file for a license within the next three months.
Meanwhile, Freedom Village has started to raise money for the move, asking supporters to give $1,000 or more to become "founders" of the new campus.
"If you can be a founder, we need you desperately," Fletcher Brothers said on his radio show, which closes each day with a request for listeners to give "at least once a month." "I guarantee you, every life that comes through that facility is going to be a jewel in your crown someday."
The woodpile
Freedom Village's supporters asked lots of questions about the move when the school announced it on Facebook. But one in particular struck at a central feature of the school's culture:
"Where's the wood pile gonna go?"
The woodpile looms large at Freedom Village. It's where students are punished for misdeeds like talking back, acting out or using the Lord's name in vain. It's where they go to walk for hours a day, carrying firewood in silence.
Students on the woodpile are sent out in the evening, for a four-hour shift that doesn't end until 10 o'clock, according to a written policy for corrective measures. Those with the worst punishments get up at 5 a.m. to carry firewood for an hour before other students wake up and go back to the wood pile in the afternoon for another two hours.
The pastor's son, Jeremy Brothers, who now runs much of the program day-to-day, described the punishment as "a reflection time that they can use to think about their actions or non-actions."
"It's our form of consequences," Fletcher Brothers added in an interview with The Post and Courier, continuing later: "It works, and there's got to be some consequences when a kid ... tells somebody to go drop dead and go to the warm place."
The school insists that its program and the woodpile punishment are voluntary. Students and their parents sign a waiver describing the punishment.
It says, in part: "These corrective measures are voluntary but students are expected to comply with these measures. Failure to do so may result in dismissal."
And the possibility of being sent home weighed heavily on some students, who feared that if they left Freedom Village, they would leave God's will.
'Questioning God'
When Freedom Village's program works, its alumni say it changes lives.
Fletcher Brothers can be a father figure who pulls at-risk teens off dangerous paths. His approach is tough, his supporters say, but it mandates structure and discipline in lives that need it.
"I'm not saying it was a perfect ministry," said Derek Weidman, who said he was addicted to drugs before he came to Freedom Village in the early 2000s. "But for me, in the season of my life I was in and what I was going through and where I found myself at the time, it was what I needed."
Fletcher Brothers could show grace when he assigned punishments, sometimes giving students a second chance when they got into trouble and they were struggling, said Kaylee Goodrich, who said she was a recipient of the pastor's grace.
Some days, he was content to say "don't do it again," especially for students who were new or first-time offenders, Goodrich said; others, he'd lay down the law. And when he did, some students say his ire became a source of anguish, even after they left campus.
Former attendees say Fletcher Brothers' control could cross a line into spiritual abuse. That was made manifest during chapel services, where he aired out punishments. Their oversights and mistakes — leaving their beds unmade, say, or talking to someone of the opposite sex — were announced from the pulpit, they said.
The experience of being judged in the name of God and punished on the woodpile has led some former attendees to connect over a shared "trauma bond," said Emily Shull, who attended the school in the 1990s.
Outsiders don't understand the experience of living at Freedom Village, she said. And they can't understand the experience of defying Fletcher Brothers' strongest hold over the campus: a message that his ministry is blessed, that the home sits under the umbrella of God's grace.
"The message was: You don't ever mess with God's man. Like Fletcher was a man called of God," said Margaret Baker, a longtime staffer who left in 2008 and later complained about Brothers to a federal judge. "Which meant if we were questioning him, we were questioning God."
After she left, Jodie Keeso believed for months that she'd be struck by lightning because she'd been forsaken. Another former student blogged that she had panic attacks on long drives, certain she was bound to be hurt in a wreck. Baker said it took years "to realize around every corner wasn't danger."
Bailie defended the school's record, saying that "there's no teaching or no religious background that would say anything like you're talking about." He said that it is tough for all children going into and leaving programs where they are separated from their parents or not home with family.
Concerns about Fletcher Brothers' control are not new. They date back to the early 1980s, when the Democrat and Chronicle newspaper in Rochester, N.Y., quoted one of the pastor's former employees at a chapel he ran.
"Brothers' most powerful weapons were fear, intimidation and isolation," the staff member said in 1982.
Freedom Village had just opened.