The scouting report is in on Chris Singleton. A little tentative at first, the 19th-round draft pick of the Chicago Cubs needed a few reps to hit his stride. But after making some adjustments to his technique, the former Charleston Southern baseball standout passed an important milestone.
"I got my first diaper changed without a cry," Singleton said the other day, a wide smile creasing his face. "I was so happy, I started bragging to my fiancee that I was the first one to get his diaper changed without making him cry."
Singleton cradles his tiny son, Chris Jr. — known as C.J. — in his large hands as he ponders life as a father. C.J. was born to Chris Singleton and his fiancee, Mariana De Andrade, on Oct. 25 at about 2:30 a.m., coming into the world at 7 pounds and 4 ounces.
"About 13 hours of labor," Singleton said. "A long day, but very rewarding."
C.J. also came into the world blissfully unaware of the tragedy that marked his father's life two years ago. The shooting at Charleston's Emanuel AME Church on June 17, 2015, took nine lives, including that of Chris' mother and C.J.'s grandmother, Sharonda Coleman-Singleton.
"She'd be spoiling him, I know that for a fact," Singleton said when asked what kind of grandmother Sharonda would have been. "He'd be getting everything he wants, and then some.
"I've thought about that a lot — how she'd be spoiling him, and loving on him."
C.J.'s birth marks a new chapter in the life of Singleton, who inspired a despairing Lowcountry and people around the world with his "Love is stronger than hate" message in the Emanuel AME massacre's aftermath.
At age 21, Chris Singleton is a new father, new guardian to his younger siblings, breadwinner for a family of five, aspiring professional baseball player and owner of a new public-speaking business, a pool-cleaning business and soon, a new house.
And, as he demonstrated after the church shooting earlier this month in Sutherland Springs, Texas, Singleton has shown a new willingness to speak out on gun control and other issues.
"People say, you get thrown in the water and you sink or swim," Singleton said. "Well, I'm swimming right now."
Family life
After Sharonda Coleman-Singleton died in 2015, Chris' younger siblings — sister Camryn and brother Caleb — went to live with relatives. Their father, Christopher Singleton, died early this year.
Chris wanted his family together again, and Camryn, now 17, and 14-year-old Caleb moved in with him earlier this fall. They both attend Goose Creek High School, where Chris went to school and their mother was a speech therapist and track coach.
Family life is like what you'd expect it to be with two teenagers and a new baby.
"They are doing great," Singleton said of his siblings. "They both have straight A's right now. I got an email from my sister's teacher the other day, talking about how awesome they are doing. I feel like they are really thriving since they joined me, and that makes me proud."
Camryn often drives her brother to school, but sometimes Chris gets up early to get Caleb to his 6:30 a.m. weight-lifting sessions for baseball. But there can be tension when it's time for Chris, as head of the family, to lay down the law.
"We struggle with that a little bit," he said. "I don't really try to be a parental figure to them; I just try to be their big brother, honestly. We've got chores they need to do, and I give them an allowance every week.
"It's basically like any other family. I try to keep them in check, but they do what they are supposed to do."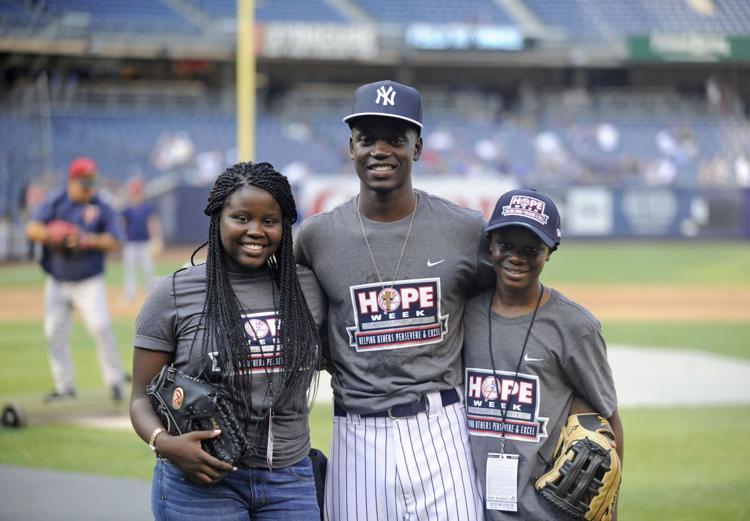 Mariana and Chris have been dating since they were juniors at Goose Creek. He proposed to her in front of friends and family earlier this fall, and she is a junior at College of Charleston, where she is studying accounting.
"It's a challenge sometimes," Mariana says of family life. "I'm kind of OCD, so I need the house to be clean all the time. If things are not done, I start freaking out. So that's challenging sometimes. But for me, it's like having a younger sister and brother."
And what kind of dad is Chris?
"He's matured so much," Mariana said. "Not a lot of guys his age are as mature as Chris is. He's a great father, and I'm so proud of him."
Breadwinner
As head of the household, Chris Singleton spends a lot of time thinking about money.
"We've got bills, lights, water, cable, cell phones," he said. "It's always on my mind."
Singleton did receive a signing bonus when he signed with the Cubs last summer, but the salary of a minor league baseball player will hardly support a family of five. Chris has a pool-cleaning business that brings in money during the summer, and he is trying to get a motivational speaking business off the ground.
"I've been fortunate a little bit," he said. "And now I'm trying to get this speaking business going. That will really be my biggest source of income. Minor league baseball is a lot of fun, but you aren't bringing home the bacon."
Singleton has a website (thechrissingleton.com) where interested groups can book him as a speaker. He's got some engagements lined up in Texas and Michigan, and he is eager to share his message locally, too.
"My three major points are forgiveness, faith and adversity, and how they all intertwine," he said. "People always say, 'Chris, you are so strong.' But it's not me. I've really been strong because of the Lord. As for adversity, I've been through it maybe a little tougher than some, but we all go through it."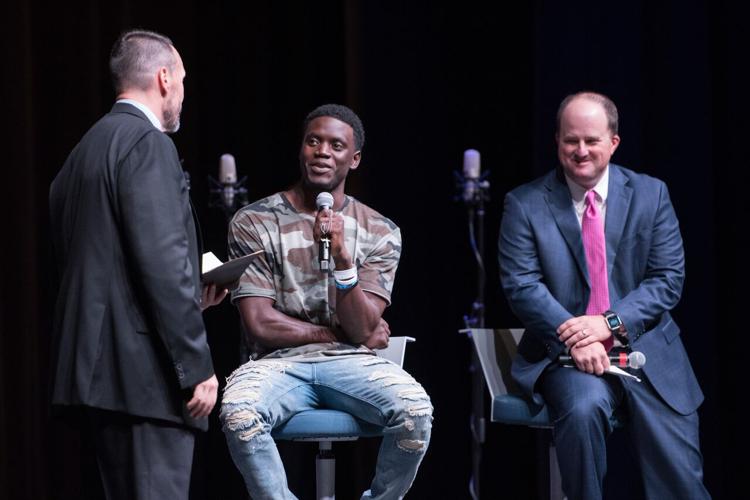 As for baseball, Singleton will return to play in the spring. He hit .221 with two homers and 16 runs batted in playing in 39 games for two teams in the Cubs' minor league organization last summer. He got off to a solid start for the rookie team in Arizona, batting .304 in 12 games.
After moving to the Class A short-season team in Eugene, Oregon, Singleton implemented some swing changes and hit .185 in 27 games.
"I had some ups and downs," he said. "I felt like in rookie ball in Arizona, I was doing really well. They had some changes in my swing they wanted me to do. They said I would probably struggle with them at first, but in the long run it would help with my career. I went through a rough patch with some things, but it's all a learning process."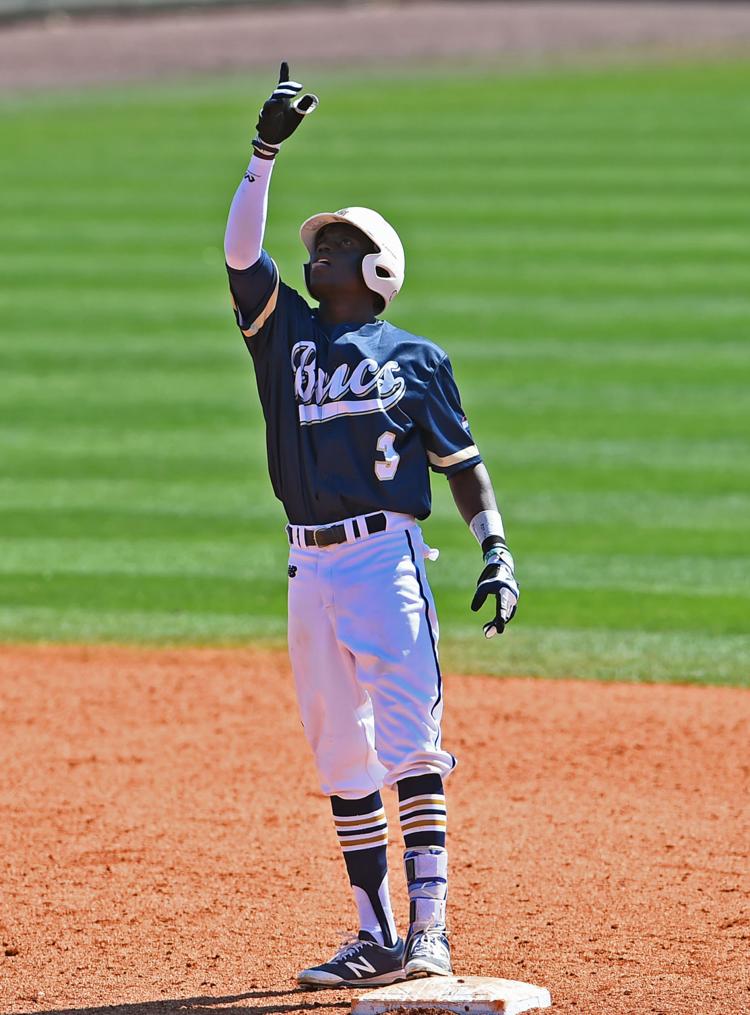 Speaking out
Singleton went through another rough patch earlier this month when news broke of the church shooting in Sutherland Springs, Texas, that left 26 dead and 20 injured.
"Hard to breathe thinking that 20 more people were killed in a place of worship," Singleton posted on Twitter. "Gun violence is REAL & needs to be STOPPED!!!"
Later, he added this:
"The Lord blessed us with free will and at times like these I am destroyed by the things people do with it. #TexasShooting."
And this:
"If this doesn't upset you about our laws on gun control then nothing will. ENOUGH IS ENOUGH!!!"
Singleton admits he had been reluctant to speak out on political issues. But this was different.
"We always hear people talk about these things, but there is really no action taken," he said. "So I've always been reluctant to speak my mind when there is nothing getting done.
"But in this case, I'm going to actually try to go to Texas and be with those people. So I thought I would speak out on it, because it hit home so hard.
"I try to use my life to not only live my own life, but to inspire others, so things like that won't happen. So when they do, it really hits home."
Missing Mom and Dad
With a baby of his own now, Singleton thinks often of his mom and dad. A certain eucalyptus scent that Sharonda loved, or her favorite butter pecan ice cream, will set off memories.
"Little things like that trigger my mind all the time," he said.
Recently, the Singleton kids sat on the couch and looked at Christmas decorations and gifts.
"We started talking about the last Christmas we had with mom and how awesome it was," he said. "She bought us all computers. So I'm planning a big Christmas with family this year. I'm a big Christmas guy. I love that time of year."
Singleton's relationship with his father was more problematic. Always close, they drew even closer in the 20 months his father lived after Sharonda died.
"I always loved my dad," Chris said. "He struggled with alcoholism his whole life, and that was something we struggled with. I went through a period where I was really mad at him.
"I felt like things would be so much better if Mom didn't have to work as hard as she did if he were not drinking. But I always loved him with all my heart; he taught me how to play basketball."
Those experiences explain why Chris wanted Camryn and Caleb to live with him. He wears a cross filled with his mom's ashes, and his father's old dog tags. And he still wears "Charleston Strong" bands around his wrist.
"When you have family, you never want to let them go," he said. "When you lose people in your family, you want to hold everyone else as close as you can.
"I feel like they look to me. When things are all right in my eyes, they are all right for them, too."