Mark Wilbert, Charleston's first ever chief resilience officer and the manager of several important projects to prepare the city for the ravages of climate change, is retiring. 
The last day for Wilbert, 62, will be Sept. 10. He said he plans to spend more time with his children and grandchildren and is looking forward to several upcoming family events in the next few years, including his daughter's wedding. 
Through five years of leading the city's plans to deal with higher oceans and a warmer planet, Wilbert helped to complete Charleston's Sea Level Rise Strategy and coordinate the Dutch Dialogues investigation of managing water. He has also been the shepherd of a complex and sometimes controversial project: an Army Corps of Engineers proposal to build a seawall around downtown Charleston. 
"I really have loved working with Mark," Mayor John Tecklenburg said. "Where we now stand in resiliency and all our efforts with sea level rise and flooding strategies, it's been nothing short of remarkable."
Wilbert's replacement is no stranger to Charleston. Dale Morris, an economist who helped author Charleston's Dutch Dialogues report, will step into the role.
He arrives at a time when the city is still reckoning with decades of development decisions that put homes in vulnerable, low-lying areas. That longstanding problem is colliding with Charleston's limited inventory of affordable housing, made worse in recent months by a mad dash by homebuyers to snap up available houses. 
Morris leaves a position at the Water Institute of the Gulf, a nonprofit that works on water planning with communities around the globe. Before that he worked for the Embassy of the Netherlands. Hurricane Katrina inspired him to bring engineering expertise from that country to flood-prone U.S. communities, and eventually found the Dutch Dialogues program, which has happened in a handful of cities. 
Morris has been working already as a consultant for Charleston on flood management planning on Johns Island and the edges of West Ashley, and as part of a team of advisers on the Corps' wall proposal.
Councilman Mike Seekings, who represents several flood-prone areas on the south end of the Charleston peninsula, said he expected Morris' transition would be "literally seamless" due to his close existing relationship with the city's work.
While he's consulted in places such as Houston and New Orleans, Morris said there's a willingness in Charleston to grapple with the existential threats to the city, and that has drawn him to the role. 
"I think I can make a difference," he said. "Time will tell. This is a wonderful challenge."
Tecklenburg held a press conference in outer West Ashley on June 16 to announce the handoff between Wilbert and Morris. The location was chosen to highlight the work that Charleston has done in recent years as the city has come to grips with the flooding and stormwater runoff that plague many parts of the city. 
All three men stood in front of a now-abandoned property near Shadowmoss Golf and Country Club where the city used federal funds to tear down townhomes that were repeatedly flooded during storms and heavy rain events. 
That type of work is exactly why Morris agreed to take the job as the city's chief resilience officer, he said. He said that few cities in the country, or the world, are as serious as Charleston when it comes to addressing the future effects of climate change. 
He said the city's leaders and Charleston's residents are "grappling honestly, openly and aggressively" with flooding and adaptation. 
"This is a whole city approach and a whole city response," Morris said.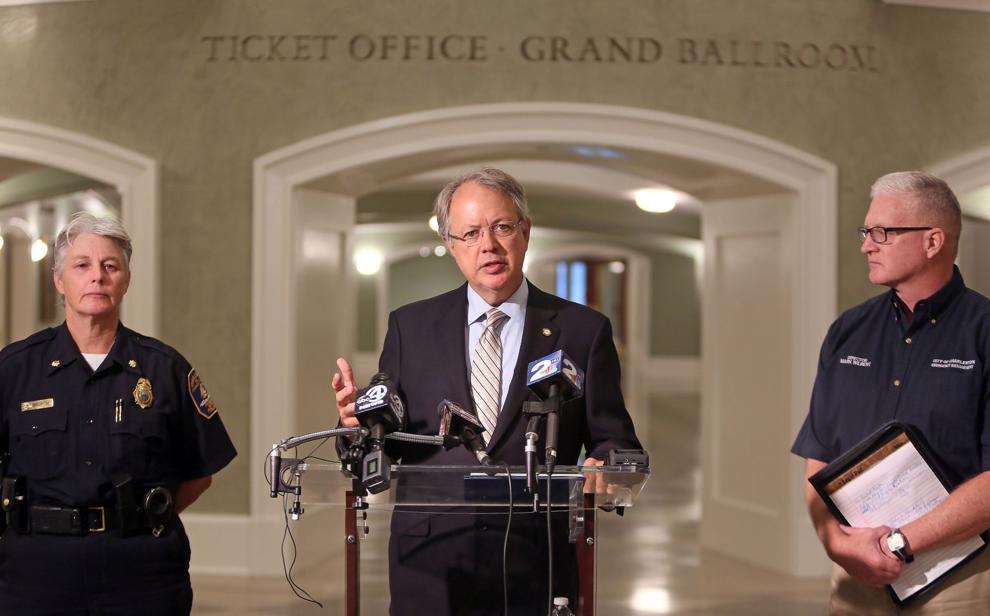 Wilbert originated the resilience role after initially joining Charleston city staff as an emergency manager. That first position still brought him face to face with the city's flooding challenges. 
On his second day with the city, he said, he watched a scenario unfold that happens at least a few times a year: a rapid rainstorm unleashed havoc on the Charleston peninsula. 
"The city was completely underwater downtown. I remember just thinking to myself, 'What in the world is going on?' " Wilbert said. 
That was the first step down the path of leading city staff's efforts to deal with hurricanes, tidal flooding, future sea level rise and other hazards of a warming planet. He became the first chief resilience officer of any community in South Carolina about three years later.
As Wilbert leaves, the city has a better handle on long-term plans to avoid flooding crises or make them less damaging, like potential zoning rules that are based on land elevation. 
At the same time, Charleston still suffers some of the same debilitating flooding today as when Wilbert began his job. Twice in the past week, cloudbursts have swamped sections of the city, closed roads to traffic and flooded cars whose drivers tried to dash through polluted, hazardous waters.
Andrew Brown contributed to this report.