Abnormally high tides caused flooding in the Lowcountry Wednesday night, hours after heavy rain inundated the area.
Shortly before 8 p.m. a National Weather Service gauge in Charleston Harbor registered 7.91 feet, putting the level on the high end of the moderate flood stage. Major flooding occurs at 8 feet and above. 
Earlier Wednesday forecasters said "the condition will be exacerbated" if rain arrives around high tide, but the downpour stopped shortly before 7 p.m.
BREAKING: At 7:54PM the Charleston Harbor tide gauge read 7.91ft MLLW. The highest tide is soon and could approach 8ft MLLW, which is major coastal flooding. #chswx #scwx

— NWS Charleston, SC (@NWSCharlestonSC) September 17, 2020
Steve Taylor, lead meteorologist for the Weather Service's Charleston office, said his agency hadn't gotten reports of significant rain-related flooding earlier in the day.
Although the nighttime high tide caused localized flooding, no major issues were reported. 
Charleston police monitored standing water along several roadways Wednesday night and announced some road closures, but the high tide did not appear to cause widespread flooding. 
Additional Road Closure:Hagood Avenue between Fishburne St and Line StFor the most up-to-date list of road closures go to https://t.co/zcXFj8fDGh pic.twitter.com/AyMRDrEE04

— Charleston P.D. (@CharlestonPD) September 17, 2020
Jonathan Lamb, a meteorologist with the Weather Service in Charleston, said some rain would arrive but there weren't "strong indications of a particularly widespread heavy rainfall." The Lowcountry sees some of its worst flooding events when rain is stopped from draining by an elevated tide. 
The astronomical cycle of a new moon on Thursday and a moon in perigee (or at its closest point to Earth) on Friday is pushing water levels in Charleston Harbor higher. It's common for these "king tides" to arrive in the Southeast in autumn because of the lunar cycle. 
Already, Charleston saw a tide at 8.06 feet on Tuesday night, the first time this year that the tidal gauge in Charleston Harbor has reached major flooding category. Water inundated low-lying areas downtown like Lockwood Drive, and crept onto the backside of the Isle of Palms, covering roadways there. But the peak tide arrived around 7:30, missing the evening commute. 
Lamb said weather watchers sent in relatively few reports on Tuesday night, but that may have been because it was becoming dark when the worst of the tidal inundation hit. 
On Thursday, rains from Hurricane Sally will arrive across the area, dropping an estimated one to two inches of rain through the evening. The slow-moving storm was poised to cause catastrophic rainfall flooding for the Gulf coasts of Mississippi, Alabama and Florida, according to the National Hurricane Center. 
It will be moving faster, with less time to dump water, as a tropical depression by the time it crosses the Palmetto State. Sally could still make a mess around Thursday's larger high tide, however, forecast at 7.7 feet around 9 p.m.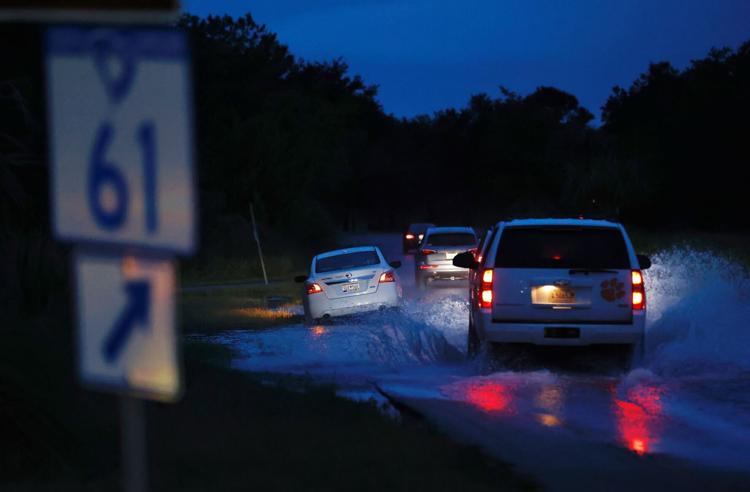 Taylor said he and his colleagues will be watching Sally's remnants as they move over the area. 
They expect the system to bring rain and a possible tornado risk before it moves out of the region by Friday morning, he said. 
A cold front is expected to push through the area following Sally, Taylor said. Conditions will be cooler but there is a chance for some rain along the coast as well as rip currents. 
As of Wednesday night, the forecast call for showers on Thursday and a chance of showers through Sunday, according to the Weather Service. The high Thursday will be 84 degrees and the low, 75.
Conditions will cool over the weekend with highs in the mid-70s and lows in the low 60s, according to the Weather Service. 
Gregory Yee contributed to this report.