If Charleston does everything the West Ashley Master Plan calls for to redevelop Sam Rittenberg Boulevard, the commercial corridor would be transformed from a bland traffic route into a destination like King Street or Avondale.
City Council approved the master plan Tuesday, setting a course for the area's revitalization. While Sam Rittenberg is just one piece of the puzzle, efforts to improve it could have a ripple effect for the rest of the community.
The central road connecting West Ashley to Interstate 26 is one of two gateways into the area from the Ashley River, but its mid-century design puts the primary focus on moving cars, not creating an attractive community environment. 
The plan aims to reverse that trend. 
The Sam Rittenberg of the future would have seamless sidewalks and crosswalks so people could move around to stores and restaurants in the area without having to fight traffic in a car.
There would be landscaped medians, more trees along the street and power lines buried out of sight.
Buildings would be closer to the street with parking hidden behind them, rather than the retail strips with vast parking lots lining its edges today.
Architects who might design those new buildings would be encouraged to draw inspiration from Charleston's historic corridors such as Broad Street, where multi-story offices and shopfronts have housing or other uses on top.
Areas such as the vacant plots surrounding Citadel Mall would be equipped to handle new residential density. Sam Rittenberg happens to be on high ground, and it's already built out, so developments wouldn't disturb natural land or risk causing drainage problems.
More people living along the corridor would support more robust transit service.
Achieving all of these things will take decades and millions of dollars, not to mention consistent collaboration between city, county and state governments. On the bright side, some of the work has already begun.
A heavy lift
Across the country, traditional retailing is fading from the public realm as consumers shift their buying power online.
That's spelling trouble for Sam Rittenberg Boulevard. With the 1.1-million-square-foot Citadel Mall and dozens of other shopping centers, the corridor has the highest concentration of retail spaces in West Ashley, according to the master plan.
Most, if not all of them were built from the 1950s to the 1990s, so they're not only outdated, but visibly struggling with many vacant storefronts.
To foster the "main street" environment envisioned in the master plan, the ample supply of Sam Rittenberg's retail spaces will have to be used in different ways. 
Stephanie Horvath, who lives near Bees Ferry Road, made a quick trip to Citadel Mall with her toddler on Friday to shop at Target. She said she doesn't usually go to the other stores inside, or really anywhere else on Sam Rittenberg.
"There's just not a lot that's there for me in that area," she said. "It would be nice if it was more like King Street."
That downtown street has become a regional destination that blends shopping with fine dining and nightlife, as well as recreation at the centrally located Marion Square. But its rebirth didn't happen overnight.
Former Mayor Joe Riley made revitalizing King Street a centerpiece of his 1974 mayoral campaign after a long-running exodus of local merchants. The stretch below Calhoun Street came together first, thanks in large part to the addition of the mixed-use hotel now known as Charleston Place. 
The effort on Upper King Street didn't bear fruit until the past decade or so, well after the city built a Visitor Center to attract tourists, constructed parking garages and beautified the street with new sidewalks, lamp posts and buried power lines.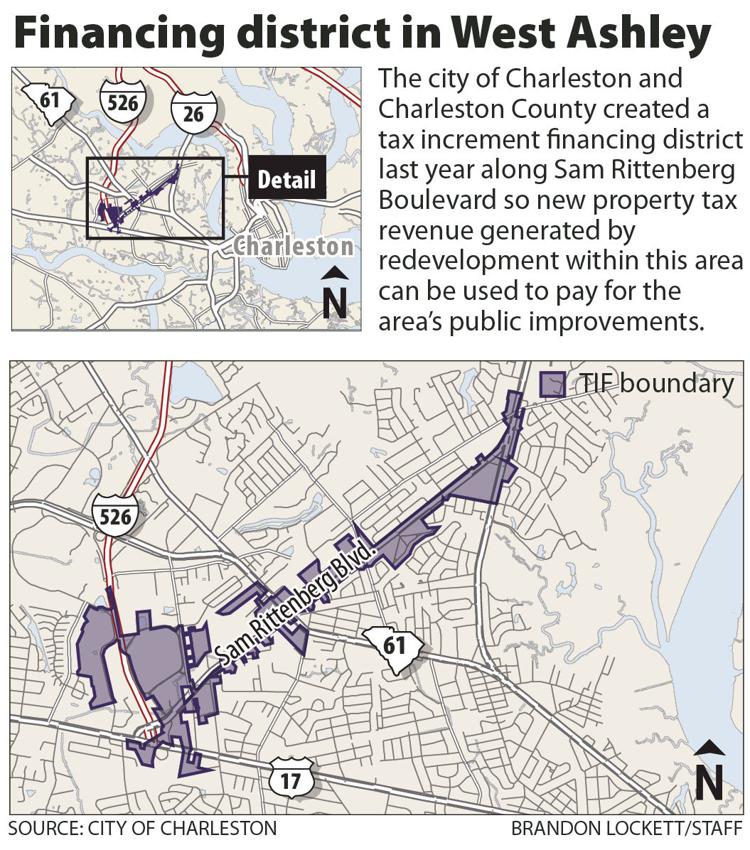 The make-over of Sam Rittenberg will likely follow a similar course. The city has already worked with Charleston County to establish a tax increment financing district so that new property revenue from redevelopments will shore up funds for public improvements. 
It's a cyclical — and long-term — process. Some public investments will have to come first, as they did on Upper King, to help attract private developers. As more redevelopments take shape, the TIF district will generate more money for bigger improvement projects.
The initial streetscape work for Sam Rittenberg, which includes landscaping and the addition of much-needed sidewalks and bike lanes, is estimated to cost about $12.4 million.
The long-term goal to set Sam Rittenberg on a better course will be more challenging than the efforts downtown. The redevelopment area is more than three times the size of King Street's, it involves more intensive street improvements, and it doesn't have the same historic character to which investors now flock.
Even so, Mike Campbell, a West Ashley resident and owner of Captain's Comics on Sam Rittenberg Boulevard, said even just one major improvement could set off a domino effect for the area.
"There really needs to be an anchor, or a hook, that could really draw people into West Ashley," he said. "It's definitely an area that has opportunity."
An opportunity, not a curse
Progress is already afoot.
The city purchased the former Piggly Wiggly grocery store site this past year at the highly visible intersection of Old Towne Road with the promise of transforming it into West Ashley's new gateway anchor.
While its future hasn't been determined, the city has floated using some portion of the property for a new park that would add more pedestrian activity there and in the Ashley Landing shopping center next door.
In a related effort, the county is working to improve the confusing intersection with Old Towne Road to make it safer for drivers, as well as cyclists and pedestrians.
Frothy Beard Brewing Co. relocated to Ashley Landing from North Charleston in 2017. Co-founder Michael Biondi said the business thrives being so close to surrounding neighborhoods, but what's missing are safe walkways and bike lanes to connect them.
"I do think that it needs more of a neighborhood feel," he said.
What happens there could set the tone for similar redevelopments across West Ashley.
The master plan aims to break down the barriers between large retail properties, creating more walkable blocks with a mixture of uses. Over-sized parking lots would be reconfigured to accommodate more storefronts, green spaces and pedestrian pathways.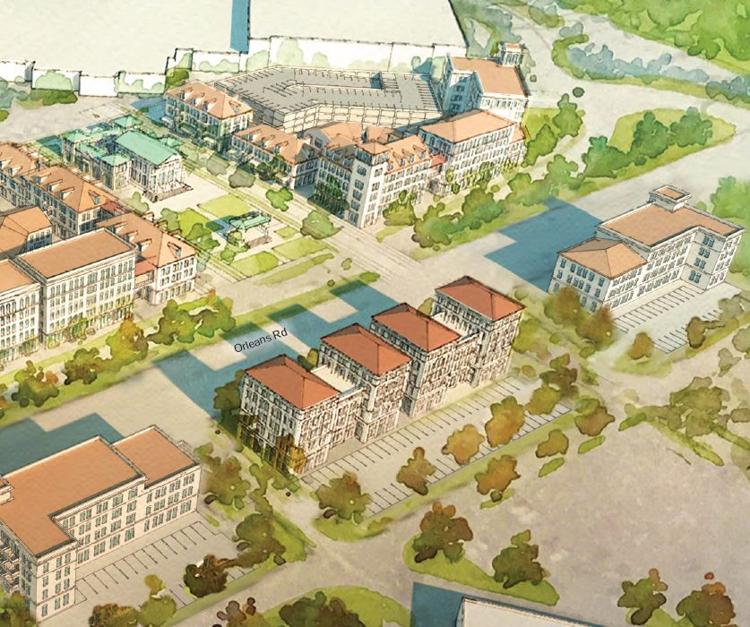 That's the long-term vision for Citadel Mall, where many of the parking areas could handle new apartments, recreation centers and offices. 
In the meantime, the group that purchased the interior portion of the mall last year is testing out new ways to use the retail spaces inside.
One of the central spaces near the entrance to the shuttered J.C. Penney store has been turned into a basketball court, which is also used for other sports such as volleyball. And a new indoor playground is headed to the Belk wing by late spring.
That's a concept that might lure in more moms like Horvath.
"That's going to be great," she said.