State officials have closed their criminal investigation into the Charleston Thug Life website without filing charges, but their probe did shed light on one enduring mystery: the identity of the shadowy blogger known as "Chief."
Computer and phone records obtained by State Law Enforcement Division agents reveal the Thug Life operator, who railed against criminals and prosecutors alike, was Ray Garrison, a former North Charleston police sergeant who was bounced off the force six years ago after testing positive for cocaine.
For 22 years, Garrison worked on the street, led the crime scene unit and served as an internal affairs investigator until his March 2011 firing. During a search of his North Charleston home last year, agents found autopsy photos, crime scene videos and surveillance recordings, along with a spiral notebook containing lists of suspects and criminal charges, a newly released SLED file shows.
The agents determined Garrison, 53, corresponded with several North Charleston police officers around the time a juvenile murder suspect's name was leaked to the controversial blog, but investigators found no concrete evidence those officers were behind the breach of confidential information.
The leak had prompted SLED's probe, and it proved to be the blog's demise after four years of outing criminal suspects and stirring racial tensions. 
In all, the agents interviewed some 30 North Charleston officers. Garrison's son, Cpl. Justin Garrison, and former Sgt. Scott Wyant refused to talk and requested lawyers. The others denied wrongdoing. 
Investigators also spoke with a Hanahan policeman who served as the webmaster for Thug Life, but he denied any direct involvement with the blog's content. David Kornahrens, who since left his police post to become Hanahan's technology director, told authorities he'd met Ray Garrison only once, to deliver a laptop provided by local attorney David Aylor in exchange for advertising on the site.
"Once this (investigation) started, I wanted nothing to do with the site," Kornahrens told The Post and Courier. "Now, I wish I had nothing to do with it from the start. This has been an ongoing nightmare."
Aylor, who knew Kornahrens from his part-time role as Hanahan's prosecutor, said he saw the website only as a marketing opportunity.
"I'm involved in advertising on many different publications," Aylor said, "but that doesn't mean in any way that I endorse the opinions stated."
After reviewing the findings, the state Attorney General's Office declined to bring charges, saying the matter was best handled internally by the North Charleston Police Department absent proof beyond a reasonable doubt that officers were responsible for the leak. SLED released the 392-page investigative report in response to a Freedom of Information Act request.
Garrison did not respond to multiple calls and emails seeking comment. The Post and Courier also reached out through the Police Department to several officers mentioned in the report; only one responded. The department declined to comment.
Mayor Keith Summey also refused to discuss the findings "until I get more information," he said.
Attorney Andy Savage reviewed the probe after fielding concerns from police employees, including Officer David Winslette, who was demoted to a civilian job after sharing a racially charged video with the blog. Savage said SLED spent immense resources investigating what should have remained an internal disciplinary issue.
The result, Savage said, was a criminal probe that scooped up details far broader than the leak of one name — searches that pose serious constitutional concerns.
"The investigation was way overblown," he said. "They interviewed law enforcement officers without basis to ask questions. If I were the (North Charleston) police chief, I would have put SLED on trespass notice."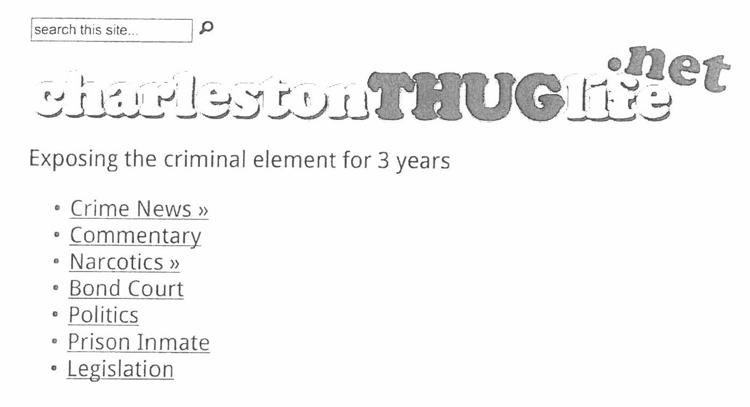 'Widespread' leaks?
Charleston Thug Life made waves soon after it debuted in 2012, profiling alleged criminals with salty, racially charged language while bad-mouthing mainstream media coverage of crime and ripping into the justice system's purportedly weak handling of cases. The site's operators hid their identities but it was clear that they had sources inside law enforcement.
The site went dormant in late 2015, but a new blog, Charleston Thug Life 2.0, popped up earlier this year. That lasted until April.
For years, Thug Life seemed immune to backlash from critics, and at one point, its anonymous operator bragged about plans to expand into national coverage.
Kornahrens, a Hanahan officer at the time, reached out to the blog by email, eager to lend his technical skills to a popular publication that, at its height, attracted up to 4 million unique visitors monthly. "I thought it would be cool to build a site as large as that was," he said. "But I had zero to do with any of the articles."
He moved the site to a higher-capacity server in the Netherlands, registered a domain name and established a way for readers to send donations, a percentage of which he kept in exchange for his services.
Problems began, however, in May 2015 after Thug Life named a 15-year-old who was among several suspects in the killing of Kedena Brown, a 36-year-old mother gunned down in North Charleston after someone mistook her car for an adversary's.
Tammie Coppinger, a public defender for the teen, suspected that a government employee had leaked his juvenile arrest history. She subpoenaed internet records that led her to Kornahrens, according to the SLED report. 
Coppinger turned over the records to 9th Circuit Solicitor Scarlett Wilson, a favorite target of Thug Life barbs. After Kornahrens raised the specter of a possible leak to Thug Life from her office, Wilson handed the probe to the Attorney General's Office and SLED. She told state authorities in a letter they might be better suited to handle the case since the breach "might be widespread and involve multiple officers."
An investigator in Wilson's office still pursued messages from the blog's Facebook page, which revealed connections with police employees. That was done, prosecutors said, to fight Coppinger's efforts to stop the juvenile's case from being sent to adult court.
'Follow the law'
SLED warrants yielded phone communication between Garrison and North Charleston officers during the time of the breach, including 335 text messages between Garrison and his son. Another 33 texts were exchanged with his former colleague Wyant, the SLED report stated.
Agents appear have dropped their inquiries into Justin Garrison and Wyant when the men refused to cooperate. Wyant was later fired for unrelated reasons after police officials determined he had falsely claimed to have worked off-duty assignments for which he had been paid.
Agents also spoke with other North Charleston police employees:
Jessica Rodriguez, a victim advocate who sent Facebook messages to Thug Life, along with a "major activity report" about a crime. Rodriguez didn't recall if she had shared information about the Brown shooting, and investigators couldn't prove that she had. She had deleted some of the Facebook messages. Officials fired her for violating confidentiality rules for revealing other records.
Lt. Brian Adams, a former candidate for Berkeley County sheriff who served briefly as a school board member. He told agents he knew Ray Garrison was behind Thug Life and spoke with him as a friend, but he denied sharing confidential information.
School Resource Officer James Marshall, whose wife, Jennifer, contacted Thug Life about writing for the blog. She noted her own law enforcement background and her husband's job. "I spoke with my husband about this beforehand," she said in one message, "and we agreed 100 percent that anonymity and a safe distance' for certain stories would be a must." Though she was given log-in credentials for the blog, she told SLED that she never posted anything, and her husband also denied sharing information.
Sgt. Todd Morgan, who was in touch with Garrison around the time of the leak. He stated he had contacted Garrison about making cornhole boards for an upcoming police motorcycle rodeo. Garrison runs a small business that manufactures the games.
Officer Ralph Draper, who acknowledged commenting several times on the blog but denied divulging confidential details. He used a Facebook profile with the moniker "Orry Main," the name of a Confederate officer in a television series set in the Civil War era.
Rodriguez, one of the few who agreed to speak with The Post and Courier, said the outing of police employees angered many in the department, and the demise of an outlet for free speech was frustrating. But she had remained confident that no criminal wrongdoing would be found.
"It's still heartbreaking," she said. "Many of us loved our jobs."
Morgan reiterated in an email that his contact with Garrison was strictly business.
"My involvement in the site is non-existent," he said.
In the end, SLED was unable to determine the source of the leak. Though Kornahrens initially indicated the breach could be coming from the Solicitor's Office, a county technology staffer told SLED that Kornahrens was reading the data wrong. The point became somewhat moot because the juvenile, Kenneth Lamont Robinson Jr., eventually was charged as an adult, making his name public.
John Blackmon, president of the Tri-County Fraternal Order of Police Lodge No. 3, said police should be allowed to express views anonymously as long as they don't violate confidentiality laws.
"Just because they put on a badge doesn't mean they lose their right to speak," Blackmon, a retired Hanahan officer, said. "To stifle this seems very un-American."
Charleston County Public Defender Ashley Pennington said the leak could have come only from law enforcement. The state's probe reinforced the point that releasing juvenile information is a criminal offense, he said. 
"I am happy that the situation has been resolved and that the law is being taken seriously again," he said. "That's what I am most concerned about: that we follow the law."