It's time for the Charleston County School District to finally integrate its schools by redrawing attendance zones, according to diversity consultants hired by the district.
Employees of Clemson University's Office of Inclusion and Equity conducted a six-month study of the district at a price of $135,000, and the slideshow they presented Monday night included at least one item likely to generate controversy:
"Draw or redraw attendance zones to minimize the wide range of differences in poverty levels that currently exists in the district."
The team's list of remedies ranged from technical tweaks to sweeping reforms, including some ideas that have inspired mass protests in Charleston County in recent years, such as closing small and under-performing schools or using student test scores to evaluate teachers and schools. The board's 2016 decision to close rural, majority-black Lincoln Middle-High School prompted all three of the board's black members at the time to walk out of the board room in protest.
A written version of the study's findings is not available yet, and the presentation was slim on specifics. Board Chairwoman Kate Darby said after the meeting that she supported the team's study and looked forward to seeing the written report.
"I do think we have the will on the current board to make some of these really tough changes," Darby said.
A six-month study
Lee Gill, Clemson's chief inclusion and equity officer, said members of his team traveled 1,600 miles within the county; visited every school in the district; interviewed current and former board members; and met with politicians, clergy, police and school district employees. They found what numerous researchers, consultants and politicians had found before: a persistent achievement gap between white and minority students — and between the children of rich and poor families.
"CCSD must address the stark divide between high-performing and low-performing schools due to the low achievement by children of color and poverty that exists at all academic levels of the system," Gill said.
State and local leaders fought racial integration of schools in the 1960s. As the Brown v. Board of Education ruling was being implemented here, state and federal courts gave Charleston County a pass on some longstanding patterns of segregation due to geographic obstacles, such as the county's large size and its large number of rivers and bridges.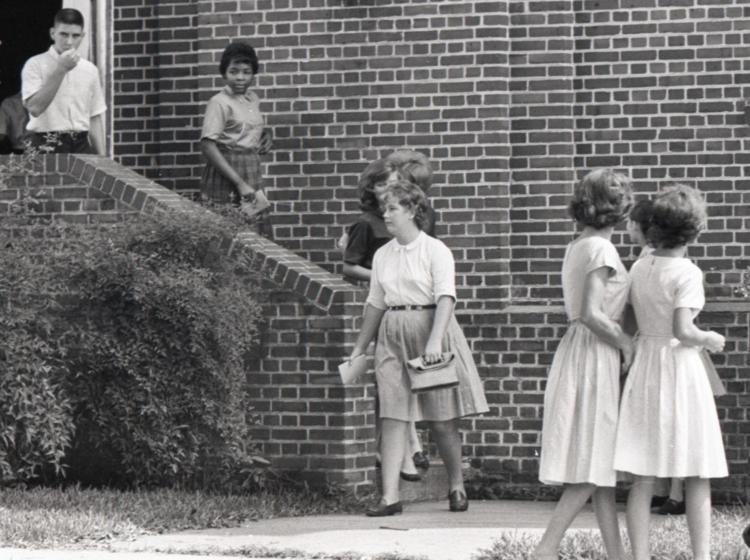 Since integration began in 1963, the school district has fallen into a pattern of de facto segregation that accelerated in some cases thanks to an aggressive push for school choice via magnet and charter schools.
Today, while schools such as Haut Gap Middle and the Charleston Charter School for Math and Science have successfully attracted a diverse group of students, the district includes several schools that are nearly all-black or all-white. Student poverty levels at the schools range from almost 100 percent to just above 0 percent.
School attendance lines are currently drawn by constituent school boards, elected bodies that exist only in Charleston County and have fewer powers than the county-wide consolidated school board. These constituent boards exist because of a compromise in the state Legislature's 1968 Act of Consolidation that created the county-wide district, leaving some responsibilities to the holdover governing boards from smaller areas within the district.
Changing the process for school zoning in Charleston County would take an act of the Legislature.
Redrawing attendance zones is a tall order. The negotiations involved in expanding Stono Park Elementary's attendance lines spanned multiple hours-long meetings in 2017 and brought out crowds of incensed parents. An upcoming redrawing of Wando High's attendance lines is a point of contention in constituent school board elections this fall.
Mixed response
In addition to redrawing attendance zones, Gill and fellow researcher Greg Ladewski presented the following recommendations Monday night:
Close or repurpose schools that consistently fail to serve their students based on agreed-upon measures.
Revisit and reconsider the constituent school board structure, which Gill said "has deepened the district's division by race, poverty and political status."
Set realistic but firm time-frames for schools, principals and teachers to show progress according to "objective measures of success."
Offer high-level courses, such as algebra (for middle school) and physics (for high school), at all schools across the county.
Work with a nonprofit to raise additional money for schools in low-income areas, which often do not have the financial advantage of active PTAs and booster clubs.
The Clemson team did not propose shutting down choice schools, but it did propose small changes, such as resuming the use of paper applications for families who do not have computer access.
"Stop arguing whether it (school choice) creates inequity. Every member of our team thinks it does," Ladewsky said. "That doesn't mean it should be scrapped, but it should be reformed to make it available to all students."
Responses from board members were mixed.
"What we have here in Charleston County basically has to be torn down and rebuilt," said the Rev. Chris Collins of North Charleston.
Kevin Hollinshead, also of North Charleston, derided the presentation as a "dog and pony show," saying he would have rather heard it during a committee meeting with more time for discussion.
Michael Miller of West Ashley thanked the team for their report but said he felt it didn't go far enough, particularly on the matter of magnet schools.
"I don't think those schools were created so all children could be successful — only a few," he said. "Is everybody OK with that?"
The school district's contract with Clemson has ended. Chief Financial and Administrative Officer Donald Kennedy said the district may pursue some recommendations within a year but will need more time to work with the community on other changes. 
Going forward, Kennedy will help lead a partnership with the international consulting group Reos Partners, aimed at implementing the broader changes in the Clemson report. Funding will come from a rebate that the district receives from Bank of America for the use of procurement cards. Last fiscal year, that rebate totaled $192,000.
Gill said Monday that someone will have to ensure the district takes action.
"You've had studies and you've had reports in the past, but there's been no follow-through," Gill said.