The city of Charleston said most of SCE&G trimming of grand trees that left West Ashley residents fuming was not harmful but recommended the utility scale back so foliage won't look as "misshapen" or "unattractive." 
An arborist working with Charleston found that only nine of 74 grand trees that were trimmed in the West Ashley neighborhoods of Byrnes Downs and Old Windermere this past month were not compliant with industry standards for pruning, according to a report of the city's findings. 
Some of the trees were defined as "ugly and misshapen" but still in line with the arborist's standards, according to the report. 
Overall, Charleston recommended the utility decrease the required distances between foliage and power lines to ease customer tensions with SCE&G and to stop a "deformed, mangled appearance" of the grand trees. 
S.C. Electric & Gas mandates a minimum of 15 feet of side clearance between tree limbs and electric lines and 20 feet over the main power line.
The city, however, is recommending a maximum distance of 10 feet for side clearance, a top clearance of 10 to 15 feet and a bottom clearance of 7 feet. 
City spokesman Jack O'Toole said SCE&G was compliant but proposed "changes that would better protect the natural beauty of our neighborhoods." 
After seeing what West Ashley residents called excessive pruning, Thomas Rode, an attorney working with the Old Windermere Neighborhood Association, raised concerns that the city's tree agreement with the utility had expired nearly 20 years ago.
The city asked SCE&G to halt all pruning of grand trees until they could understand the damage.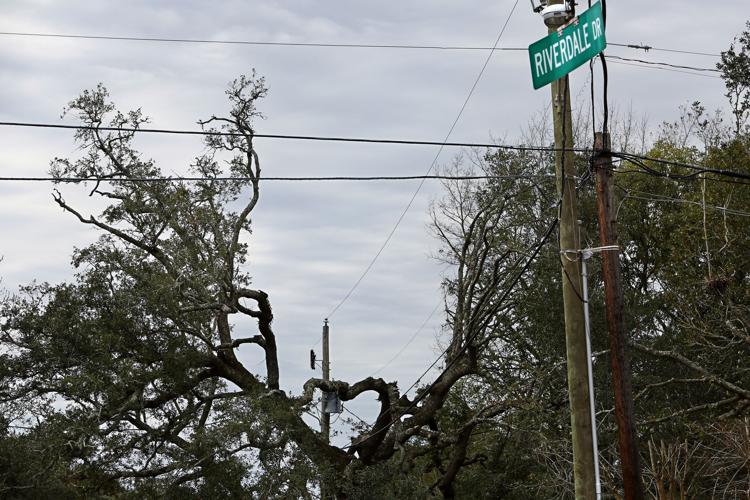 City Attorney Susan Herdina said SCE&G was given the report on Friday, but the utility has not formally responded to the city's findings.
The plan is to use the report and recommendations to help draft a new tree agreement with the utility, Herdina said. The understanding is that SCE&G will still not trim in those neighborhoods until a new tree agreement has been reached and approved. 
Rode said the report "merely concludes" that SCE&G followed its own policies but doesn't address the tree agreement. He said there needs to be public hearings before anything is finalized between Charleston and SCE&G. 
"While I'm happy the health of the surveyed trees will likely recover, this report confirms SCE&G inexplicably expanded the scope of cutting from previous years, resulting in an apparent 'ravaging' of the city's trees," Rode said. "This is precisely why Charleston has laws about this. Before any further cutting, the citizens, and members of City Council want public hearings on any future agreement with SCE&G. That's not too much to ask."
SCE&G spokesman Paul Fischer said the utility was still reviewing the city's recommendations. 
"Tree trimming along overhead power lines is an issue of public safety and reliability," Fischer said. "Not only do we have a statutory obligation to maintain a safe and reliable system, it's also, quite simply, the right thing to do. We will continue to work collaboratively with residents and other stakeholders, including each of the counties and municipalities we serve, to educate customers on this critical topic."
Several years ago, the utility increased its tree trimming cycle from once every seven years to once every five years so less would need to be trimmed at any given time. Since then, numerous complaints from impassioned residents have been fielded by the utility and the city. 
Residents of Riverland Terrace protested the SCE&G trimming by tying yellow ribbon around their grand trees and put up signs that said "SCE&G don't destroy the Terrace trees."
Bryce Donovan, a resident of West Ashley, said the findings are helpful, but the damage is already done. 
"Unless they have a time machine, there's not a lot you can change," Donovan said. "Sure, I'm glad they took a look at this ... but these trees take forever to grow."