Tourists who slog through the flooded streets of Charleston when it rains could help pay for ways to prevent that flooding, if the state Legislature approves the plan.
The request will be a key test of how much leeway the Legislature will give cities and towns on spending tourism tax money.
Lawmakers are expected to take up the matter the last week of June, their final session before they adjourn for the year.
Charleston Mayor John Tecklenburg has led the push for more flexibility. Tourists wading through water in Charleston's City Market after a heavy rain are a common sight, and The Battery was severely flooded during the storm surge from Tropical Storm Irma in September. Then there's the issue of sea level rise, which could lead to even more flooding.
On the other hand, municipalities can't just tax tourists to pay for whatever they want: State law puts strict limits on how such money may be used.
The tourism tax money is primarily to be used to attract more tourists, either through marketing and advertising or by supporting festivals and events that draw visitors. But it can also be used for infrastructure and services in tourist areas, such as beach renourishment, improving roads to tourist attractions or hiring more police officers in tourist areas.
Charleston already uses $3 million a year to reinforce the sea wall at The Battery.
Sen. Marlon Kimpson of Charleston, acting at Tecklenburg's request, introduced legislation to specify that tourism taxes can be used for "control and repair of flooding and drainage at tourism-related lands or areas."
The legislation would make it clear that cities can use up to 30 percent of their state and local accommodations tax from hotels and campgrounds, as well as the hospitality tax from restaurants and bars, over the next 10 years to alleviate flooding in tourist areas.
City officials haven't said specifically how the money would be used, nor have they said what groups might lose out if funds were diverted to flood control.
The city got about $13 million in hotel taxes last year and another $14 million from restaurants and bars, which also includes spending by residents. Some of that money can't be diverted, such as the $2.1 million to the Charleston Area Convention and Visitors Bureau: State law requires 30 percent of state accommodations tax to go to an agency for direct tourism marketing.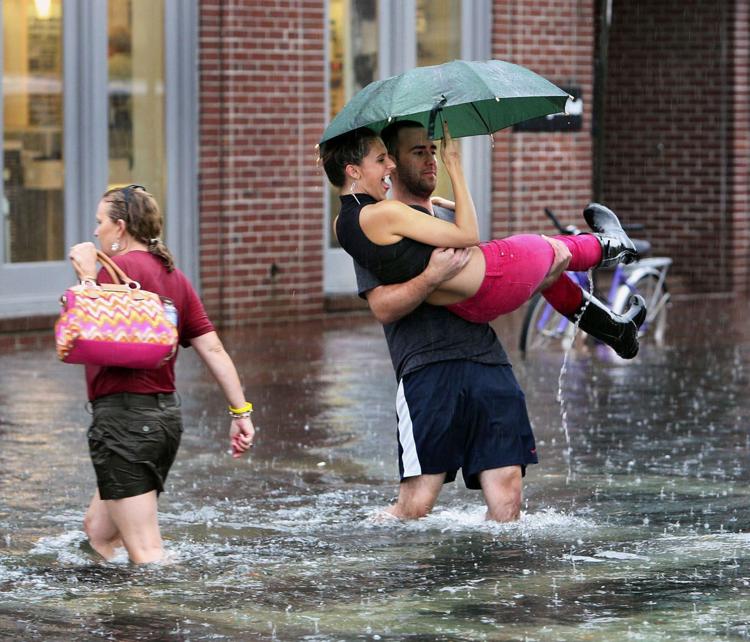 Kimpson's bill, S. 917, got held up when the House amended it to specify that the money could be used for flood control only in beachfront cities that collected at least $14 million a year in accommodations taxes. That narrowed it to Charleston and Myrtle Beach.
The South Carolina Municipal Association, which has been pushing for more flexibility in how towns, cities and counties can use tourism tax money, opposes the House amendment.
"We want it to pass," said research and legislative liaison Melissa Carter. "We would prefer it to be not for just Charleston and Horry counties."
Kimpson said he expects the Legislature to pass some form of the amendment.
"It's not a slam dunk, but I'm optimistic," Kimpson said. "You can have the best Spoleto, but if you can't get to it because of flooding, you can't have a festival."
But there's also some strong opposition.
Duane Parrish, director of the S.C. Department of Parks, Recreation and Tourism, said the agency does not support any change in the law. 
"If another visitor never comes to Charleston, it will flood the same," he said. "They are not impacting flooding."
The taxes were established to promote tourism and shouldn't be diverted from that goal, he said. 
"Statewide, it becomes a slippery slope," he said. "If Charleston uses it for flooding, what do you say when Spartanburg County wants to put new stoplights up? Where do you stop?"
The Charleston Area Convention and Visitors Bureau CEO Helen Hill said the organization has not been involved in the debate.
"We don't do any lobbying," she said.
She added that she assumed the city already could use tourism tax money for flood control, since flooding affects tourists.
The Tourism Expenditure Review Committee oversees tourism tax money and decides whether it's been spent properly. Ed Riggs of Mount Pleasant has been chairman under the past three governors. He said he hasn't been involved the debate, but, as far as he's concerned, Charleston already may use tourism tax money for flood control without any amendments.
He called the attempt to amend the law "a can of worms" because it will start feuds over how the money should be redirected. For example, three dozen Charleston groups divide up the $2.2 million in state accommodations tax money.
"Who would be the losers?" Riggs asked.
Kimpson said he's talked with a number of lawmakers who believe the current law would not allow a city to use tourism tax money to prevent flooding, and that's why he's pushing for the amendment.
As far as the feuds over money that might result, "that's the way it is with any bill," he said.