Charleston's underground brick arches were built 163 years ago to help cure fevers, but they can lead to an occasional headache these days.
The most recent example can be found under Coming Street, which was closed to traffic Tuesday between Wentworth and George streets.
Blocking off the street was necessary so crews could excavate 8 feet down and expose a brick arch, one of many the city began building in 1856 to drain and improve hygiene in the antebellum city.
Remnants of the system still function today and help channel away rainfall in parts of the historic city, but a century and a half has taken a toll, particularly with new pipes and utilities going in all around.
"It was pretty ingenious for the day," said Frank Newham, a project manager with the city's Department of Public Service said of the brick arch network. "The workmanship on these things is incredible."
But as many Charleston homeowners know full well, even incredible workmanship still needs maintenance after a century or so.
'Time for action'
One of the most thorough descriptions of the city's brick arches that survives was written in 1892 by James Dingle, a civil engineering student at Cornell University.
"In 1854 to 1858, just before the tidal drains were built, Charleston was visited by the severest epidemic of yellow fever ever known, without doubt brought on and intensified by the very unsanitary condition of the city," he wrote. "In 1854 the time for action arrived."
Two years later, the city began digging trenches down many of its streets to build a new drainage system. Wooden planks were laid as a floor, just above the water table. On top were built tunnels with an arched ceiling, two courses of bricks thick. The streets were then filled back in and later paved over.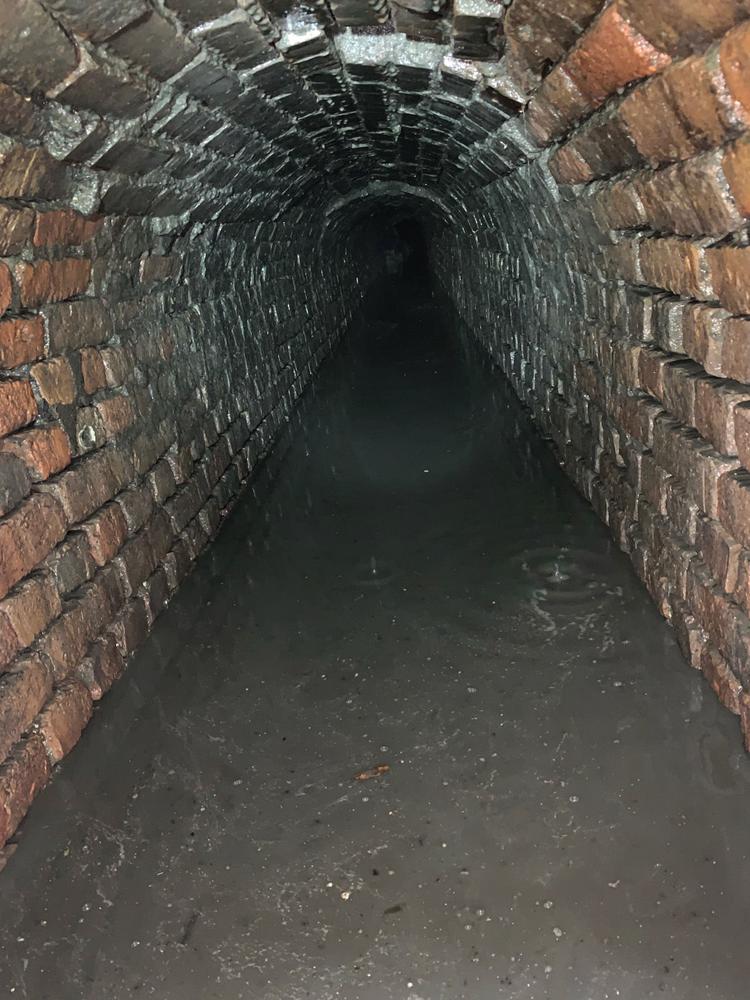 The largest arches were about 3 feet wide and 5 feet tall and ran under main streets such as Meeting, Calhoun and Coming.
"The cross-section of these drains was not determined by any consideration of area drained or amount of sewage to be carried, but that size was adopted which would most easily allow the entrance of workmen for the purpose of cleaning out accumulated matter," Dingle noted.
His paper included a construction cost estimate. For about 16 miles of brick arches, the city was charged $235,625 in 1856, more than $6 million today. Newham said this week's Coming Street repair could surpass $100,000.
The system also included gates where the arches ultimately reached the Ashley and Cooper rivers at five different points. The idea was to let high tides flush out the sewage, but their operation and maintenance were, like so many aspects of Charleston, victims of the Civil War. And they began to silt in.
By the time of Dingle's paper, a "Tidal Drain Keeper" oversaw their annual cleaning, but Dingle noted, "The gates of the system are in a far from satisfactory condition, being imperfectly constructed and very leaky."
'They work really well'
The network of brick arches remained in place during the 20th century, and they gradually were adapted for use as sewer mains — a development that spurred Dingle to write his 1892 paper.
As Charleston's public water system expanded, a separate sanitary sewer eventually evolved. By 1969, most raw sewage was directed to the newly built Water Pollution Control Plant on Plum Island.
Some older homes didn't make the switch right away, though. The Charleston Water System occasionally finds properties whose sewer lines feed into a brick arch, not into a main leading to Plum Island, spokesman Mike Saia said. "We still find about one a year connected to the arch drain system," he added.
Meanwhile, the arches continued to handle stormwater drainage for parts of the city, though rising seas, spotty maintenance and new development gradually rendered them less effective.
In the 1990s, the city began building a new kind of drainage infrastructure: a series of tunnels drilled through the marl more than 100 feet below ground. These tunnels terminate at pump stations capable of lifting the rainwater up, filtering it and emptying it into the harbor.
The first such network opened around 2000 and solved chronic flooding at East Bay and Calhoun streets, then another was built under Market Street. A third is currently under way along the Septima P. Clark Parkway, also known as the Crosstown.
One reason for the deep tunnels was to avoid the many complications from utility lines that intertwine like spaghetti just under the city's streets.
Those kinds of conflicts also have compromised the 19th century brick arches.
"If they're cleaned out, they work really well," Newham said. "Almost every time we find a break like this, another pipe has come through it."
Signs of trouble
This week's problems on Coming Street actually began as a road repair job.
A section of the street had settled, and the S.C. Department of Transportation, which owns and maintains Coming, had placed a large steel plate over the problem spot. The plate remained there for a few months.
City Councilman Mike Seekings, who lives around the corner, noted the plate was beginning to flex and the road was beginning to worsen.
"It was flexing 6 to 8 inches," Seekings said. "It was dramatic."
The city took over the work, since it, not the state, owns and maintains the brick arches.
Newham said Coming Street, like most others, likely was caused by lateral lines installed close by.
It's not an uncommon problem.
The highest profile failure occurred on a rainy Friday evening in 1994 when a 6-foot-deep hole opened up near St. Michael's Church. One car traveling on Meeting Street caught part of the hole and careened into the federal courthouse, while three passengers in another car ended up in the hole. One of them suffered crushed vertebrae and a fractured sternum.
The dramatic nature of that failure might have stemmed from old trolley tracks underneath Meeting Street that propped up the street and masked the size of the problematic void growing underneath.
Big holes are rare, but smaller ones aren't. The city has B&C Utilities and Palmetto Gunite Construction Co. on speed dial to respond promptly whenever one arises. Gradually, the city has been reinforcing sections of its brick arches by inserting mesh and spraying onto it a 3-inch-thick layer of gunite, Newham said.
On Coming Street next to the College of Charleston, workers dug down to expose the top of the arch, then reinforced the upper part of the arch with steel reinforcement and shotcrete and set a manhole riser on the top. 
Additional risers will be added to bring the manhole rim to street level. Palmetto Gunite crews then will access the arch to clean and line a 5-foot to 10-foot stretch on both sides of the manhole. One lane of Coming is expected to reopen to traffic Wednesday. By week's end, both lanes should be clear.
The city doesn't always wait until a problem crops up. Last month, the city renovated a section under King Street, from Lamboll Street to the Battery. Over time, the city has been able to clear them out more effectively by using spray nozzles and vacuum trucks instead of crews with shovels and 5-gallon buckets.
The city has identified approximately $2 billion worth of drainage and flood-related projects needed in the future, a price tag so vast that city officials face tough choices as to what gets done when.
So perhaps fittingly for a city that embraces its past, a bit of its 19th century infrastructure seems certain to function well into its future.