It may not look like it to residents surrounded by rapid development, but new Census Bureau estimates show South Carolina's population gains have moderated, with growth easing even in hot spots such as Charleston.
There are still large numbers of people moving to South Carolina's urban and suburban counties, but their numbers are no longer rising, the estimates suggest. There are some exceptions, and Dorchester County is among them.
"We are blessed to have found this," said Bob Joseph, 64, a retired Connecticut high school teacher who moved with his wife to Dorchester County last year. He said his property tax bill is nearly $8,000 lower than in Connecticut.
"We'll be here a year next month," said Joseph, who lives in the growing Summers Corner community. "We've probably watched 60 or 70 people move in. Every day we just look each other and pinch each other, that's how much we love it."
Dorchester County gained an estimated 2,985 residents during the 12 months ending July 1, 2017, the Census Bureau estimated. That's a substantial increase in the county's growth, during a time when population gains in neighboring Charleston County slowed and Berkeley County's blistering rate of growth also eased. 
Here's how much population growth has changed:
Berkeley, Charleston and Dorchester counties together added an average of 38 residents each day, from mid-2016 to mid-2017. Two years earlier, they were adding 50 residents daily.
In 2016, three South Carolina counties saw one-year population increases of 4 percent or more. In 2017, none did.
The Census Bureau estimates Charleston County gained 4,868 residents in 2017. Previously, the county averaged nearly 7,600 additional residents each year since 2010.
Dave Sansom, Carolina One Real Estate Services CFO and COO, said a strong but steady rate of population growth could be ideal, so long as governments keep up with demands on infrastructure.
Meanwhile, he said Charleston-area growth patterns may be partly explained by homes being more affordable and available in Dorchester and Berkeley counties.
"The other (factor) is the availability of developable land," he said. "The third part is the political mindset about growth."
After years of rapid growth, rising home prices, and increasing traffic problems, several municipalities in Charleston County took steps to restrict development or make it more expensive. Sansom said Dorchester and Berkeley counties have been more welcoming recently, for developers.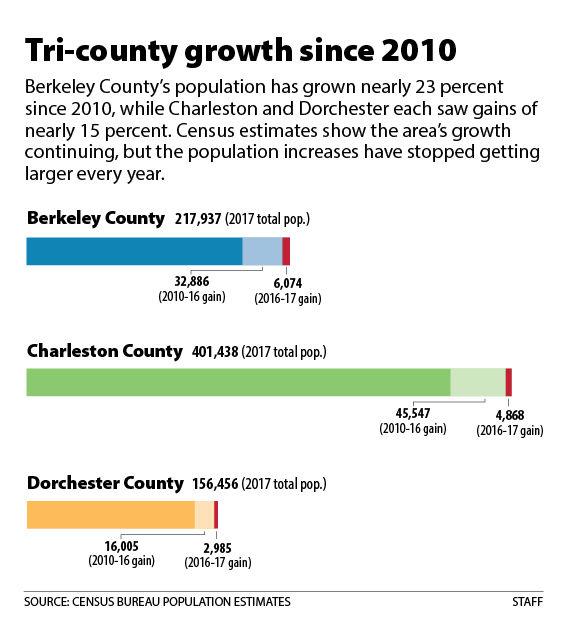 Across South Carolina and much of the nation, population growth and decline are largely driven by people relocating within the United States.
"Taking a lunch break and being able to go the the beach is fantastic," said Patrick MacAdams, who moved to Mount Pleasant's Oyster Point subdivision in January from Washington D.C.
The Census Bureau calls that "domestic migration" — and used that term a half-dozen times in its statement about the new estimates.
"The primary driver behind the growth of the 10 fastest-growing counties, 2016-2017, was net domestic migration," the bureau announced. In layman's terms, a whole lot of people moved to the South and West. Maricopa County, Arizona, gained the most new residents, more than all South Carolina counties combined.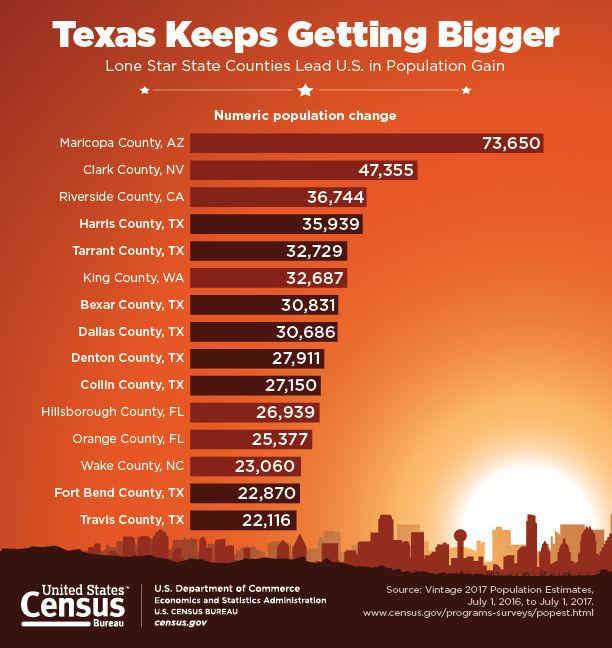 In South Carolina, Horry County saw the highest growth, adding an estimated 11,828 residents that increased its population by 3.7 percent. Next came York and Lancaster counties, both bedroom communities of Charlotte.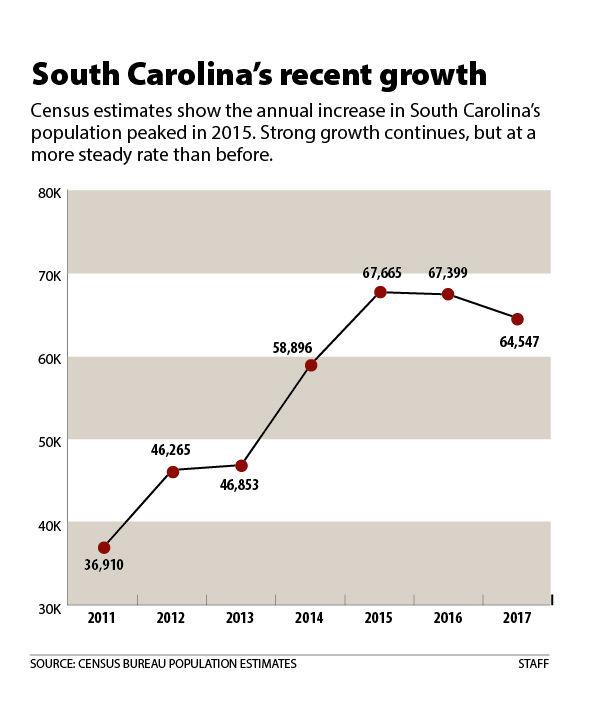 Statewide, population growth has increased every year since the recession. South Carolina is still gaining residents faster than most states, but the population increase peaked in 2014-2015 according to the census estimates, when the state gained nearly 68,000 people.
In the most recent estimates, South Carolina added 64,547 residents during the 12 months ending July 1, 2017.
Mary Graham, chief strategy officer for the Charleston Metro Chamber of Commerce, said fewer people were relocating during the recession, and those numbers rose quickly as the economy improved.
"Coming out of the recession, we were a market with a lot of job growth happening," she said. "Now, there are more opportunities elsewhere in the country, as well."