One of Johns Island's critically needed road projects isn't much closer to being built than when the plans were adopted about a decade ago.
Meanwhile, several new subdivisions in the fastest-growing part of the city have added thousands more cars to the equation.
Drivers are caught in daily gridlock heading on and off the island. The so-called "pitchfork plan" would ease traffic by adding two new roads heading in opposite directions from Maybank Highway at the foot of the Stono River bridge, giving motorists more options to and from River Road.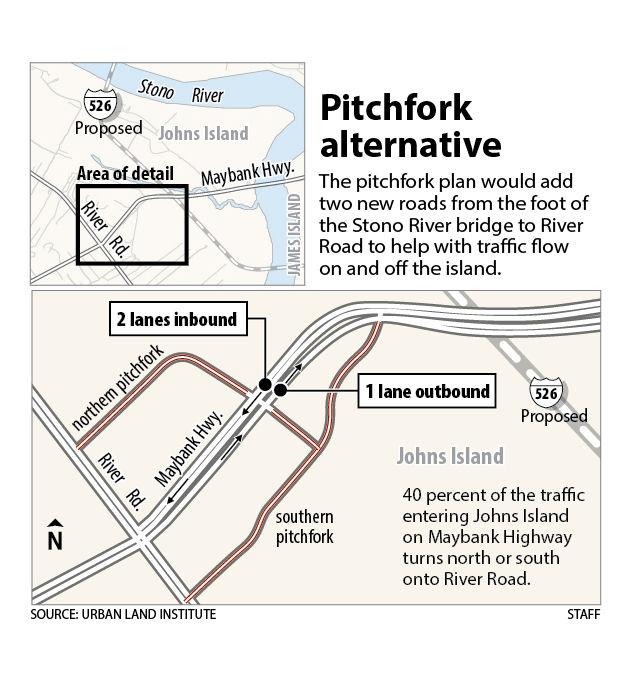 Since its inception, the project has suffered several setbacks: funding shortfalls, insufficient coordination among governments and unforeseen conflicts with other road plans that could delay the project even further.
The city of Charleston and Charleston County have recently been in talks about those challenges and plan to come up with solutions by month's end.
Until the new roads have a path forward, Johns Island residents will continue to spend hours behind the wheel every day.
Mandy Davis, who lives on Wadmalaw Island, said the morning commute to downtown Charleston to take her children to school is about two hours. In the afternoon, the traffic backs up on the bridge again from about 3-7 p.m.
"Every morning and every afternoon, it's like a Clemson football game just let out," she said. "We're already 10 years behind the required infrastructure. There's no end in sight."
What's the holdup?
The county's initial plan to improve traffic on Johns Island was to widen Maybank Highway from two to four lanes between the Stono River to Bohicket Road. County voters approved it when they passed the first half-cent sales tax for road improvements in 2005. But city officials, residents and conservationists wanted a more sensitive approach that would protect Maybank's tree canopy.
The pitchfork plan was their preferred alternative, adopted in the city's Johns Island Community Plan in 2007. Two years later, the county backed off its widening plans and agreed to pursue the pitchfork as part of a larger Maybank Improvement Project.
The budget was $15 million. So far, almost $12 million has been spent on resurfacing Maybank from River to Bohicket roads and adding bike and pedestrian lanes. The latest phase, extending the right lane from the Stono River bridge to River Road, is expected to be done by August.
What's left — $3 million, is only enough for the northern pitchfork, the road that would veer to the right from the foot of the Stono River bridge. There is no budget for the southern pitchfork, which is expected to cost $8.5 million.
It's not a lack of funding that's holding up construction. County and city authorities discussed all of the challenges facing the pitchfork plan at an unannounced meeting March 9.
Colliding with Interstate 526
County officials said the southern pitchfork's route interferes with drainage ponds planned as part of the proposed Interstate 526 completion in the same area, but that project has long been stalled with no start date in sight. The I-526 project is projected to cost $720 million, and local funds for it haven't been identified.
Devri Detoma, an engineer with the county's Traffic and Transportation Department, said the drainage ponds can't be moved because surrounding areas are wetlands, and adjusting them now could threaten the project's design. Now, the county is evaluating whether the pitchfork path can be realigned to skirt the pond sites without impacting too many wetlands.
Jimmy Kerr, who agreed eight years ago to donate a portion of his land on Maybank Highway for the southern pitchfork, said he's tired of waiting for these details to be sorted out. He said his offer only stands if the county and the city will sign an agreement by May 15 finalizing the construction plans of the southern pitchfork.
"People on Johns Island need immediate relief," he said. "The answer is there. The inertia is not."
The situation could put Mayor John Tecklenburg in a tough spot politically because he campaigned on a promise to complete I-526. But with that project on hold due to funding shortfalls and conflicts with the state, Johns Islanders are pressuring him and the county to pursue more immediate traffic solutions.
"We all want to do the southern pitchfork," he said. "We don't want it to impact 526."
Jason Crowley of the Coastal Conservation League said 526 shouldn't take priority over the southern pitchfork right now.
"How can nearly a billion-dollar road project that is unfunded stand in the way of a ($8.5 million) local project that can be funded using half-cent money?" he said.
Trees in jeopardy?
The northern pitchfork is in a better position to move forward because construction plans have been drafted, and it wouldn't impact as many wetlands. Trees, on the other hand, could be at risk. 
The pitchfork's turning lane from River Road is close to the entrance of a new subdivision, The Cottages at St. Johns River, which will also need a turn lane. The S.C. Department of Transportation said two turns in such close proximity would clog traffic, so the 250-foot stretch of River Road between them would need to be widened to make room for a joint turn lane down the center.
That would involve cutting down possibly a dozen or more grand trees, according to Charleston Planning Principal Eric Schulz. He said that would remove a large portion of River Road's historic canopy north of Maybank.
"It's going to change the character significantly," he said. 
The city is now asking the developer, D.R. Horton, to build a roundabout at the subdivision's entrance, a less intrusive approach that could eliminate the need to widen River Road.
The developer has until the end of the week to decide, according to Josh Martin, Tecklenburg's senior adviser. It's unclear at this point whether DOT would approve a roundabout there. 
Right-of-way costs for the northern pitchfork are expected to be minimal because most land will likely be donated, according to county spokesman Shawn Smetana.
'Pieces of the puzzle'
County Council Chairman Vic Rawl said the pitchfork plan delays don't surprise him.
"All of this quite frankly is a result of the city's rejection of widening Maybank Highway. This is the city's solution. And although some of us on County Council did not like it, we went along with it over time knowing full well that permitting and funding were going to be issues," he said.
The underlying problem, according to Rawl, is the city handles planning while the county handles infrastructure — a system that can only function properly in a growing area like Johns Island if the two governments communicate and collaborate on a regular basis. 
Tecklenburg agreed. That's why he's been trying to establish more regular meetings with the county. 
"We all have pieces of the puzzle," he said. "It really makes a difference to get everyone in the same room."
Officials plan to meet again Monday to establish what to do next.