When Charleston's bike share program Holy Spokes launched in May 2017, Charleston had just been deemed the worst city in America to bicycle, according to Bicycling magazine.
"The No. 1 reason people don't use other modes of transportation is anxiety," said Sean Flood, CEO of Gotcha Group, the company behind Holy Spokes. In designing the system, he said, they put bicycle rental hubs in prime locations so people feel confident that they will have a bike waiting on them when they need it to get from point A to point B. Last May, they put 250 bikes painted a soft blue-green known as "Haint Blue," the traditional color of Charleston's porch ceilings, across the peninsula at 27 hubs with the Medical University of South Carolina as the title partner.
The program has exceeded expectations, said Holy Spokes manager Megan McNamara. One goal of MUSC's was to see 1 million calories burned in the first year. According to data shared by Holy Spokes, riders have burned more than 4 million. They have also taken nearly 49,000 trips and traversed 105,000 miles, saving $60,900 and reducing carbon emissions by 92,590 pounds.
Those numbers come from the on-board Social Bicycles technology, which collects GPS data that can provide all sorts of useful information, like heat maps that show where riders go and charts that track what hubs bikes leave and arrive at. For instance, Hampton Park is more of a sightseeing hub than a transportation hub, as all trips start and end in the same spot. From MUSC's Fishburne parking lot, a majority of trips end at Jonathan Lucas or the Basic Science building, showing that students and employees are using the bikes to get to where they're going.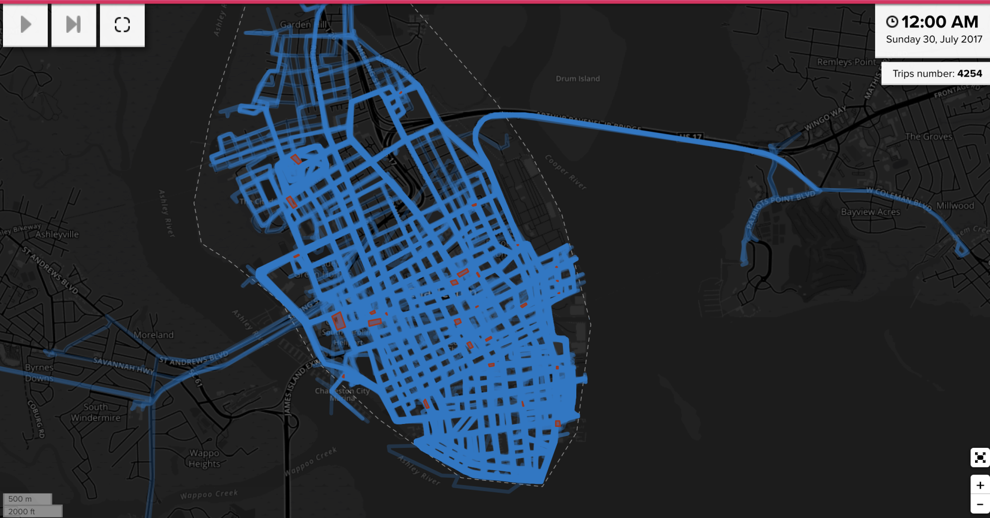 The heat map also shows that people are not only riding all over the peninsula but also taking bikes across the bridges to Shem Creek and the West Ashley Greenway.
Growing and expanding the program has always been a part of the plan, Flood said. "Two years ago, we said a 600-bike system was necessary to include West Ashley and Mount Pleasant. We need to start adding bikes because people are biking to the beach over the Ravenel. It'd be better to have hubs on the other end."
But their newest initiative is to spread the program to the peninsula's lower- and moderate-income residents. The city of Charleston's head of transportation and traffic, Keith Benjamin, was a catalyst for this happening. Benjamin started his job in June 2017, a month into the Holy Spokes program, and met with them to discuss what they were calling a transportation system. Benjamin immediately had an issue with that.
"A transportation system, by definition, is a bunch of connections that create a whole," Benjamin told them. "If there's a part that's separated out, and when you look at how it launched with needing a debit or credit card with specific price points, saying it's a transportation system but missing a whole population of folks who are already using that type of transportation on a regular basis? It has to be accessible to everyone in the community."
Benjamin said it was nice to be in a room with Flood and his team and find them receptive to his philosophy on transportation. "He was all on board with it and we've been locked arms ever since," Benjamin said.
The city and Holy Spokes teamed up with bicycle advocacy group Charleston Moves and upper peninsula initiative Enough Pie to apply for a grant to expand the program from the JB Foundation, a national organization that focuses on poverty and equity issues. They received $50,000 this May and have begun implementation.
McNamara said they have added a hub in the Bridgeview Village Apartments on North Romney and the Food Lion parking lot and will wait to get feedback from the community ambassadors they are hiring as part of the program before they add a third.
Not only is availability an issue but so is access, Benjamin said. Gotcha has created a card for those who don't have debit or credit cards to use with the bikes. Costs are also being reduced with a small annual fee plus free daily rides.
While that ridership is being cultivated, McNamara said Holy Spokes has a total of 12,935 members with more signing up every day. Ryan Workman, who owns Bay Street Biergarten, which has a hub, uses the bikes nearly every day. "I live on Bowens Island," he said, "and I park in our parking lot and use the bikes to get around downtown. It's very convenient."
He said it was a slow start, but he sees people on the bikes every day. "I'm also starting to see a lot of tourists on the bikes," he said. "Once you start seeing people on them, others say, 'Oh wow, that's a convenient way to get around downtown."
McNamara said that Charleston might have been considered the worst place to bike when they launched, "but we've seen the exact opposite. We've had no bike vandalism, theft or safety issues and we have thousands of members riding on the same streets."
Holy Spokes is planning a one-year anniversary celebration later this month with Lowcountry Local First that will include local businesses and a citywide scavenger hunt.